Archives
Sub-.500 Teams Primed For A Playoff Run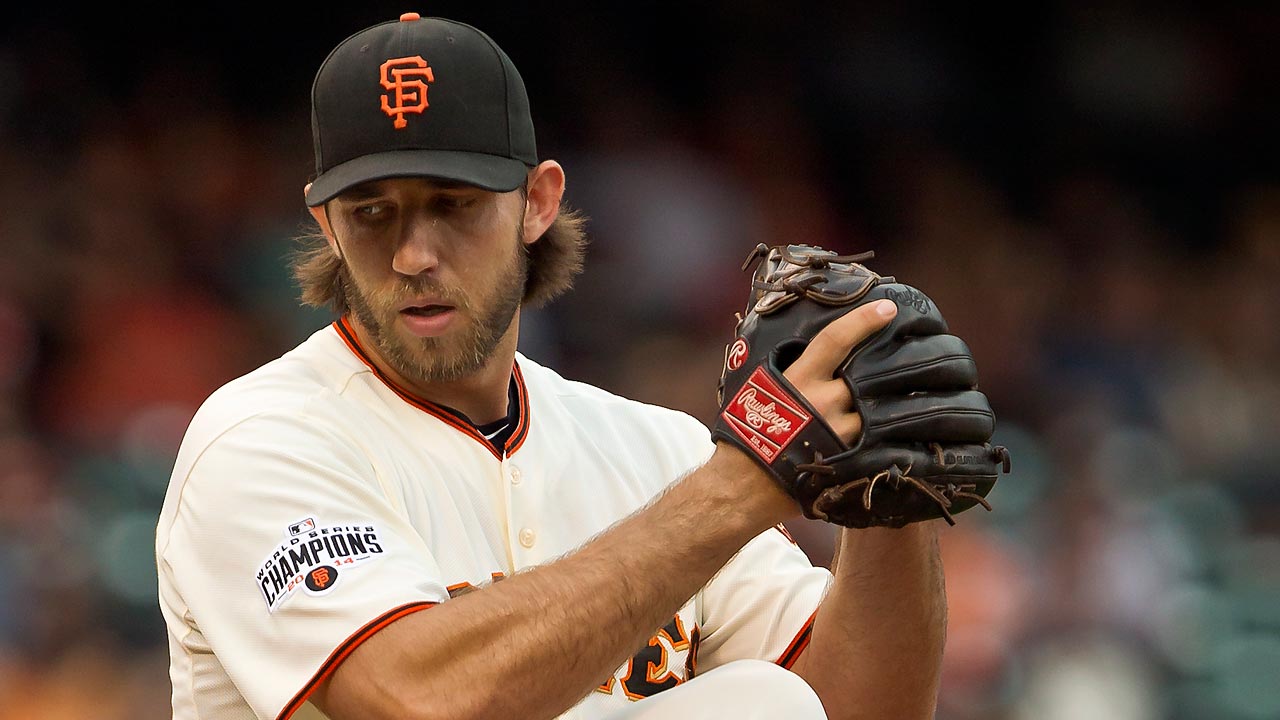 In some markets, the best part about the offseason is that, for at least these few months, their team isn't yet out of it. In Winter, every team is a contender. No teams have been eliminated, no promising prospects have flopped, and no key players have hit the DL. For teams like the Astros, Dodgers, Cubs, Nationals, Red Sox, and Indians, not much imagination is needed to envision another playoff run; for others, there are a lot more moving parts.
Whether it's a few more foul balls falling fair, or a few plausible offseason acquisitions, the following are the five teams with 2017 records under .500, that hve the best chance of reversing fortunes in 2018, and realistically competing for a playoff spot.
#5: San Francisco Giants
Record Last Season: 64-98
Big Reason for Hope: Resurgence in the rotation
Offseason Needs: Giancarlo Stanton
Ok, I know, the Giants lost 98 games last year, and that's tied with the Tigers for the worst record in baseball, but bear with me on this one. There are plenty of reasons the Giants have a chance to pick up 35 games and break .500.
The first is the first is their starting rotation, which is aging, but still very good. The rotation of Madison Bumgarner, Johny Cueto, Jeff Samardizja, and Matt Moore underperformed last year but those are all very solid pitchers. The Ace, Bumgarner, was out for half of the season due to a freak dirt bike incident, and by the time he returned San Francisco was well out of the race. Look for him to come back strong next season with a clean slate. Cueto had one of the worst years of his career, sporting a 4.52 ERA on his way to an 8-8 record, but aside from this season he's been one of the more productive starting pitchers in the league – it wouldn't be unreasonable to expect him to bounce back next year and lock down that #2 slot in the rotation. Having Samardizja and Moore behind those two provides a solid middle of the rotation as well.
The Giants' offense was one of the worst in baseball last season, ranking dead last in slugging percentage, on base percentage, and OBS+(on base percentage weighted for the ballpark you play in). However, there is still hope with the current lineup. Buster Posey is still one of the best catchers in the game, while Brandon Belt and Hunter Pence also provide some offensive support. But the real hope for Giants fans is the ownership's apparent willingness to spend this offseason, as shown by their aggressiveness in pursuing a trade for Giancarlo Stanton.
The Giants are definitely not better then the Dodgers, Diamondbacks, or Rockies, but they do have a solid chance of getting back over .500 next season, which would be an impressive turn around for a team that nearly lost 100 games.
#4: Seattle Mariners
Record Last Season: 78-84
Big Reason for Hope: Run-producing core
Offseason Needs:  An outfield bat, a quality starting pitcher if they don't think Hernandez has another good year in him. (Sohei Ohtani could give them both).
The Mariners have an enviable offensive base, headlined by Robinson Cano, Jean Segura, Kyle Seager, and Nelson Cruz. These four offensive stars carried the Mariners to a season in which they finished in the top ten in baseball in OPS+(101) and batting average (.259).  Having Jerry Dipoto as a general manager means that the supporting characters around this group will likely change as the aggressive GM seeks to make slight improvements wherever possible, but the Mariners' hopes for a better season in 2018 will no doubt rely on the bats of Cano, Segura, Seager, and Cruz.
Mariners' pitching was bad last year. Really, really bad. As a staff, they ranked on the wrong side of the league average in almost every pitching category: ERA (17th in baseball), strikeouts (23rd), FIP (24th), and earned runs allowed (15th). If the Mariners are going to break the .500 mark next year, this is where they need things to turn around the most – and there is hope.
First of all, James Paxton has emerged as a true Ace atop the staff. His 12-5 record with a 2.98 ERA and 156 strikeouts in 136 innings are a sure sign that he is ready to take the throne from Felix Hernandez. Speaking of Hernandez, his numbers while healthy last year weren't great, and he missed half the season due to injury, making only 16 starts. That said, the former Cy Young Award winner is only 31, and while his best days seem certainly over, there is still a good chance that he could rebound his career enough for another solid year in Seattle. Mariners fans should take comfort in Justin Verlander's dominance in the 2017 postseason, as just a few years ago he was in a similar position as King Felix. If Hernandez can perform at a solid level behind Paxton, with Mike Leake and Drew Smyly supporting them, the Mariners pitching staff could well be good enough to ride the offense to a run for one of the wide-open Wild Card slots in the AL.
#3: New York Mets
Record Last Season: 70-92
Big Reason for Hope: Luck that bad can't happen twice in a row
Offseason Needs: Depth, and a better trainer
 The 2017 season was an absolute disaster for the Mets, mostly due to injuries. For years, popular opinion about the Mets has been that they are a team with great pitching and no offense. But, in 2017 that wasn't necessarily true. The Mets' team OPS+ of 98 is just above the league average, as is their slugging percentage of .434. While these aren't the numbers of a prolific offense, they are certainly good enough that a full season of Yoenis Cespedes and Michael Conforto should provide a boost.
The problem with the Mets offense last year wasn't talent, it was durability. Of the Mets top seven offensive producers, two were traded midseason (Jay Bruce and Curtis Granderson), while the remaining five combined to spend 70 games on the disabled list. That means that for almost half the games this season New York was missing at least one of their key run producers! Improved health from the core should help the Mets climb back into contention in 2018.
Pitching injuries were well documented too. The core group of Noah Syndergaard, Jacob DeGrom, and Matt Harvey still has the talent to carry any team at times, and with this offense should support a run for an NL Wild Card spot. And don't sleep on Zack Wheeler and Steven Matz at the back of the rotation either.
Between the injury nightmare that befell the heart of both rotation and lineup, the Mets rarely put their best team on the field in 2017. If they can keep their starters playing for the majority of the year, they should be in Wild Card contention through September, and could even make things interesting for the Nationals in 2018.
#2: Los Angeles Angels of Anaheim
Record Last Season: 80-82
Big Reason for Hope: Mike Trout 
Offseason Needs: Starting pitching
The Angels barely made the cut for this group, falling just two games shy of .500 last year. The question for this team going forward: Was that a taste of potential – or was that the ceiling?
First the obvious: Any team with Mike Trout has a significant advantage over a team without Mike Trout. The Angels have spent the majority of Trout's career trying to fill a lineup card around the superstar centerfielder and perennial MVP candidate. They may have finally done so by signing Justin Upton to a 5 year $8M contract.
Supporting the two Angels outfielders, CJ Cron, Kole Calhoun, Andrelton Simmons, and Albert Pujols combine to form a solid middle of the lineup.
Meanwhile, the Angels' pitching staff is not as bad as you think. When healthy, Garret Richards has pitched like a true Ace and is still only 29 years old. Tyler Skaggs and Andrew Heaney are young pitchers with high upside, so it's fair to expect growth from both as they enter their age 26 seasons. Matt Shoemaker was up and down, but could well be a consistent and reliable veteran arm at the back of the rotation.
If the Angels can acquire a solid number two in the rotation this offseason, taking some pressure off of the development of Heaney and Skaggs by placing them in the three and four slot, this team could make a serious run at the first Wild Card spot in 2018.
#1: Toronto Blue Jays 
Record Last Season: 76-86
Big Reason for Hope: This-might-be-it syndrome
Biggest Offseason Need: Outfield production
What happened to The Blue Jays last season? After consecutive years of deep playoff runs, the Jays' roster began to show signs of aging. For a team that finished ten games under .500, the pitching actually was pretty good. Marcus Stroman seems to have solidified himself as an Ace, and J.A. Happ was a solid middle of the rotation arm. Marco Estrada had a truly terrible year with an ERA close to 5.00, but still represents a high ceiling young pitcher. With Aaron Sanchez returning from the disabled list at the start of the season, the Jays seem to have a really strong top four in the rotation.
So the offense… It came as a shock to many, but the lineup was really not good last year. Jose Bautista was a shell of his former self; Troy Tulowitzki only played in 66 games; Devon Travis continued to struggle to stay on the field, playing only 50 games; Russell Martin was underwhelming; and even Josh Donaldson went from perennial MVP candidate to just really good (he was still really good: .270 batting average with 33 homeruns).
The good news for this team is that 2017 was an aberrational underperformance for all of those guys, and progression to the mean is likely. Dump in some "one last ride" motivation from the older players – Donaldson is in his contract year, Martin will be a 35 year old catcher, Tulowitzki is still only 33 but with an injury history that points to a shorter road ahead, and Kendrys Morales is 35. If the Blue Jays can squeeze one more good year from their aging core they could pose a serious threat to the Red Sox and Yankees at the top of the AL East.
– Isaac Gamboa