Archives
Is Expansion a Part of MLB's Future?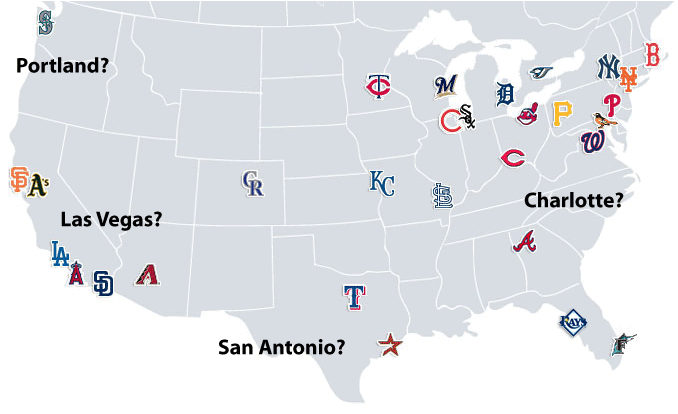 MLB expansion is risky. The baseball world was intrigued by a Baseball America article from October that suggested Major League Baseball was interested in expanding the number of baseball teams in the league, and commissioner Rob Manfred has cited Portland, Oregon as a potential expansion market for two years in a row. The Baseball America article proposed a 32-team league, featuring 4 divisions with 8 teams each.
While that might make sense, MLB ultimately looks at expansion as a means to maximize profit.
Courses of Action
Rather than expansion, an MLB "revision" may be more efficient. According to 2017 attendance records, Tampa Bay only averaged 15,670 fans per home game, which is the lowest by a significant amount. With a severely outdated stadium and an unpromising future, the profit margin for the Rays is getting smaller each year.
The poor attendance figures make Tampa Bay an obvious candidate to move. Ever since Montreal lost the Expos in 2005, the city has wanted to bring a non-hockey professional team back. So moving another team north of the border could potentially be a good move for both the MLB and the Rays.
But it's worth noting that attendance records alone may not be the best guideline to use when contemplating relocation. The world champion Houston Astros ranked 15th in attendance with 29,674 fans per home game. And the Milwaukee Brewers rounded out the top 10 with 31,589, in a market among the smallest in the league.
The problem MLB and its new suitors will face is sustaining a profit. With a new team comes large expectations, and baseball can learn from its major American sport counterparts. The Chargers' move from San Diego to Los Angeles has been a disaster, and the Raiders are set to move to Las Vegas, as well.
The Washington Nationals didn't have a winning season until 2012, their 8th in the nation's capital. If baseball is looking for immediate profit, expansion or relocation may not be the answer.
Filling Out the New Squads
Let's say MLB has its heart set on going from 30 to 32 teams. Montreal and Portland could hold the two new franchises, but there's more to it than that. Where would the players come from? This is an easy one. There are 247 Minor League Baseball teams, so finding players and coaches should not be an issue.
The NHL had an expansion draft when the Las Vegas Golden Knights needed a roster, and a baseball version of this would certainly shake things up and earn baseball more offseason headlines.
The player component is easy, but finding an ownership group may be more tricky. The bid required to buy the Marlins has set their ownership into a debt position that will affect the on-field product for years to come – see their Giancarlo Stanton trade. The upshot of this is to drive fans away. Not ideal. Owning an MLB team is certainly an enticing proposition, and the sport is enjoying profits, but the Derek Jeter-led ownership group's short run makes me wary that the pool of potential owners might be too small.
The Reality
There is still one overarching question: why expand? Other than money, why fix the MLB if it isn't broken? Revenue is at an all-time high, and overall attendance is good, but the problem lies in the demographics.
Nielsen Ratings reported in 2015 that half of baseball's viewers were 55 years or older, a 9% increase over the last 10 years. This is the oldest in all of sports. Baseball is a sport founded on the tough-love between a father and his son, and the fact that the game may have lost its touch with children is a far bigger problem than expansion or revision.
But as Cal Ripken Jr. said, "You could be a kid for as long as you want when you play baseball," and it seems as if those words are aging well.
Expansion may be in MLB's future. But there may be more effective ways to bring new fans to the ballpark.
– Mike Milius