AL East
Giancarlo Stanton is a Terrible Fit For the New York Yankees. And an Awesome Acquisition.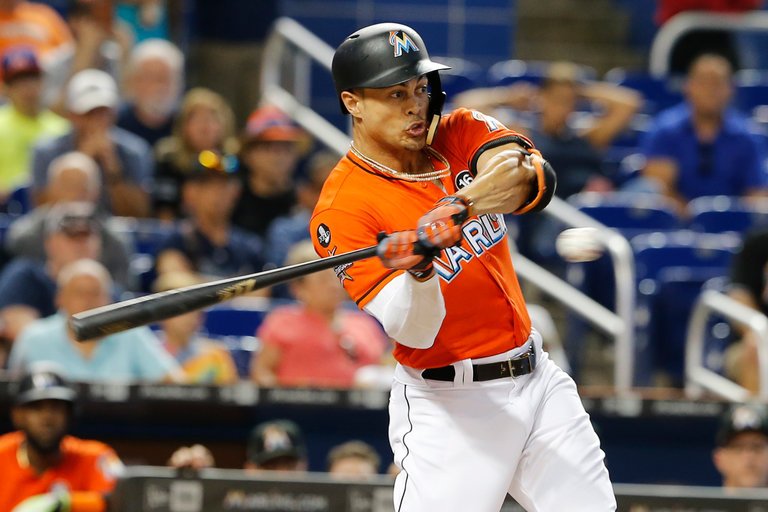 Giancarlo Stanton is one of the best few baseball players in the game today, in fact he's the reigning NL MVP. Giancarlo Stanton is a terrible fit for a really good, young New York Yankee team that was one win away from the World Series in 2017. Giancarlo Stanton is a fantastic acquisition for the Yankees, especially for the price they reportedly paid for him in a trade this weekend. (It was a lot less than we'd originally thought.)
All of those can be, and are, simultaneously true.
Stanton is undeniably an absolute monster. Last year he hit .281 with 59 bombs, drove in 132 runs, scored 123 and posted a 156 wRC+, good for a 6.9 fWAR and that aforementioned MVP award. Stanton is also the player in the MLB most similar to the Yankees current best player, Aaron Judge.
Both Judge and Stanton are physically enormous right fielders with talent for whacking the biggest of big flies and a penchant for striking out a lot. For comparison's sake, last year, en route to an AL Rookie of the Year award, Judge hit .282 with 52 homers, 114 RBIs. 128 runs scored, a 173 wRC+ and an astonishing 8.2 fWAR.
The Yankees now have baseball's two very best right handed power threats, at the peak of their powers, in the same lineup at the same time. That's very good. But having two players with such similar games does pose some challenges, especially when those players have the same glaring deficiency.
Last year during his MVP campaign, Stanton struck out in 23.6% of his at bats, or 163 times. That's actually quite a bit better than his career rate of 27.7% but still an awful lot. Stanton's k% was 27th in baseball last year. Judge, on his way to finishing second in the AL MVP voting, struck out 208 times, an incredible 30.7% of his at bats. Judge's k% was 4th in baseball last year.
Of course, both players are elite power hitters and so some, or even a ton, of strikeouts are to be expected and really aren't that big of a problem. The Yankees would of course like Judge to cut down on his k's next year but mostly because they want him taking a better approach on breaking balls and having better pitch recognition, not because the k's sap a ton of his value. The thing is, when you have two players that strike out this much, among the league leaders, in one lineup- and in fact likely batting back to back, it can be a challenge.
Even without Stanton, the Yankees struck out 1386 times in 2017, the 12th most in baseball. With Stanton, they will undoubtedly strike out a lot more and that poses serious problems, even if you hit a lot of home runs. It's true that the trend in the game today is towards strikeouts and homers, but the ability to string a few hits together is still important, especially in the playoffs, and we saw Judge really struggle at times to have productive at bats in October.
Another reason Stanton is an awkward fit is that he plays the same position and Judge does. On the plus side, both Judge and Stanton are very good right fielders, Judge can be excellent at times, but both guys can't play there at the same time. Unless one of them, more likely Stanton, moves to left field and displaces leadoff man Brett Gardner – something I'd have to say is very unlikely- one of them, more likely Stanton, will typically DH.
That's not really a problem because the most important thing is getting both bats in the lineup together, but it isn't ideal. The Yankees could rotate Judge and Stanton in and out of the DH spot from time to time to keep both fresh, but occasionally the Yankees' third offensive stud, catcher Gary Sanchez, should DH as well, especially since catching every day is significantly more taxing than playing the outfield.
So what then?
I've been arguing for a while that the Yankees need a very good backup catcher to let Sanchez DH more, but if he does that what happens to Stanton/Judge? The Yankees might have to get creative by playing one at first base from time to time, but Greg Bird is the longterm player for the franchise there. Or they could play one of them in left with Gardner sitting or, more likely playing a little centerfield. Either way, not great options. Like a said, not a great fit.
But- and this is a big but- of course getting Giancarlo Stanton is an amazing acquisition by Yankee GM Brian Cashman. Stanton is so good. At the end of the day, it doesn't really matter how you get everyone in the lineup because when they're all there, New York has one of the best batting orders in baseball:
1) Gardner LF
2) Judge RF
3) Stanton DH
4) Didi Gregorius SS
5) Sanchez C
6) Bird 1B
7) Gleyber Torres 2b
8) Chase Headley 3b
9) Aaron Hicks CF
Perhaps the best part? The Yankees barely gave up anything to get Stanton from the Miami Marlins. Sure, $265 million is a ton of money to take on, but its not my money, I don't care. As long as it doesn't stop New York from pursuing some starting pitching now and maybe making a run at Manny Machado next winter, it's good by me. And sure, Starlin Castro is a good player and was a good Yankee, but Gleyber Torres was nipping at his heels at second base anyway and Castro was never going to be a long term piece of the puzzle in the Bronx. A teenage shortstop and a high upside pitching prospect are a more than fair price to pay for one of baseball's greatest sluggers.
He may be an awkward fit, but the Yankees and their fans should be thrilled.
-Max Frankel