Archives
What Would It Take for the Yankees to Acquire Giancarlo Stanton?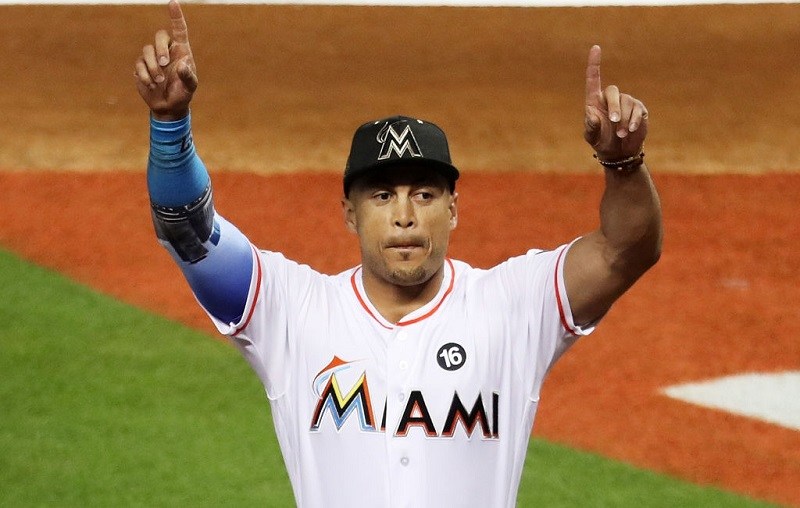 The trade market for Miami Marlins star Giancarlo Stanton has been murky, to say the least. At first, it looked like the Giants and Cardinals had the headwind. But then word came that Stanton, a southern California native, would not accept a trade to either of those teams. Now, as of Friday night, a new front-runner appears to have emerged: the New York Yankees.
On paper, placing Stanton in a lineup that already includes bona fide all-stars in Gary Sánchez and Aaron Judge and a horde of other deadly hitters would make New York the premier offense in Major League Baseball. However, trades involving superstars owed big contracts are notoriously difficult to navigate. There are only a handful of teams in the game with the necessary pieces and payroll flexibility to provide a suitable return for a player the caliber of Stanton. The Yankees, with arguably the top farm system in baseball, are one of them. So, how much would it cost the Yankees to acquire Giancarlo Stanton?
In short, the Yankees could pull off the trick without much pain, even though Stanton was not in our Yankees offseason plan. Don't be mistaken: Stanton will net multiple top prospects for the Marlins when a deal is finally reached. But with a contract the size of Texas, flexibility for the rest of the roster is lost. The reigning NL MVP's agreement is slated to run for another eleven years and cost his employer $295 million (it should be noted, Stanton does have an opt-out after the 2020 season, but he would need to believe an age-30 Stanton to be worth more than $218 million on the open market for this to be worthy of use). The sheer size and length of this deal gives the team that acquires him very little wiggle room, in addition to a massive financial burden. Because of the deal, it's entirely possible for the Yankees to acquire Giancarlo Stanton without breaking their prospect bank.
A key piece in a potential trade would likely be Clint Frazier, the fiery outfield prospect with a big bat and bigger hair. The redheaded Georgia native is also one of the top young outfielders in baseball and has definite all-star potential. Frazier on his own is nowhere near enough for a player of Giancarlo Stanton's caliber, even with that albatross of a contract. Adding one of the Yankees' two top pitching prospects, Chance Adams or Justus Sheffield, could bring the sides closer to an agreement. It could even be possible for the Yankees to keep both of those high-ceiling hurlers, if the Marlins hold a similar opinion of Jordan Montgomery, who is coming off a strong rookie season.
Those two players, Frazier and one of Adams, Sheffield, or Montgomery, would be a good basis for a trade with Miami. But, more would still likely be needed. Miguel Andújar is a third baseman who had four RBI in his big league debut this past season. While his glove is not quite major league ready, his bat surely is and could get even better. Capping off this trade could be Jacoby Ellsbury, who owns a rather large contract himself. New York would still likely have to pay a portion of his large salary, but dumping even part of it, and clearing up a roster spot in the outfield, would be worth it.
The Yankees could get Giancarlo Stanton in return for Clint Frazier, a strong starting pitcher prospect, Andújar, and Ellsbury. Now, note who hasn't been mentioned; Gleyber Torres will not be traded. Neither would New York have to part with the dynamic Estevan Florial. They would hold onto one (or both) of their two top pitching prospects, and have a strong third wing in Domingo Acevedo. Proven major leaguers like Aaron Hicks or Starlin Castro get to stay in pinstripes.
It's possible for the Yankees to get Giancarlo Stanton while keeping three of their top five prospects. Heck, it could be possible for the Yankees to acquire Stanton for even less than what's outlined here. We don't know how Derek Jeter does his trade value calculus. Adding Stanton to the lineup, in between Aaron Judge and Gary Sanchez, would be a nightmare for opposing pitchers. It would still be possible for the Yankees to chase yet another mega star following the 2018 season, such as Manny Machado or even Clayton Kershaw should he opt out.
Do the Yankees need Giancarlo Stanton? Probably not. But if they can get him without completely mortgaging the future, then the upside is just too fun to pass up.
-Nick Schwartz