AL East
The New York Yankees' Crucial, Tricky Offseason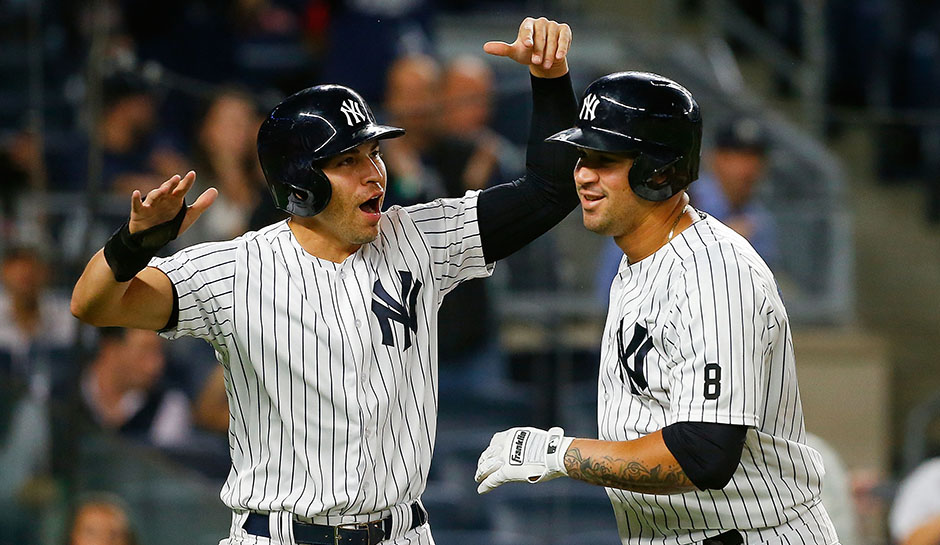 This was a year of rebirth and a year of sorrow. The Yankees returned to prominence, perhaps a year early, much to the delight of their loyal fans, but bliss turned to tears as George Springer's glove closed around a Greg Bird pop-up in Game 7 of the ALCS. Despite the setback, the future for the Yankees may be the brightest of any team in the league. But there is much work to be done during the Yankees offseason to ensure 2018 ends on a higher note.
First off, the Yankees must decide on how to move forward with their starting pitching.
While the piecemeal rotation performed admirably in 2017, the new Yankees manager would like to go into Spring Training with a set unit. Truthfully, many of the spots are already filled: Luis Severino and Masahiro Tanaka both return, as does deadline acquisition, Sonny Gray. Those are three frontline starters, capable of carrying a team at times. And after a strong rookie season, Jordan Montgomery looks destined for a spot in the 2018 group, too.
But questions abound about the final slot.
C.C. Sabathia is a free agent, though has expressed a desire to return to New York; Chad Green will be reporting to Yankees camp aiming to turn his exemplary bullpen season into a starting gig; there are talented prospects in the farm system, like Chance Adams and Justus Sheffield, who will also push for spots on the Opening Day roster; free agents like Yu Darvish and Alex Cobb are alluring. This might seem like a great thing, but going into the season with any controversy over the rotation will not set the team up for more success.
The rotation will need to solidify, and sooner rather than later. (Another Off The Bench contributor suggested this week that the Yankees go with a 6 man rotation.)
A key piece of the Yankees offseason will be the assessment of their young guns.
With Gary Sanchez, a proven star, it's a question of "where" not "if." The Yankee front office has repeatedly denied any intention of removing Sanchez from behind the plate, but if they intend to keep him there, the team needs to ensure strong options at backup catcher. Austin Romine is a good fit, but there could be better options on the open market.
Gleyber Torres throws the infield into a conundrum. GM Brian Cashman intends for Torres to compete for the starting third base job. This could relegate veteran Chase Headley to bench duty at the corner infield spots and a DH rotation. Torres could also feasibly push Starlin Castro at second base, as he is a shortstop by trade. Like the rotation questions, this kind of uncertainty makes it difficult for players to find rhythm, and can hinder development. The Yankees must ensure the infielders all have set roles by Spring Training.
If possible, the Yankees should look to deal some of their veterans to clear the way for the younger, more dynamic players.
This includes the aforementioned Headley, who only has one year left on his contract and could be appealing to multiple teams. The most glaring name on the Yankees roster is Jacoby Ellsbury, who is slated to make over $20 million for the next four years. That's a lot of money for a platoon outfielder. The emergences of Aaron Hicks and Clint Frazier have made Ellsbury entirely expendable, though finding someone to take that contract will be a herculean challenge. New York would conceivably have to take a similarly unruly contract in return. Other names like Castro and even Brett Gardner could be on the market, too, if the Yankees can find suitable partners. For the Yankees, prospects are ready to break out seemingly everywhere.
Overall, this is an important offseason for the Yankees as they attempt to build towards a new dynasty. Achieving success ahead of time is great, but can set unrealistic expectations. This is a young team, and, while primed for a massive improvement and riding great momentum, may hit a few bumps along the way. Adding a piece here or there could really help, even if it isn't the holy grail of Shohei Otani, the Japanese phenom who would instantly be penciled into both the rotation and the designated hitter spot.
-Nicholas Schwartz