Colorado Rockies
Aaron Nola, Jon Gray, and J.A. Happ – The Baseball Power Trio Preparing for Headlines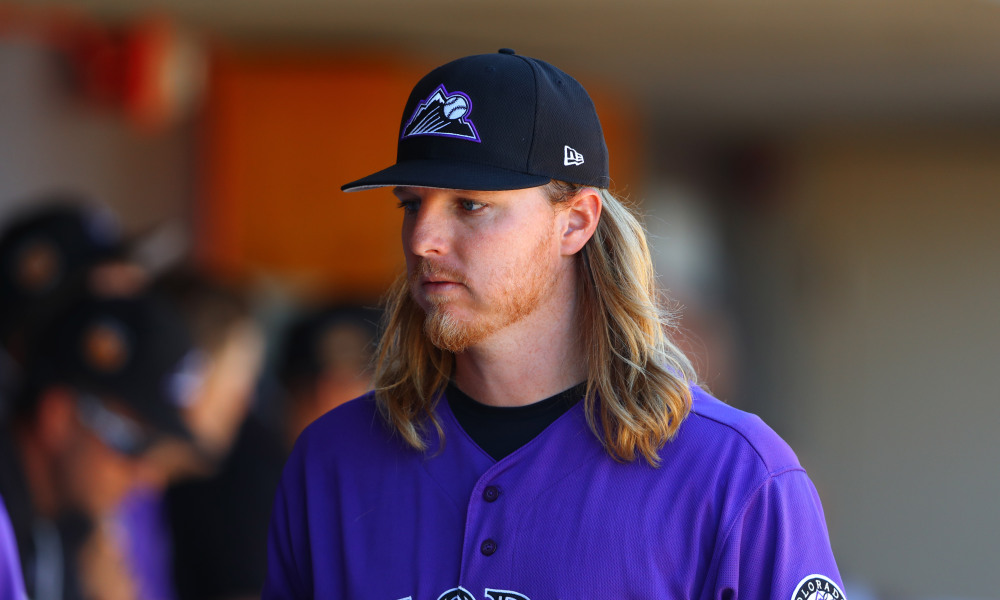 We are in the midst of the stalest part of the offseason and even the official MLB Twitter account thinks today would be better with day baseball. The fun of the rumor mill has been disappointing since the Astros held their parade in Houston and we're left to cycle through yet another update on the Shoehei Ohtani sweepstakes, or feign interest in middle relief deals that are more accounting procedures than shifts in baseball's tectonic plates (The Braves-Angels Jim Johnson swap). I suppose we could write about the Yankees new manager, Aaron Boone, but I'm neither the manager guy, nor the Yankees fan here at Off The Bench. And Jeff Sullivan's excellent piece from last Wednesday on Blake Snell's second-half resurgence reminded me that the collective baseball writing community very likely missed the boat on highlighting good performances. I have found a few tea leaves of note that could signal an Aaron Nola breakthrough, a Jon Gray development, and a JA Happ trade.
Sullivan's piece at Fangraphs listed Blake Snell's stats since July 24, when he moved to the center of the pitching rubber. The odd start date got me thinking: I often miss moments like this because of the arbitrary cutoffs inherent in the statistical leaderboards readily available. We look at first vs second half, or month vs month, but rarely do we break metrics down into 2-month segments. I quickly downloaded the August and September starting pitching leaderboards before boarding a flight and tossed them together. I looked for pitchers who appeared in the top 30 in both months and then ranked those pitchers based on August and September/October WAR. Sure, it's arbitrary, but then again so is throwing a rubber ball covered in cowhide 60 feet 6 inches towards a man wielding a wooden club with sticky stuff on it.
Here are all of the pitchers who appeared on both the August and Sept/Oct Fangraphs WAR top 30:
| | | | | |
| --- | --- | --- | --- | --- |
| Pitcher | August WAR | Sept/Oct WAR | Aug-Oct WAR | Aug-Oct ERA |
| Kluber | 1.4 | 1.8 | 3.2 | 1.42 |
| Carrasco | 1.1 | 1.9 | 3 | 2.82 |
| Happ | 1.2 | 1.1 | 2.3 | 2.81 |
| Verlander | 0.8 | 1.1 | 1.9 | 1.78 |
| Santana | 1 | 0.8 | 1.8 | 3.12 |
| Gray | 0.6 | 1.2 | 1.8 | 2.44 |
| Nola | 1 | 0.7 | 1.7 | 4.07 |
| Snell | 0.8 | 0.8 | 1.6 | 3.10 |
Hey, there's Blake Snell. That Jeff Sullivan guy is pretty smart. Also, Corey Kluber won the Cy Young award on the strength of a great second half, so it's good to see him atop the list. Similarly, Carlos Carrasco, Justin Verlander, and improbably Ervin Santana also had highly-publicized 2017 excellence. The other three names that popped up here surprised me. I will address each of them in turn.
JA Happ
The Blue Jays signed JA Happ signed two offseasons ago to a deal that looked to many like they were paying him to be an Ace, but they really were just paying him to continue a second-half dominance that many folks failed to notice. It was a saber-minded approach that also required an understanding of the value of the free agent dollar. Happ hasn't been an Ace; the Blue Jays never thought he would be. They wanted him to be a number 3 pitcher and he's looked about that way throughout his first two years.
The thing about good number 3 pitchers is that sometimes, they can look like number 1 pitchers. Happ turned that trick in the second half last year, after looking like a very backend pitcher for the season's first 3.5 months. At 33(?), I'm not buying too much into Happ popping up on this leaderboard, but it could have implications for the Blue Jays 2018 season.
The Blue Jays have an aging core. Isaac picked them as a rebound candidate yesterday. I'm less optimistic. I think the Jays could be headed for a rebuild. In that event, Happ is the most likely guy to be swapped to bring back a real return. He's the piece that would allow the Jays to give up on 2018 without completely signaling a rebuild like a Marcus Stroman swap would.
Jon Gray
Gray's spot here really isn't all that surprising given his longstanding status as a top prospect, and the overall impressive performance of the Rockies' young pitching staff that was crucial towards the club's Wild Card appearance. Gray hasn't always been healthy, and he's always been discussed with the caveat of his home ballpark. But Gray managed a 2.44 ERA across the season's final 2.5 months. He did that while starting in XX games at pitcher killer Coors Field.
Gray and the rest of the Rockies took a step forward in 2018. His place on this leaderboard is another of those tea leaves that give an idea that he could be the real deal, despite fighting Coors Field.
Aaron Nola
The thing about the Aaron Nola is that he's on the Phillies and they have not been getting great publicity given their recent propensity to lose 100 games. But Nola headlines what I believe to be a fascinating group of young pitchers that the Phillies have put together. He's likely the best of the group and keeps hitters off balance with a curveball that's laughably good.
But why don't you know about him? We often hear of good pitchers on bad teams. Julio Teheran has made a name for himself on some bad Braves teams, Sonny Gray also did just fine for himself while in the small market Oakland Athletics jersey. But Nola has yet to break through. To this point, he's a FIP-loser. Even in this leaderboard, you can see that his ERA is nearly a run higher than anyone else's. It's hard to get national press coverage and become an All-Star with an ERA north of 4, but the advanced stats love the guy and he passes the eye test.
I'm buying Aaron Nola stock. I'm buying Phillies stock, just like this time last year.
-Sean Morash