Archives
The San Diego Padres Ruin their Catchers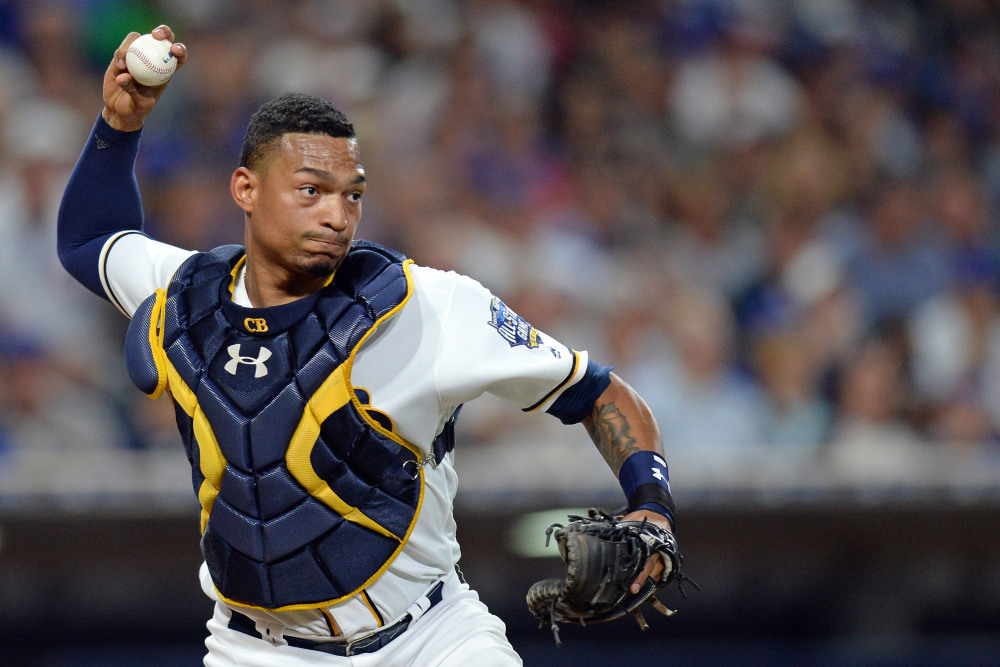 If you know a young catcher, keep them away from the San Diego Padres. Consider the following:
A) Catchers are really important. In 2011, Mike Fast, then of Baseball Prospectus and now of the Houston Astros, announced his groundbreaking findings that pitch framing has a huge impact. Catchers can win or lose several games per season simply by how well they catch the ball and present it for the umpire.
B) Player development shouldn't be rushed. This is one of baseball's oldest tenets that still holds true. In most cases, a prospect should master A before A+ before AA before AAA. There are exceptions of course, and every player is unique. However, baseball wisdom holds that player development generally should follow a linear path for best results.
Assume both A and B are true, and A + B = C. In this equation, C must be:
C) DON'T SCREW AROUND WITH YOUNG CATCHERS!!!! Stop what you're doing right now and squat like a catcher, then stand up again. It's not fun, is it? It's strenuous at the least, and possibly quite painful depending on the condition of your knees. A catcher has to do that roughly 149 times every nine innings! Now imagine doing that 149 times per day, 120 days per year, for 30 years. Any franchise that can find someone crazy enough to do this voluntarily should throw them a parade, especially if they're actually good at it. More realistically, teams should not mess with young catchers' development for the mutual sake of the player and the franchise.
Here's where the San Diego Padres enter the fray. General manager A. J. Preller is best known for frequent trades, often involving big-time players, and sometimes under dubious circumstances. In his three full seasons running the franchise, they employed seven catchers on the major league roster.* Three of them were acclaimed prospects, all of whom were grossly mistreated.
This winter, the talk of baseball is two-way sensation Shohei Ohtani. Last winter, a very different kind of two-way player dominated the storylines.
Christian Bethancourt was a stellar defensive catching prospect in the Atlanta Braves organization. He never hit much, but his receiving skills and bazooka arm placed him on top 100 prospect lists each year from 2012-2015. By the time he was traded to San Diego following the 2015 season, he had a .527 OPS through 278 PA in the majors. He had just turned 24 with a decent career ahead of him as a MLB backup catcher, with the possibility of starting if he learned to hit.
His offense improved slightly in 2016 as the primary backup catcher for the Padres (.633 OPS). He also played a little in the outfield and pitched in two games. No one thought much of it at the time; lots of position players pitch in blowouts to spare the bullpen. He faced 10 batters, recording 5 outs, 3 walks, a single, and a HBP. His velocity was impressive though, with a fastball sitting around 95 MPH.
At this point in the story, it's important to note that Bethancourt never pitched professionally at any level before those two appearances in the major leagues. He signed with the Braves at age 16 out of Panama in 2008 and never once played anywhere other than behind the plate. Why would he? He's a great defensive catcher with, frankly, little else to offer as a player.
So what do the San Diego Padres do with an excellent defensive backup catcher? Make him a pitcher, of course. He spent the winter pitching in the Panamanian Winter League. The novelty of his conversion was a major offseason topic that generated excitement into Spring Training.
"The San Diego Padres have a gem in pitcher, catcher, and outfielder Christian Bethancourt, a player who is beginning to draw attention due to his versatility."

-Jonathan Goehring, Friars On Base, Febraury 23, 2017
The experiment did not go well. That's actually too generous; it was a complete and total disaster. He walked 8 men, allowing 6 hits and 9 runs in 3.2 IP and didn't catch in the major leagues whatsoever. He went down to the minors in late April, never to return. Inexplicably, he didn't catch at all in the minors, either! After spending an entire season without doing the one thing he does best, the Padres released him on November 6.  He is now a free agent.
Austin Hedges was arguably the top catching prospect in baseball prior to 2015. Like Bethancourt, he was regarded as a defense-first catcher (he still is) who might possibly hit for a little power. He struggled to hit AA pitching in 2014, slashing .225/.268/.321, but nonetheless earned a promotion to AAA the next year. Inexplicably, he posted a .914 OPS through 79 PA at AAA before being called to the big leagues in early May at age 22.
All of the above is perfectly fine. There's nothing wrong with a top prospect getting a call-up from AAA, especially if he's playing well. The problem is Hedges stayed in the majors. He spent the rest of the season with the big club and was completely overwhelmed, hitting .168/.215/.248. His 26 wRC+ tied for the major league-worst among players with at least 150 PA.
The poor offense in 2015 wasn't the biggest problem. Hedges only played 56 games with 152 PA from May 4 through the end of the season. It's pretty difficult to develop a prospect who hardly gets to play. The Padres squandered a valuable year of development for their top prospect in a 74-88 season. The Padres tried to make up for their playing time bunder by sending Hedges to the Dominican Winter League in the offseason, but he almost certainly would've been better off getting regular playing time in the minors against pitching his speed.
Hedges played almost all of 2016 in AAA, though he missed time with a broken hand. He was the San Diego Padres' everyday catcher in 2017, despite an NL-worst .262 OBP (minimum 400 PA). Even without a bat, Hedges is still a useful major leaguer because of his stellar glove and arm, but perhaps he would be in a better position now if he hadn't spent 2015 on the bench. Get the guy Off The Bench! (Get it?)
Perhaps no player in baseball was as overmatched as Luis Torrens in 2017. He played in the low minors as a teenager in the Yankees system in 2013 and 2014, then missed all of 2015 with injury. He spent most of 2016 in the A-level South Atlantic League as a 20-year-old. Despite never playing above A-ball, the Padres selected him in the Rule V draft.**
In fairness to the San Diego Padres, they had no choice but to keep Torrens on the major league roster all year. Otherwise, he would have been returned to the Yankees. Thus, he performed about as well as expected of a prospect who probably belonged in A+. He slashed .163/.243/.203 in 139 PA, good for 18 wRC+. There were actually 9 pitchers with a higher wRC+ than him. Most likely, he'll spend the entirety of 2018 in the minors having lost a year of appropriate development.
***
Every player dreams of playing in the major leagues. When Hedges and Torrens found out they were getting the call-up, they almost certainly didn't protest that they weren't ready. As for Bethancourt, pitching just seemed like a way to get more playing time. Players are shortsighted. No young prospect ever declined a call-up or more playing time. It's up to the organization to do right by their young talent.
Would any of these three catchers be better off had they more chances to hone their craft in the proper time and place? No one knows for certain, but GM AJ Preller, who may or may not have a plan, just signed an extension on Sunday. He's running the team for the foreseeable future and if he wants that future to include good catchers, perhaps he should reevaluate the way he develops them.
*Derek Norris was the starting catcher from 2015-2016. The San Diego Padres claimed journeyman Hector Sanchez off waivers from the White Sox in 2016. He was the third catcher for the rest of the season, then the backup to Hedges in 2017. Wil Nieves played the final 6 games of his 12 year career for San Diego in 2015. Rocky Gale is the quintessential organizational soldier who earned brief cups of coffee in 2015 and 2017.
**Technically Cincinnati drafted Torrens, then immediately traded him to the Padres.
-Daniel R. Epstein