AL East
Danny Valencia a Better Fit with the Red Sox than Eric Hosmer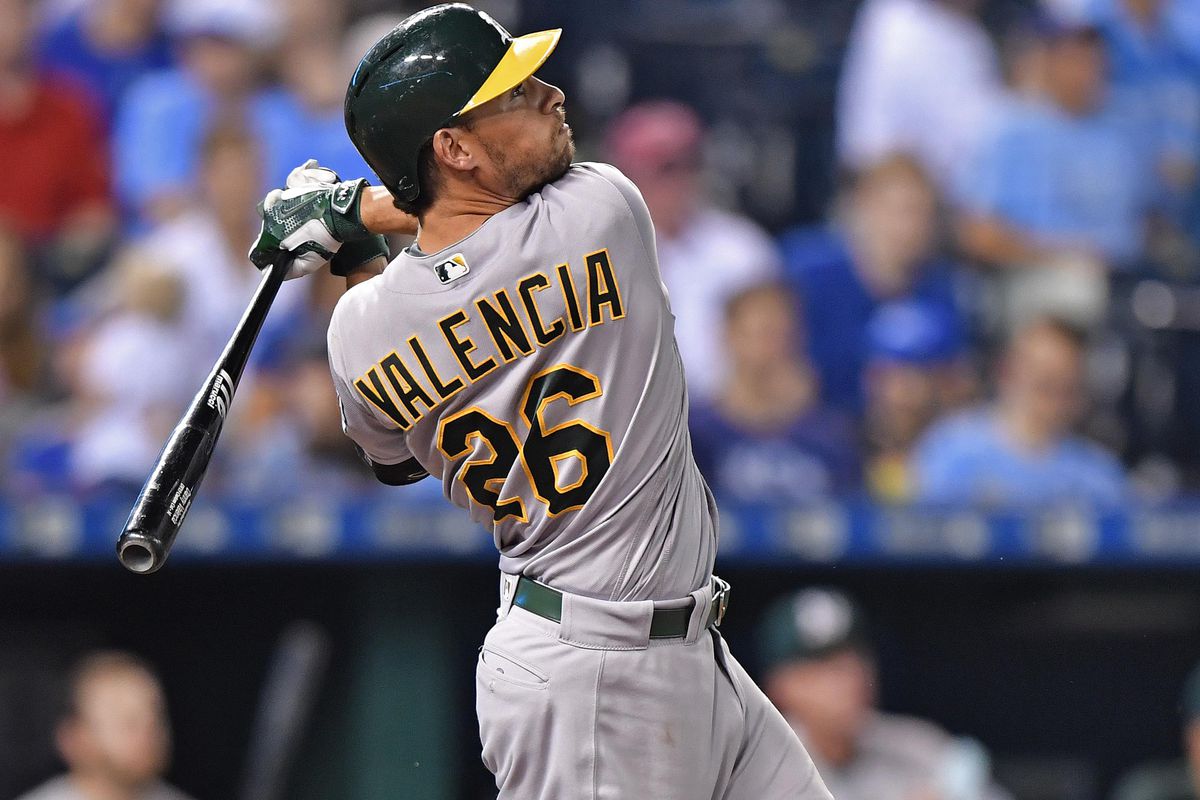 Eric Hosmer has been linked to the Boston Red Sox since before the offseason even began, and for good reason. The All-Star first baseman satisfies the Red Sox's need for a power hitter and first baseman. However, his current asking price of over $200 million is a significant amount of money, even for one of the richest teams in the sport. Signing Hosmer would almost certainly prevent the team from signing the best hitter in this free agent class, J.D. Martinez. If the Red Sox primary concern this offseason is increasing their lineup, the team would be better off passing on Hosmer in exchange for free agent first baseman Danny Valencia, and using the excess 195 million dollars or so to sign Martinez.
Ok… I know, Danny Valencia is not Eric Hosmer I get that. However, the former Mariners and A's first baseman brings a skillset that can serve the Red Sox just well as Hosmer's could, assuming they then use their Hosmer money to sign JD Martinez. On the surface Valencia seems like a barely league average hitter, the guy hit .256 with 15 home runs and a .725 OPS. When you compare that with Hosmer's line of .318 with 25 home runs and an OPS of .882 it may seem like I've lost my mind. But if you dig deeper, the playing field begins to even.
Advanced Hitting Statistics Show That Valencia and Hosmer are not that Different
It seems pretty clear from the basic hitting stats that Danny Valencia and Hosmer are on different levels. However, looking beneath the surface reveals some key similarities between the two hitters. Specifically, Hosmer and Valencia have very similar hitter profiles when it comes to the type of balls they put in play and how hard they hit those balls.
A criticism of Hosmer throughout his career has been that he hits too many balls on the ground. That continued to be true in 2017 as Hosmer hit the ball on the ground 51.4% of the times he made contact. Valencia also had an unusually high ground ball rate, though not quite as extreme at 47.9%. Both hitters hit the ball on the ground around half the time. In fact, Hosmer and Valencia have pretty similar rates on all types of batted balls:
| | | | |
| --- | --- | --- | --- |
| | Groundball % | Line Drive % | Fly Ball % |
| Hosmer (2017) | 53.4 | 22.2 | 22.2 |
| Valencia (2017) | 47.9 | 21.1 | 31.0 |
Danny Valencia has a lower groundball rate, a slightly higher fly ball rate, and an almost identical line drive rate. Not only do Hosmer and Valencia put the ball in play in a similar way, but actually Valencia does a little bit better of a job keeping the ball off the ground. The tendency in both hitters to hit the ball on the ground shows in the amount of double plays they hit into in 2017, 20 for Hosmer and 16 for Valencia. For reference Albert Pujols led baseball in that category with 26.
Of course it doesn't matter what type of ball you put in play if you don't hit the ball hard. A fan of Hosmer might want to argue that this is where the All-Star separates himself from the unknown Valencia, but the numbers show once again that the difference between the two is not all that great. Here are their respective percentages of soft, medium, and hard contact:
| | | | |
| --- | --- | --- | --- |
| | Soft Contact % | Medium Contact % | Hard Contact % |
| Hosmer (2017) | 21.8 | 48.7 | 29.5 |
| Valencia (2017) | 20.5 | 49.7 | 29.8 |
They're almost identical! Eric Hosmer, all-star first baseman and top-tier free agent, makes almost exactly the same amount of quality contact as Danny Valencia! But I can hear the argument in my head now: "These stats have no real impact on the game, all that matters is results – batting average, home runs, OPS etc." I get that, but the advanced numbers are fun, and instructive.
Valencia does not have the surface level numbers that Hosmer has and those numbers are important. But lets take a moment to compare a Red Sox team with Hosmer and a Red Sox team with Valencia and close to 200 million more dollars in the budget.
A Team With Danny Valencia and Not Hosmer
I am not proposing Valencia man first base alone for the Red Sox. A platoon between Valencia and a potential first baseman already on the roster, Hanley Ramirez, could be a potent combo. Valencia hits left-handed pitching well and  Ramirez hits right-handers and really can't hit lefties at all. Against left-handers in 2017, Valencia had batting average of .264 with an OPS of .804 and a slugging percentage of .448. It may have been lost in his overall underwhelming season, but  Ramirez is no longer someone you want batting against lefties- he hit just .179 with a .680 OPS and a .387 slugging percentage. While he still remains productive against righties, Hanley now seems to be a heavy platoon player, even if he were at DH. Platooning with Valencia would also provide Ramirez with enough days off to ease concerns about his ability to play a position on the field and stay healthy.
Take a look at the small table below, comparing the production vs. left and right-handers for the two first base options.
| | | |
| --- | --- | --- |
| | RHP BA/SLG/OPS | LHP BA/SLG/OPS |
| Ramirez/Valencia (2017) | .259/.441/.769 | .264/.448/.804 |
| Hosmer (2017) | .335/.528/.938 | .284/.433/.760 |
Hosmer is a better hitter against righties than Ramirez, but Hanley figures to get playing time in the Red Sox lineup given his contract. The interesting stat is that Valencia is actually the better hitter against left-handers, with a higher OPS and, more importantly for Boston, slugging percentage. So, if the Red Sox plan on having Ramirez bat against right-handers in their lineup anyways, and Valencia is a better hitter than Hosmer against lefties, for about 196 million dollars cheaper, it makes sense to setup that platoon at first even if both guys swing right handed. Dave Dombrowski can then take his near-200 million dollars saved and sign JD Martinez, an objectively better hitter, to play DH.
In conclusion, Danny Valencia is not a better hitter than Hosmer. To be clear: Valencia could be a better fit for Boston at a fraction of the price. The platoon of Ramirez and Valencia would be nearly as effective as Hosmer and would only add about $4 million to the payroll. If they used that Hosmer-earmarked money to sign Martinez, who hit 20 more homeruns than Hosmer in 2017, they would get significantly more offensive production in their lineup. Adding Valencia to platoon with Ramirez provides a significantly more affordable solution to first base for the Red Sox, and given his similar hitter profile to Hosmer, he may be due for a better year than he had in 2017.
-Isaac Gamboa