Archives
The Shohei Ohtani Rejects Support Group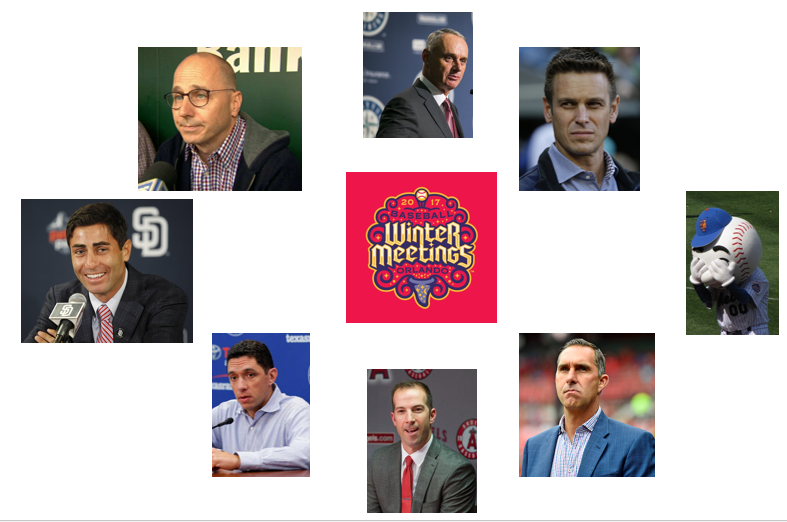 Off The Bench was lucky enough to be in the room at the winter meetings this week when an impromptu healing session (of sorts) was called following Shohei Ohtani's decision to sign with the Los Angeles Angels. Ohtani, the Babe Ruth of Japan, who pitches 102 mph and figures to be a good hitter to boot, was available to sign with any team at a significantly discounted rate relative to his value. The Angels are surely ecstatic to have him. The other GMs… well… they needed some Rob Manfred facilitated healing….
ROB MANFRED (MLB Commissioner): Welcome to the Shohei-Ohtani-Rejected-Us Support Group. Before we get started, here are the ground rules. Mr. Met, can you please hand these out?
[MR. MET (Mets Mascot) hands out pieces of paper with the ground rules.]
MANFRED:
Rule Number 1: Everyone here is equal and accepted. We all deal with rejection in different ways.
Rule Number Two: If a ball is hit down the third base line and bounces off the short wall and goes back onto the field, that ball is in play. If the ball gets stuck under the fence, that ball is dead.
Rule Number Three: No wearing cleats inside.
And lastly Rule Number Four: after last week's incident, you can no longer trade munchkins after you've touched them-
JERRY DIPOTO (Seattle Mariners GM): Aw, man! That's no fair!
MANFRED: Now Jerry, we're all here to heal. This is not the place for constant trade proposals, and as you know Trade Addicts Anonymous meets on Thursdays.
DIPOTO: Who wants to trade seats?
MANFRED: Just stop making trades! Okay, before we get started, Mr. Mozeliak, would you mind putting your computer away?
JOHN MOZELIAK (St. Louis Cardinals GM): Guess what: I'm hacking you. I just hacked all your passwords and all of your passwords are now "Cardinals Rule!"
ALL: [grumble]
MANFRED: Okay, well, stop hacking. Now let's get on with the meeting.
JON DANIELS (Texas Rangers GM): Hello, my name is Jon Daniels.
ALL: Hi Jon.
[MR. MET waves at Jon]
DANIELS: Hi guys. Hi Mister. Okay, I brought a little something to help demonstrate my feelings about what Shohei Otani did to me. It's under this blanket.
[JON DANIELS takes a blanket off to reveal a 16th-century gaslight]
Shohei Otani gaslighted me! He told me he wanted to be my friend! And then he totally burned me just like how if you get your hand stuck in a gaslight!
THEO EPSTEIN (Chicago Cubs GM): I don't think that's why gaslighting is called that…but what do I know? I just went to…Yale.
[THEO EPSTEIN Flips down those outfielder flip-up sunglasses]
DIPOTO: Um, it's also starting to smell like gasoline.
DANIELS: Look, I've been through abusive relations before. Things were bad with – oh god I can barely say his name – Pitcher #22, Nick Martinez. I know he mistreated me. Anytime I hear the number #22 I yell, "Ahhh, I have a generally unfavorable opinion about that number!" It totally ruins my community bingo night. Also, I keep dialing Ohtani's agent just to hear his voice, then hanging up. I just feel like I can change him, you know? I don't think I could stand to see him happy with someone else. I gotta call him.
MANFRED: Nope, we're taking your phone away. Thank you for sharing, Jon. Just remember you're worth more than Nick Martinez, Tyson Ross or A.J. Griffin. They need you more than you need them. Brian, I see you would like to share?
BRIAN CASHMAN (New York Yankees GM): Yes, Rob, thanks.
[BRIAN CASHMAN drops a few bars of pure gold from his pocket and they fall on the floor.]
CASHMAN: Oops. Eh, I'll leave it. I have enough of those. Hello, my name is Brian.
(crowd grumbles)
MANFRED: Come on, everybody. No judgments, remember? Everyone here feels pain.
[MR MET nods in strong agreement]
ALL: Hi Brian.
CASHMAN: Uh, ok. I know you're all not happy with me right now, but I have a real problem! I have SO much international bonus money and nowhere to spend it! I wanted to give it to Ohtani, but he wouldn't even talk to me. I LITERALLY climbed a skyscraper to get his attention! I'll send you the link with my Google Glass.
The GMs receive this link:
CASHMAN: Now there's nowhere left to spend my huge international bonus pool. I just feel like-
BRIAN SABEAN (San Francisco Giants GM): OH SHUT UP ALREADY!
MANFRED: That's not appropr-
SABEAN: NO! He thinks he has problems?!? He just got GIANCARLO STANTON for FREAKING STARLIN CASTRO!!! You can take your bonus money and shove it! Give the microphone to someone with a real problem!
MOZELIAK: Hacked! I just ordered Seamless from your account, Sabean.
MANFRED: Alright, that's enough! Let's all calm down. We're all friends here. Why don't we all jus-
DANIELS: Oh my god!
MANFRED: What's the matter, Jon?
DANIELS: I just got a text from an old flame I haven't heard from in ages! We had some really good times together, but that was a long time ago.
DANIELS: Well, maybe it wasn't all good times. He did cheat on me. I have no idea what he even looks like at his age. I'm so conflicted!
[DANIELS stands up and grabs his coat]
Excuse me, everyone, I have to make a phone call.
[DANIELS exits]
MANFRED: Good luck, Jon. Remember to make good choices. A.J., we haven't heard from you. Would you like to share?
AJ PRELLER (San Diego Padres GM): (stands reluctantly) Hello, my name is Aaron John.
SOME GMs: Hi, A.J.?
OTHER GMs Hi, Aaron John?
PRELLER: I go by my first two names now. I had a thought late last night. What if Ohtani isn't that good? I mean, what's so special about him? There are lots of reasons not to like him. In fact, I made a list:
Ohtani throws right-handed, but bats lefty – INDECISIVE!
Ohtani can't pitch and hit literally at the same time – UNCOORDINATED
Ohtani doesn't have his first name on his jersey – LAME!
Ohtani rooted for Japan in the World Baseball Classic- NOT AMERICA!
Ohtani's fastball is measured in kilometers per hour, not MPH. – I CAN'T READ THAT!
MANFRED: Well, uh, that's….healthy? I guess?
UNIDENTIFIED MAN (Billy Eppler, Angels GM, wearing Groucho glasses): You're just jealous. Those aren't even reasons not to like him! Those are just petty qualms!
MANFRED: Are you….
UNIDENTIFIED MAN: Am I what? Am I Billy-,
ALL GMs: Hi Billy.
UNIDENTIFIED MAN: -I'm the proud, great, General Manager, who will go down as the great architect of the Angels' dynasty?
[UNIDENTIFIED MAN gets a text.]
UNIDENTIFIED MAN: Ah good. I just gave another ten years and $240 million to Albert Pujols.
[Preller slowly removes Mariners-branded nunchucks from back pocket, DiPoto sulks]
EPPLER (Cont.): Yes I am! Ohtani and Trout! And Pujols! And the memory of Johnny Giavotelli!
MANFRED: Security! Please remove Billy Eppler.
[Eppler escorted out, cackling "Ohtani" repeatedly]
DiPoto: Hey, A.J., can I have my nunchucks back? I'll trade you these munchkins and my shirt.
Eppler: OK, deal.
DIPOTO (now shirtless): Trade complete! I have something to share.
MANFRED: Yes, please share. Everyone, please make Jerry feel welcome.
ALL: Hi, Jerry.
DIPOTO: I made two different trades to get more money to sign Ohtani and he still signed with someone else. Usually, I just trade a lot because I get bored and I like to read Lookout Landing. For a week there, I actually had purpose! I needed to get more international signing money! I'm not sure of my purpose anymore! But hey, look at the bright side. We did get to sign this Shohei Ohtani Bobblehead doll!
DANIELS: Drats! Good signing.
DIPOTO: Actually, strangely enough, the bobblehead doll and Nelson Cruz have already become fast friends.
[MAYBE YOU COULD PHOTO SHOP A PICTURE HERE OF CRUZ AND A OHTANI BOBBLEHEAD LIKE ON A ROLLER COASTER OR SOMETHING]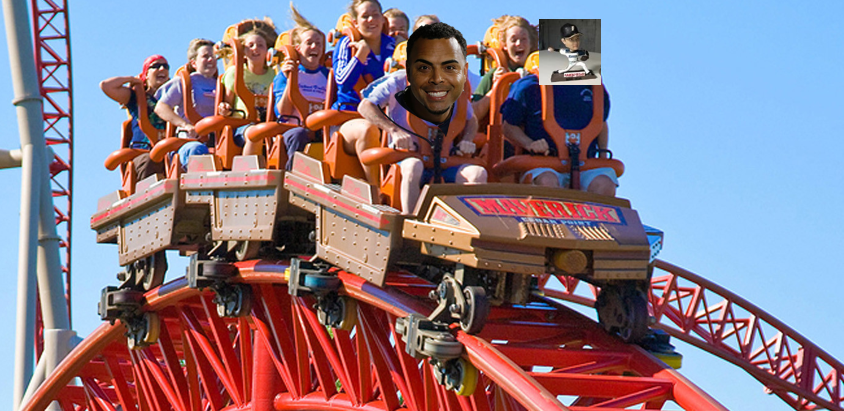 MANFRED: Well, we're all here at the Winter Meetings this week to try to get our teams and the sport better. There are lots of ways you could regain your purpose.
JON COPPOLELLA (Former Braves GM, his voice uses that muted box thing, but is speaking through the walls or in people's minds, it's hard to say): You know, Rob, you could just change the rules so that you don't feed into Jerry's addiction problem. I mean, I know the other GM's probably don't miss my 1,000 word text messages, but I needed to send those to explain the implications of certain trades.
MANFRED: Jon, where are you? Also, you're not supposed to be here. I banned you from the sport.
COPPOLLELLA: I got plugged into the mainframe in a world outside baseball. Listen, I hurt just like everyone else.
PRELLER: Wait, you got banned from baseball and then became some sort of all-conscious deity?
COPPOLLELLA: SILENCE!
[A.J. Preller gets zapped into a million small Padres hats.]
EPSTEIN: I mean honestly, I've never seen anybody wear any Padres gear.
COPPOLLELLA: All of these international rules are super complicated and do a disservice to talented young men. I got banned for life for trying to pay players what they are actually worth. Jerry lost out on Ohtani, despite trying to pay him close to what he's worth. Why can't we just have a free market and funnel money to the players in the open?
MANFRED: …. No Comment. Hey! You're not even supposed to be here. Security! I think that's enough for today.
MR. MET is brandishing a meat cleaver.
MANFRED: Get him, Mister!
Note: All leave prior to Seamless arriving.