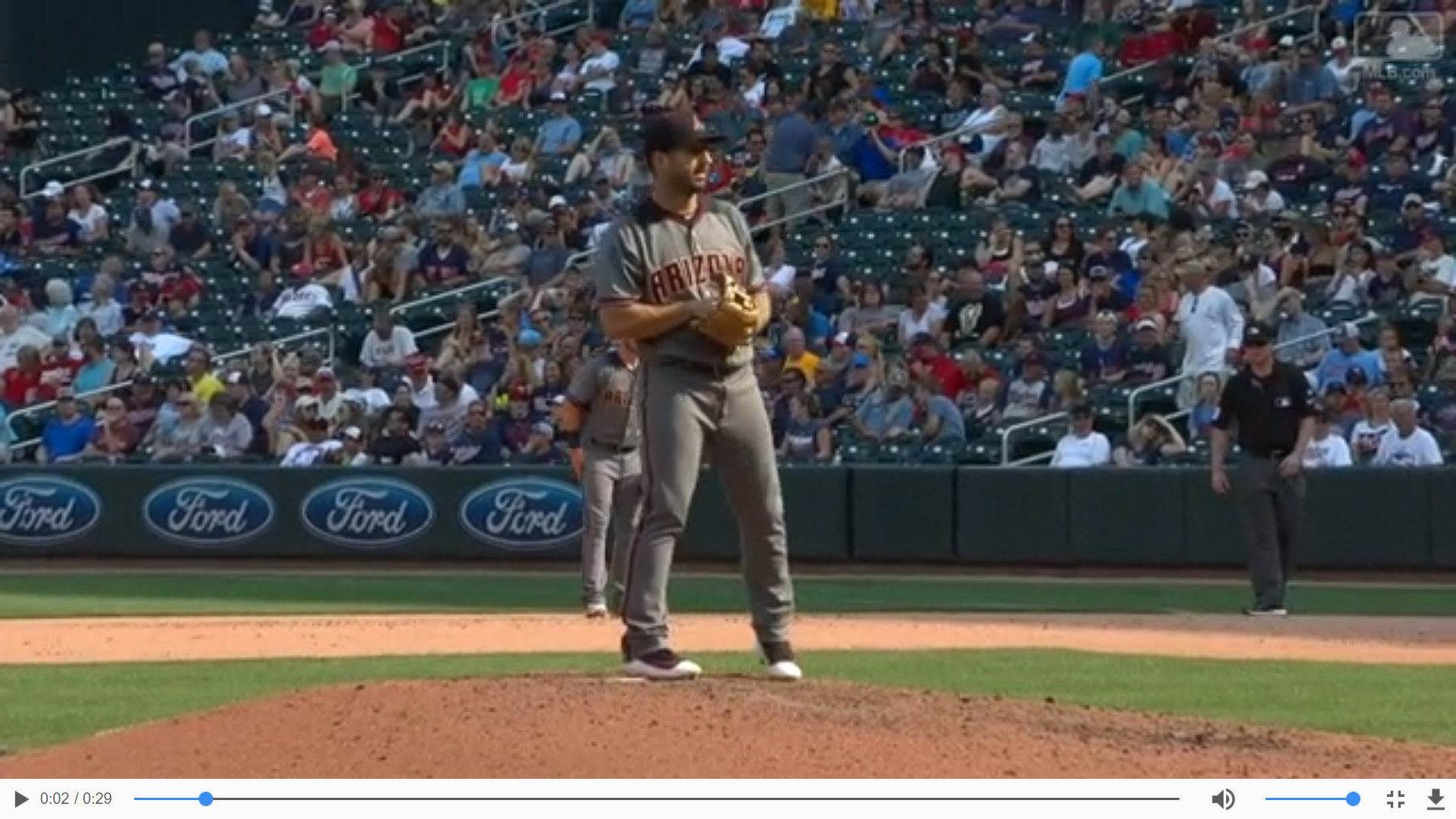 It's OK if you don't know much about Daniel Descalso.
The annals of baseball are filled with tales of glory and greatness. We'll pass stories of Mike Trout and Clayton Kershaw down to our young, just as stories of Babe Ruth and Walter Johnson were passed down to us. But for every Ted Williams or Bob Gibson, there are hundreds of utility infielders, middle relievers, and backup catchers. Some of their careers are lengthy but most are brief; some are remembered but most are not.
This is why we keep statistics and historical records. Once in a while, if you stare at such a player in just the right light, you can find some unique record or contribution that has never been accomplished before or since.
I managed to unearth one such corner of the baseball record book, shining a light on Daniel Descalso, who is about as anonymous as an eight-year MLB veteran can be. The quintessential utility man has played for the Cardinals, Rockies, and most recently the Diamondbacks, slashing .240/.318/.359 with 0.9 bWAR for his career. He's played mostly everywhere on the diamond without a true starting gig anywhere.
Descalso has that one necessary quality for a position player to pitch in blowouts: expendability. The sum total of his entire career doesn't quite add up to one win above replacement. As such, he is often the most replaceable player on the roster should he hurt himself doing something as unnatural as pitching. So it's no surprise that he's taken the mound three times in his career, including twice in 2017.
Here's where things get strange: He's faced seven major league batters and retired every single one. He is now on the verge of setting the record for the most career batters faced without allowing a baserunner.
As per Baseball-Reference, 535 position players have pitched in the history of major league baseball. This is not quite accurate because it includes players like Babe Ruth, Rick Ankiel, and about 100 players from the 1800s who actually were pitchers for significant portions of their careers. Removing them, there are 419 position players who pitched against 50 batters or fewer. These position players yielded a .397 OBP to opposing batters. By comparison, the major league average OBP was .324 in 2017.
Daniel Descalso is a position player and therefore, we would expect a .397 OBP against. Instead, it's .000. The odds of seven professional hitters all failing to reach base against him are astounding. Let's look deeper.
The Pitcher at Work
Batters faced: 1
Chances of a normal pitcher retiring one batter: 67.6%
Chances of a position player retiring one batter: 60.3%
Descalso first appeared as a pitcher with the St. Louis Cardinals in a game against the Chicago Cubs. Manager Mike Matheny brought him into the top of the ninth with two outs and a runner on first. The Cubs had scored six in the inning against Randy Choate and held a 17-5 lead. Descalso, the 18th Cardinal to enter the game, faced Mike Olt. His first pitch was an 86 MPH fastball below the knees for ball one. The second pitch, also 86 MPH, sat in the middle of the plate. Olt drove it to deep left, but it was caught by Jon Jay for the final out of the inning.
This must have been a fun moment for Descalso in an otherwise dreary loss. Nevertheless, it's far from noteworthy. Obviously, position players don't pitch often, but even still they are likely to get one batter out 3/5 of the time. Furthermore, Mike Olt was an ideal opponent. His own career OBP was only .250, far less than average (or even acceptable) for a major leaguer.
Batters faced: 3 (4 in his career)
Chances of a normal pitcher allowing no baserunners through 4 batters: 20.1%
Chances of a position player allowing no baserunners through 4 batters: 13.2%
Descalso faced the Cubs again three years later, this time as a member of the Arizona Diamondbacks. With his team losing 16-4, manager Torey Lovullo brought him in from second base to pitch the ninth inning. He threw six fastballs(?) to Javier Baez, ranging from 75-77 MPH. Baez flew out to center field on a 2-2 pitch. Ian Happ then worked a full count in a seven-pitch at bat, including Descalso's first curveball, before hitting a fly ball to left field for the second out. Kyle Schwarber wasted no time at the plate, hitting the first pitch to the warning track in left field, but it was run down for the final out of the inning.
https://baseballsavant.mlb.com/videos?video_id=1678406283
It's early August and Descalso has now faced four major league hitters and gotten all of them to fly out. This is impressive, if also a little lucky. An actual pitcher has about a 1/5 chance of retiring four consecutive batters, and a position player has only a 13.2% chance. He's now one of the more successful position player-pitchers in history, but he's got a long way to go to accomplish anything truly special.
Batters faced: 3 (7 in his career)
Chances of a normal pitcher allowing no baserunners through 7 batters: 6.5%
Chances of a position player allowing no baserunners through 4 batters: 2.9%
A few weeks later, Descalso pitched the bottom of the eighth of an interleague game in Minnesota. The Twins, leading 12-4, sent Eduardo Escobar to the plate. He saw six pitches (including a few sliders!), then hit an infield popup on a 3-2 pitch. Mitch Garver followed, hitting a hard ground ball on the third pitch to shortstop Adam Rosales for the second out. Jorge Polanco also saw three pitches, concluding with a lazy fly out to right field.
At this point, Descalso has reached the precipice of greatness. He's thrown 2.1 IP of perfection. A regular pitcher puts down seven straight batters 6.5% of the time, and a position player does it only 2.9%. But this wasn't just some random seven batter stretch. These are the ONLY seven batters Descalso has ever faced. He's unblemished in his entire pitching career.
The Record
How long does it take to recognize perfection? When a pitcher begins a game by retiring seven straight batters, it's a good start to the outing, but there's no perfect game alert. Fans in attendance or watching on TV won't start whispering about a perfect game until at least the fourth inning. Most people won't tune in specifically to watch until the sixth at the earliest.
As it turns out, Descalso's seven batters retired without allowing a baserunner is nearly the best ever. He is now fifth all-time for most batters faced with career WHIP of 0.000. Only four pitchers in major league history faced more batters without allowing a hit or walk.
But were all of them truly perfect pitchers? Upon closer inspection, Descalso may be closer to the record than he seems.
The record holder for longest career allowing zero baserunners is held by Ed Taylor, who pitched in one game for the St. Louis Cardinals on August 8, 1903. He allegedly threw three perfect innings, for which there is no box score. His biography is exactly one sentence long:
An apparent suicide, Ed Taylor hurled himself under a Dallas streetcar on the night of January 30th/31st, 1912.
Sad as his demise may be, his claim to the record is dubious. He apparently faced 12 batters in those three innings, which suggests he was less than perfect. He allowed no hits, walks, or hit batsmen. So why did he face 12 batters instead of 9? There are seven ways a batter can reach first base. (If you want to try to name them, here's the Sporcle quiz.) Most likely, shoddy turn-of-the-century record keeping failed to memorialize some hits or walks. We're throwing this out from the official record book.
George Gick pitched for the Chicago White Sox in 1937 and 1938, appearing in one game each season. He pitched three innings in total, allowing no hits or walks. However, in his 1938 appearance, he hit Detroit Tiger Elden Auker with a pitch, allowing him to reach first base. This is not reflected in Gick's career WHIP, but it is most certainly a baserunner. He is therefore disqualified, having failed with just one errant pitch.
Apparently, there was a major league team called the Pittsburgh Rebels of the Federal League in 1915, and they briefly employed a pitcher named Al Braithwood. He pitched in two games, completing three innings. Somehow, he is only credited with eight batters faced over three innings. It's possible he relieved another pitcher with a man on base and somehow got him out, but it doesn't appear as though he ever entered in the middle of an inning. Can he rightfully be considered a perfect pitcher with a batter unaccounted for? That's in the eye of the beholder, but at best he's only one batter better than Descalso.
Cliff Ross pitched in four games for the Cincinnati Redlegs in 1954. (The Reds briefly changed their name during The Cold War.) He faced eight batters over 2.2 IP and retired them all. There are no apparent shenanigans with this story, and Ross may well be the legitimate record holder.
Daniel Descalso
Daniel Descalso is 31-years-old and has yet to distinguish himself as a hitter. Odds are, his time in baseball will end soon, and shortly thereafter he'll be forgotten. But if he can just get one more chance to pitch and somehow manage to get a few batters out, he'll etch a tiny legacy into baseball lore. He might not even be aware of it. But somewhere in the future, some fan will find his etching and take a moment to remember the career utility infielder.
He needs one more out to tie Braithwood and Ross and two more outs to surpass them. At that point, he will be the most perfect pitcher in the history of baseball. Not too bad for a utility infielder.
-Daniel R. Epstein