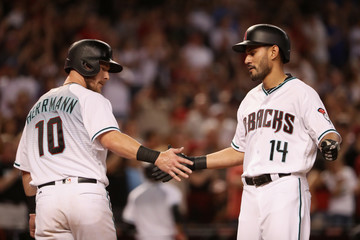 St. Louis Cardinals outfielder Tommy Pham put together an incredible 2017 season. If we're being honest, it came out of nowhere. But what could we learn from it that might tell us about a 2018 MLB breakout to watch for?
The 29-year-old had spent over a decade in redbird attire with little to show for his efforts. Sure, his 2011 and 2012 seasons gave the appearance of an outfielder with a decent all-around game. But he was never a top prospect or anything. Prior to 2017, he was just a pretty good all-around kind of player but was relegated to mostly 4th outfielder status in his time in the Majors. He showed promise in 2015, posting a 1.6 WAR in just 35 games started in July, August, and September that year, but the promise that you thought you saw in 2015 disappeared with a .226 average and 46% strikeout rate in his 2016 time in the Majors.
Fast forward to 2017 and Tommy Pham earned a starting spot in St. Louis, disrupting the Stephen Piscotty/Randal Grichuk/Dexter Fowler outfield plans. But that disruption was the Silicon Valley circa 1998 kind, as Pham posted a 6.6 bWAR figure that earned him down-ballot MVP votes. It was a complete offensive effort for Pham: .306 average, .411 OBP, .520 SLG, 23 HRs, 25 SBs. He was the Cardinals' best player, a fantasy baseball monster, and he didn't make his season debut until May 5th!
As a baseball culture, we're always looking for the next big thing, but we're never quite sure how to find it. We know that young guys with talent can impact organizations for years – that's why we love prospect lists. We know that talented guys recovering from injuries can get healthy to make surprise impacts – that's why Scott Kazmir's 2014/2015 made sense. But Tommy Pham doesn't fit neatly into either of those narratives. He was too old for those prospect lists, and he never made an MLB impact to cement the possibility of a "prodigal son" return from injury.
So, let's see what we can learn from Tommy Pham to try to find this year's breakout star.
Finding the Next Tommy Pham
A word of advice I got on how to approach this problem: "Adopt an unloved infant of ambiguous Southeast Asian parentage." (According to Wikipedia, Pham is "of African-American and Vietnamese-American heritage".)
Indeed, attempting to track down the guy entering his age-29 season most likely to break out is a fool's errand. Pham's minor league track record and lack of pedigree offer little help. I already touched on his lack of prospect status, but he was a 16th round pick and never a statistical standout as a minor leaguer. His best minor league season in terms of counting stats (2009) came with a .668 OPS, while his best full season of minor league ball in terms of OPS (2011) was complemented by 5 homers and an injury.
Since we're after the next Tommy Pham, we're looking for someone 28 or older, who was drafted after the 10th round, was never a top prospect and never hit more than 18 homers or stole more than 20 bases in a minor league season. That should be easy.
Luckily for us, we can narrow the field by zeroing in on Pham's 2015 major league performance. Remember how he managed 1.6 WAR in just 35 games started (52 Games played)? But then he disappeared in 2016? Well, let's see if there are other folks like that, except with 2016/2017.
Here's the full list of players who were worth at least 1 WAR in 2016 with fewer than 60 games played.
Gary Sanchez is a former top prospect and did great in 2017. He's not the type of guy we're after. Ditto for Mike Zunino (except he did just OK in 2017). Alex Avila doesn't fit the Tommy Pham mold either: he's a former All-Star and is a fairly well established Major Leaguer.
Crossing those three from the list leaves Andrew Toles, and Chris Herrmann. Both are interesting players as they fit the Tommy Pham mold of fringe Major Leaguer blocked at the MLB level. Toles is unlikely to get MLB playing time with the Dodgers, just as Pham was squarely behind the Cardinals' planned outfield. He's never hit more than 10 HR in a minor league season, but he did steal 62 bases in low-A in 2013. Plus, he was drafted in the top 5 rounds twice! He's not the 2018 Tommy Pham.
Hermann is a bit more fun as he can catch, as well as play the outfield for the Diamondbacks. He also fits our mold. Uninspiring minor league numbers. Check. Poor Major League season following surprise promising major league season. Check. Too old to be taken seriously. Check.
The one hiccup here is that Chris Hermann is a former 6th round pick. Combine that with the fact that I really don't want to believe in Herrmann means that we're going to keep looking.
Looking to 2015 for Inspiration
I went back to 2015 looking for more of the high WAR / minimal games played strategy that hinted at Pham's breakout. Michael Conforto was there and he broke out in 2017. Mikie Mahtook and Aaron Altherr were there, too. Both look the part of established major leaguers heading into 2018. But right there with those guys is Ketel Marte.
Marte managed a 1.7 WAR in 2015 with just 57 games played. He followed that up with an uninspiring minor league 2016, but looked really good in 2017. The problem with his 2017 is that most of it was completed in AAA. He managed to hit .338 with a .905 OPS in his few months in the minors. He's a pretty good shortstop, so those figures are exciting.
The major league part of his season wasn't as exciting. You're forgiven if you missed Marte's mostly average second half in Arizona. He is just 24, so he's not exactly Tommy Pham, but that's actually a reason to be excited about him. He is also Jeff Sullivan's favorite breakout player for 2018, in part because the tea leaves of his batted ball profile portend an underlying improvement missing from his 2017 rate stats.
So between Ketel Marte and Chris Herrmann, the Diamondbacks have two guys who could be on the verge of a breakout. They sorta fit the profile that led to Tommy Pham's breakout last year. Nobody really fits that profile; it's unique to Pham and not exactly a model to stardom that I would recommend.
-Sean Morash