AL West
The New-Look Angels Need An Innovative Mike Scioscia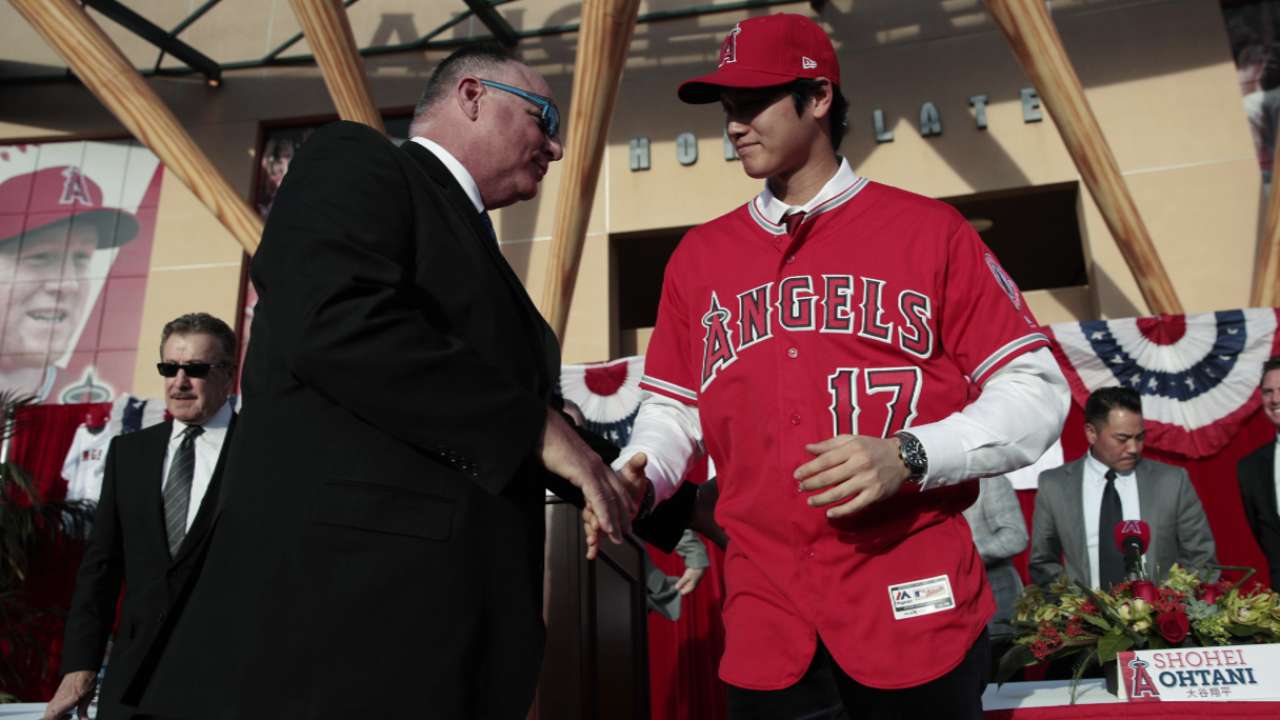 It has been among the slowest offseasons on record so far; most of the big ticket free agents are still unsigned and there's a lot that still needs to play out, but based on what has happened, the Los Angeles Angels and GM Billy Eppler have stolen the crown as doing the most to improve. With the acquisitions of Shohei Ohtani, Ian Kinsler, and Zack Cozart, the Angels have upgraded two major roster holes and shocked the baseball world with the free agent steal of the decade. Angel fans are rejoicing in the aggressive approach to win now and prove to the world's best baseball player, Mike Trout, that the organization wants to surround the once-in-a-generation talent with the pieces for a deep playoff run.
Yet being an Angels fan since 1999, I have observed the strange ebb and flow of organizational direction. During the years of the Disney ownership of the Angels (until 2003), General Manager Bill Stoneman focused on building a strong farm system and cultivating from within. But since Arte Moreno took over, throwing money at big name signings or trades have been the norm. From Albert Pujols to CJ Wilson, the Angels have relied on big names but have not risen to championship quality. The one consistency has been Mike Scioscia.
With the signings of Cozart and Ohtani and trading for Kinsler, the Angels hope relies yet again outside the face of the franchise, Trout. It's in the hands of the captain of the ship since 2000, Mike Scioscia. The Angels will only be successful this year if Scioscia can shirk the mediocrity that's defined him lately and evolves to a wily game-manager role and creative analyst.
Scioiscia will be up against steep challenges of managing one of the oldest lineups in baseball, with an average age of 30.3. While on paper, the defense ranks as one of the best in the bigs, Cozart will have to learn a new position in the infield with defensive wiz Andrleton Simmons locked in a shortstop and the hobbled Pujols is worse than useless in the field. Scioscia will also have to piece together a rotation decimated by injuries and uncertainty with Matt Shoemaker, Garrett Richards, Tyler Skaggs, JC Ramirez, and Parker Bridwell. Finally Scioscia and pitching coach Charles Nagy will try to buoy a bullpen of upstart Blake Parker, injured Cam Bedrosian, and veteran acquisition Jim Johnson.
On top of all that, all eyes will be on Scioscia's management of the most interesting baseball experiment ever, the two-way sensation Shohei Ohtani. Managing the electric pitcher and left-handed power hitter will test and push all boundaries of baseball as its currently played.
In order to be successful, old school Scioscia must tap into advanced analytics.
Too many times over the past 8 years, Scioscia, who received a B on OTBB's latest manager rankings,  has trotted out the same lineup day in and day out without variation except for minor shifts for lefty-righty matchups. In addition he has been less than creative in his bullpen usage (creativity examples: 2 innings saves, bringing in his hot relievers earlier in the game, like Kenyan Middleton in mid-September). Scisoscia needs to tap into new age analysis that his mentees have capitalized since leaving his tutelage. Joe Maddon, Scioscia's bench coach for 5 years, can teach a thing or two to his SoCal pal.
One suggestion that I have for Scioscia is his use of Ohtani. This is what is being proposed:
| | | | | | | | |
| --- | --- | --- | --- | --- | --- | --- | --- |
| | Day 1 | Day 2 | Day 3 | Day 4 | Day 5 | Day 6 | Day 7 |
| Possible 6-man rotation | Pitch | Rest | DH | DH | DH or rest | Rest | Pitch |
While this may be an unpopular suggestion, for the first half of the year I envision Ohtani in a super-reliever role similar to Andrew Miller. This would solve one big problem by placing a sort of natural innings limit on Ohtani, and help to some pressure off an oft-injured rotation and young bullpen. Here's an idea of what I'm thinking:
**Projected Rotation Based on Current Depth Chart 1/5/18
While this may take away from the impact of Ohtani as a starting pitcher, it maximizes the amount of high leverage innings the hard-throwing pitches while minimizing his overall workload. While Ohtani did hit 22 home runs in 2016, I don't think he will top 12 home runs in the MLB, but his OBP and average might be comparable. Scioscia needs to think outside the box and perform shrewd experiments in order to combat his greatest challenges as a manager.
My plea to Mike Scioscia: Be different! Exercise the power you have within the organization and be willing to be subject to outside criticism for new and different managerial techniques. Experiment with Ohtani, give plenty of rest to your veteran infield, build the confidence of your rotation and bullpen, and let Mike Trout take of the rest.
-Jimmy Seter