AL West
Athletics' Matt Olson is Baseball's Least Predictable Player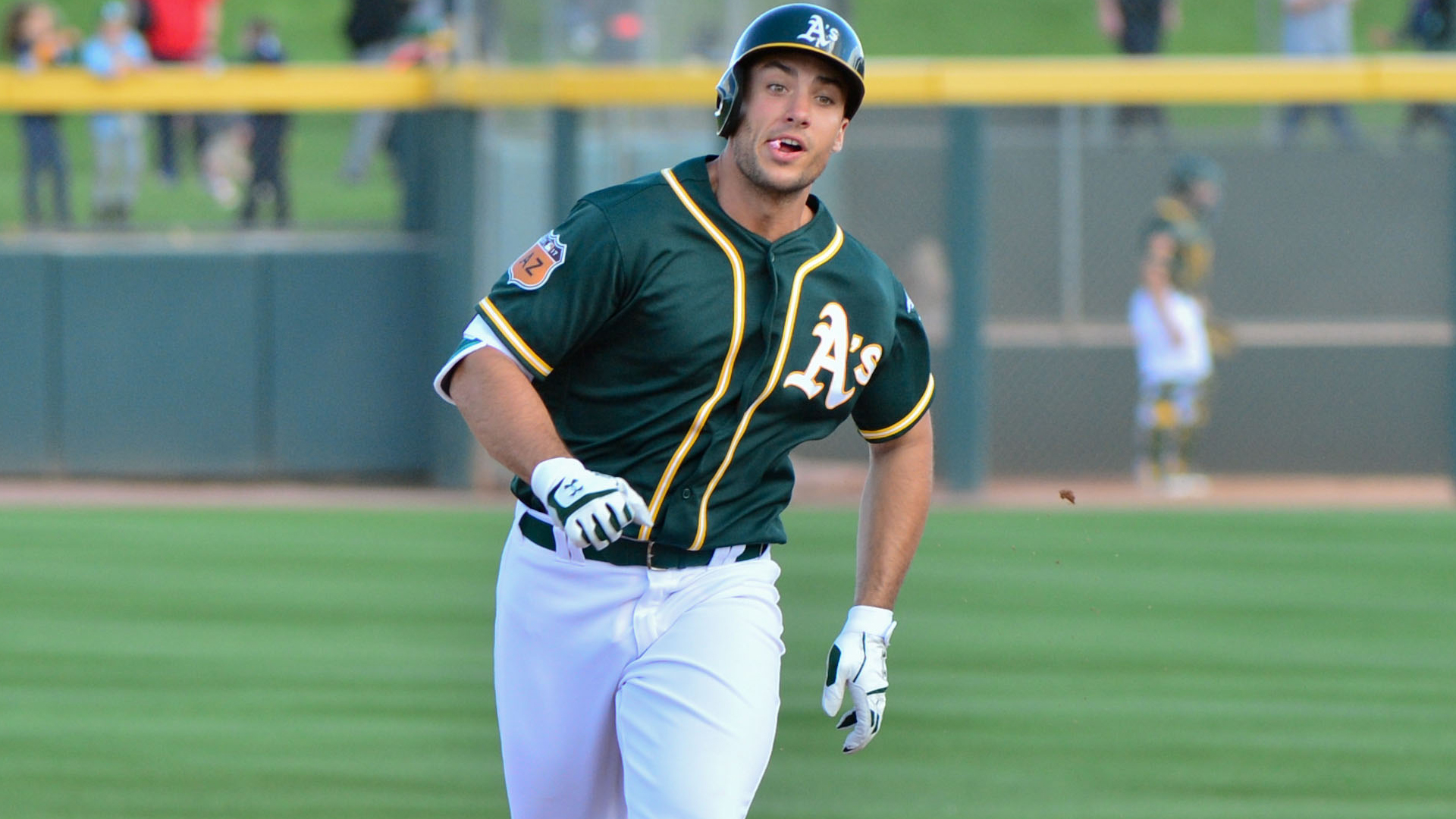 Think about Mike Trout, but don't look at his stats. What kind of season do you think he'll have in 2018? Maybe something like .300/.420/.550 with 20-30 SB and 9 WAR? Now do the same thing for Paul Goldschmidt. Or Joey Votto. Most likely, you don't need advanced projection systems to tell you what these guys will do next year, health permitting. They have proven track records of consistent performance over several years.
About a month from now, prediction season will be upon us. TV, radio, the Internet, and even old-fashioned print media will all be making projections about team and individual performances for 2018. Trout, Goldschmidt, and Votto are easy predictions, even for the novice prognosticator. Similarly, it's not too complicated to guess that the Dodgers will be good and the Tigers will be bad. However, not every prediction is quite so simple. The most difficult player to project for the coming season will be Oakland Athletics' first baseman Matt Olson. On one hand…
Matt Olson will be AMAZING!
After a brief 28 PA debut in 2016, Olson demolished American League pitching last season. In 216 PA, he slashed .259/.352/.651. He blasted 24 HR with a .411 wOBA and 162 wRC+. The only qualified players to best those marks were Trout, Aaron Judge, and Votto. Even with subpar defense and baserunning, Baseball-Reference, FanGraphs, and Baseball Prospectus each credited him with at least 2 WAR in basically 1/3 of a season. That's really good! But…
Matt Olson will be AWFUL!
Olson can't possibly sustain his incredible power numbers. His ridiculous .392 ISO was fueled by a 41.4% HR/FB rate. In other words, if he hit the ball in the air five times, it left the park twice in 2017. Judge led the MLB with a 35.6% HR/FB mark last year, but only four players had more than 27% (Judge, Giancarlo Stanton, Domingo Santana, and Joey Gallo). Olson's power is for real, but sometimes a guy just gets a little luck and his fly balls carry over the fences more often than they should. If he regresses to 25%, which would still have been among the league leaders in 2017, his HR total drops from 24 to 14 over the same amount of PA. His ISO, SLG, wRC+, and other corresponding statistics drop as well. Thanks to Andrew Perpetua's xStats, we can translate a batter's actual batted ball profile (launch angle and exit velocity) into his counting stats. xStats thinks Olson only earned 16.8 HR in 2017. Watch out for the collapse! However…
Matt Olson will be EVEN BETTER THAN EVER!
One of the most predictive offensive stats is BABIP, or Batting Average on Balls In Play. Players generally hit .290-.310 every season. If someone's BABIP is too high or too low, it's a sign he was either lucky or unlucky on batted balls. Olson's BABIP was only .238, which is actually 21 points lower than his batting average! This is only possible because home runs aren't considered balls in play. As good as he was in 2017, BABIP indicates he actually had terrible luck and deserved even BETTER numbers! OLSON IS BARRY BONDS!!!! Except…
Matt Olson will be DOOMED TO FAIL!
Olson isn't really this good because he's never been this good before. His career minor league slash line is .249/.364/.479. How can a player go from a .479 SLG in the minors to .651 in the majors? Aren't the major leagues supposed to be harder? Justin Verlander is a Major Leaguer! Furthermore, he struggled the most in AAA. In 2016, he slashed only .235/.335/.422 for Nashville of the Pacific Coast League. In 2017, he improved to .272/.367/.568, still nowhere near his big league numbers. Furthermore, the PCL is notoriously hitter-friendly, so take those numbers with a certain quantity of salt. Matt Olson: not that great! But let's consider that…
Matt Olson will be PHENOMENAL!
At the same time…
Matt Olson will be DISASTROUS!
Then there's this…
Matt Olson is a CONTEMPORARY ARTIST!
Actually, that might not be our Matt Olson. Anyway…
Matt Olson will be ???
On June 22, Olson hit a double against the Astros. He hit another double off Houston again on September 9. Those were the ONLY two doubles he hit all season! The fewest doubles per PA among qualified hitters in 2017 belonged to Jose Peraza, who averaged a two-bagger every 58 PA. Peraza's an outlier; everyone else hit a double at least once every 42 PA. But Olson averaged 108 PA between doubles! WHERE ARE ALL THE DOUBLES?!? He hit plenty of doubles in the minors; 166 of them in fact! What does this mean for his future? WHO KNOWS!?! Doubles are good, right? He should try to hit a few, I guess?
Matt Olson will be a Baseball Player.
I give up. Matt Olson will play baseball. The A's traded away Ryon Healy, clearing the way for Olson to start at first base. Barring injury, he'll probably play there all season. What happens beyond that is anyone's guess.
-Daniel R. Epstein