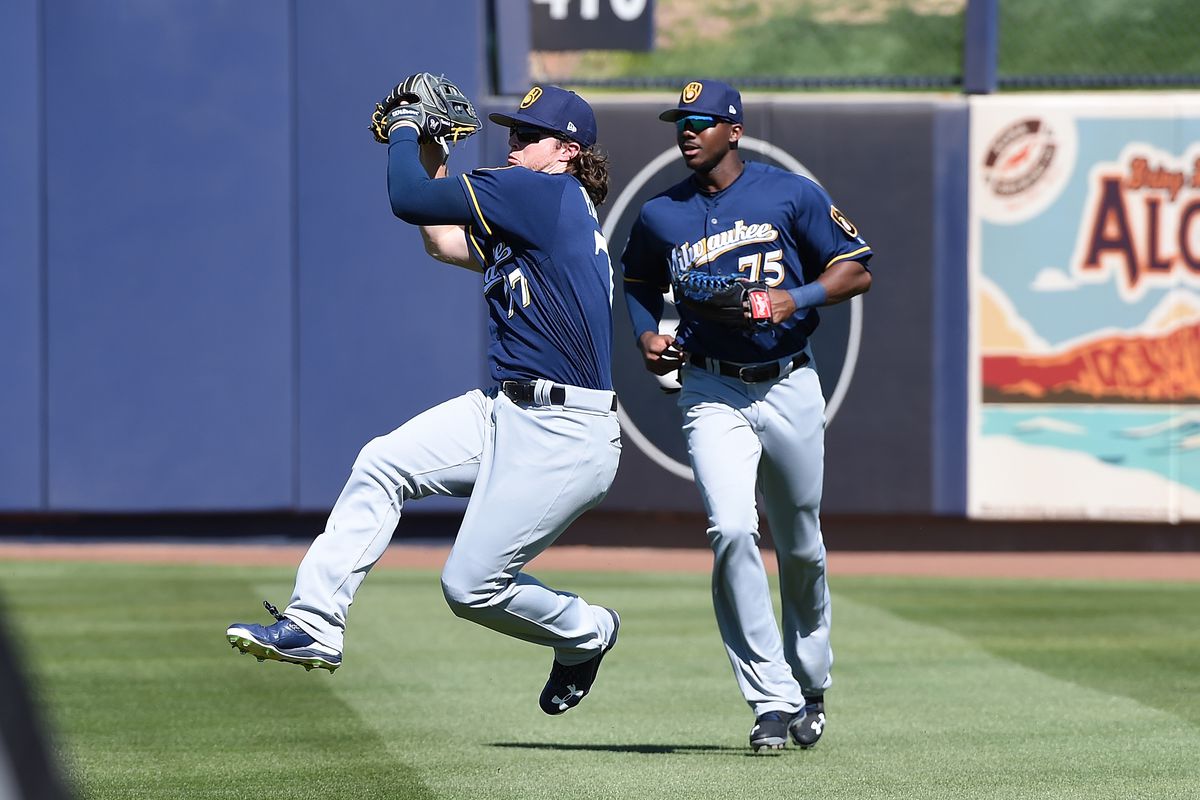 The Milwaukee Brewers are a lot like their manager Craig Counsell's batting stance: interesting, but with mixed results. Some years, Counsell hit .316, and others .178. Now that he has been Milwaukee's manager for almost three full seasons, the Brewers have seen a welcome improvement in their win percentage:
2015: 44.5% (61-76)
2016: 45.1% (73-89)
2017: 53.1% (86-76)
But, despite that drastic improvement from 2016 to 2017, Milwaukee cannot seem to get over the hump in the NL Central. The consistent success of the Cubs and Cardinals (and sometimes the Pirates) has held them back, but their best window for contention is rapidly opening.
The Middle Infield
The Milwaukee middle infield is headlined by second baseman Jonathan Villar and shortstop Orlando Arcia.
Despite having a down 2017 in which he hit only .241 with 11 home runs and 23 steals in 123 games, Villar still holds that immense potential that he displayed in 2016. Just two years ago, he hit .285 with 19 home runs and 62 steals on his way to a 3.9 WAR.
On top of this, there are two main reasons for the Brewers to keep Villar: his salary and his age. He's only 26 years old, and appears to be comfortable playing in Milwaukee as his prime approaches. 2018 is Villar's first year of arbitration eligibility, but his lackluster 2017 may keep his numbers low enough to still make him affordable. So he's cheap, and entering his prime as a versatile player. A jack of all trades, Villar is a switch hitter who can play second, third, and short.
Orlando Arcia, who was once the organization's top prospect, has not shown the immediate success that most fans hoped would come. In his first stint with the Brewers in 2016, Arcia hit .219 with a .273 OBP in 55 games. In his defense, Mike Trout hit .220 with a .281 OBP in his first 40 big league games, so jumping to conclusions with small samples of baseball activity isn't the greatest idea.
Arcia saw significant improvement in his first full season last year, batting .277 with a .324 OBP with 15 homers and 14 steals. Most importantly, he'll play 2018 at 23 years old and will not be a free agent until 2023. Between him and Villar, the Brewers have a lightning fast middle infield duo that can consistently hit for average and spark the beginning of Counsell's lineup.
The Outfield
To stay true to the "up the middle" theme, only centerfield will be focused on. But the future for Milwaukee at the position is very bright.
Keon Broxton was a pleasant surprise for the Brewers in 2017, posting a 20HR/20SB season. Defensively, he made only 7 errors in 243 chances with 5 assists. However, the advanced stats didn't care so much for Broxton: he posted a negative dWAR, posted a .299 OBP, and struck out in 43% of his at-bats. While he's a phenomenal athlete, at age 28, the window for optimism on Broxton is quickly closing.
The good news for Brewers fans is that it appears that Broxton is only a segue to super prospect Lewis Brinson. A first-round pick in the 2012 draft, Brinson has not struggled at all through the minors and is quickly developing into a multi-tool player. While in the Rangers minor league system in 2015, Brinson hit .332 with 20 home runs and a .403 OBP. After being traded to Milwaukee in the Jonathan Lucroy trade, the hype around Brinson became quieter.
But in 2017, he again made minor league ball look easy by batting .331 with 13 homers and a .400 OBP, good enough to earn him a late-season call-up. In 21 games at the big league level, his .106/.236/.277 slash line was anything but impressive, but I'll mention small samples and Trout again if I have to. The final verdict on Brinson is that he makes the game look simple, and many in the Brewers organization believe him to be a future MVP candidate.
Brett Phillips is also worth mention since his official position is centerfield, he's a former top-100 prospect and looked good in a taste of Major League ball last year. He's still young, a few weeks younger than Brinson, but it would not be surprising to see Phillips move to left or right.
Why This Matters
Looking around the league, the Milwaukee Brewers are in really good shape in the middle of the field. Lots of teams have good centerfielders with average middle infielders, or vice versa. Milwaukee is one of the only organizations that has a positive outlook at both of these areas. And with a supporting cast of Ryan Braun, Eric Thames, Domingo Santana, and Manny Pina, the near future is looking good for one of baseball's smallest markets.
Their outfield may look crowded now and their pitching staff is mediocre, but that's a different post.
– Mike Milius