AL East
New York Yankees Acquire Russell Wilson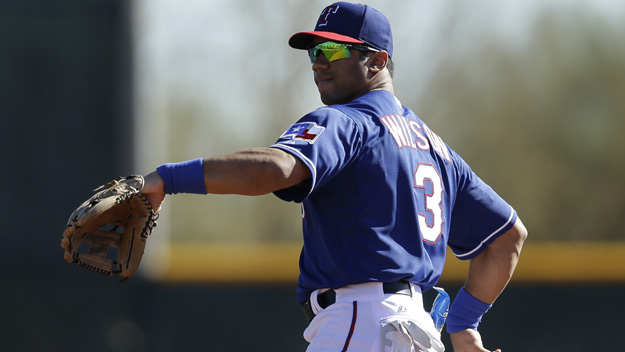 Who has the best quarterback in the state of New York? It's not the Giants. Or the Bills. And it sure as heck isn't the Jets. It is the New York Yankees, who last week pulled off a stunning coup by trading for Russell Wilson. It's a clear indication that the Yankees intend to not just dominate the American League this season, but the National Football League. Getting Wilson sends a signal to the rest of the sports world that they better watch out!
Wilson should immediately slot in at QB, replacing the departed Matt Holliday (an All-American QB during his high school days in Oklahoma. Serious aside: Holliday was legit. Former Dallas Cowboys Coach Jimmy Johnson called him a "can't miss" NFL prospect). With an offensive line anchored by the 6-foot-6, 300-pound CC Sabathia (had an offer out of high school to play Tight End at UCLA before committing to Hawaii for baseball and football), Russell Wilson should be protected. 6-foot-8, 260-pound Dellin Betances and 6-foot-6, 230-pound Jordan Montgomery join Sabathia as featured players on the offensive line.
On the outside, wide receivers Giancarlo Stanton (had football offers from USC, UCLA, and others) and Aaron Judge (caught 17 touchdown passes as a high school senior) give the Yankees a pair of behemoths that will be impossible to cover. Stanton's size and athleticism also makes him a standout defensive back. If you thought Calvin Johnson was impressive during his storied career, you'll be blown away by the giant wide outs the Yankees will deploy.
The rest of the roster will be rounded out by speedsters such as Brett Gardner and Ronald Torreyes, ideal candidates to play running back and cornerback. David Robertson, a native of Alabama who graduated from Paul Bryant High School (as in "Bear" Bryant, the legendary Crimson Tide coach), also adds another savvy player to the team. Georgia native Clint Frazier has the tenacity necessary to play middle linebacker.
With football squarely in their sights, it's clear how the Yankees proceed next: they will attempt to conquer basketball. With LeBron James and Paul George headlining the NBA 2018 free agency class, the Yankees have to be considered frontrunners to land both players. Combining them with Aaron Judge (averaged 18.2 points a game his senior year) in the post and Jacoby Ellsbury (averaged 23.6 points a game as a high school senior) at guard, it's expected that New York will soon be able to challenge Golden State for league dominance.