Chicago Cubs
The 2020 Chicago Cubs Might Be An Absolute Disaster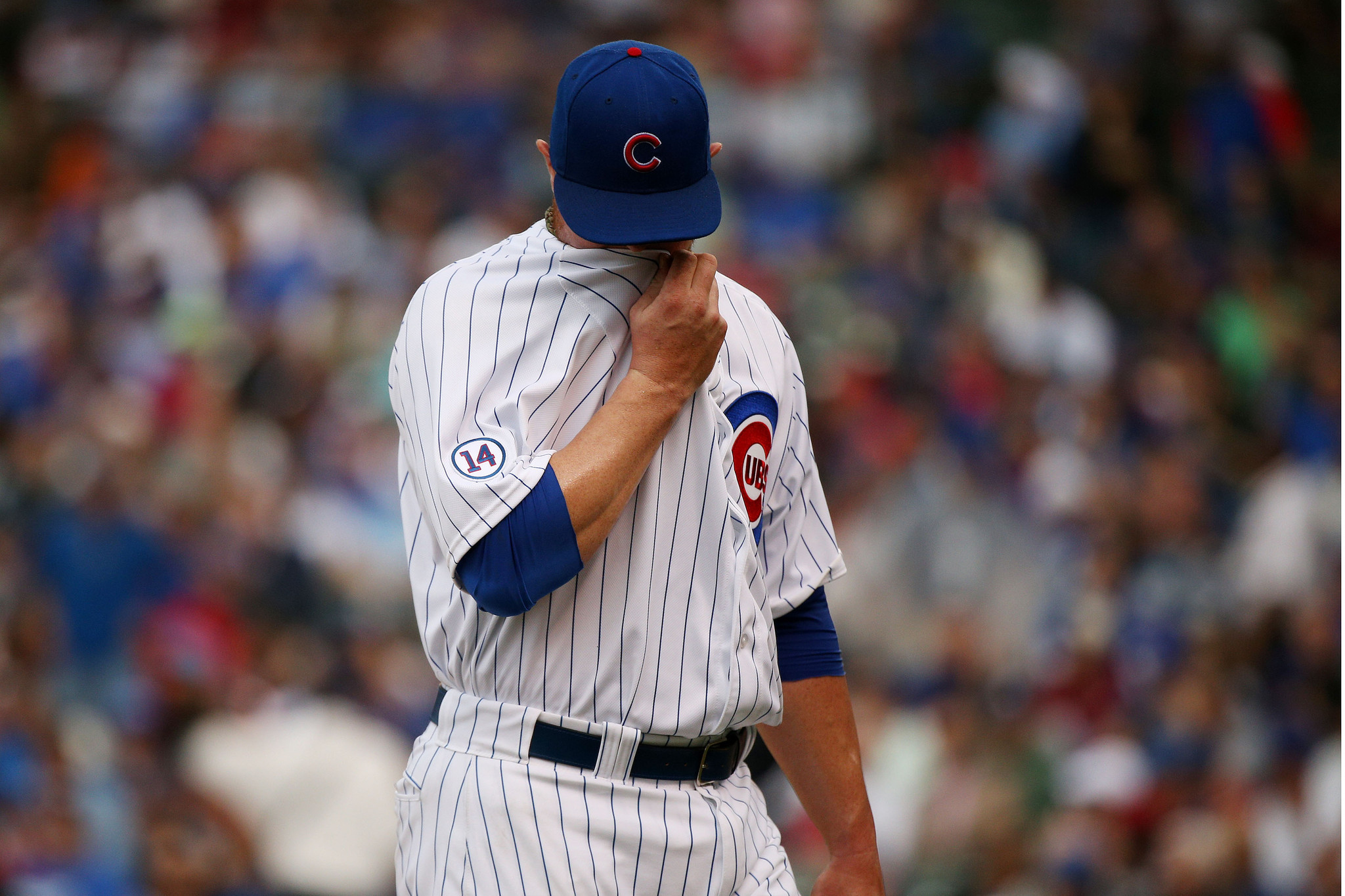 Theo Epstein gets a ton of credit for ending baseball's two longest World Series droughts, and rightfully so, but we would be well served not to forget that he left the Boston Red Sox in pretty bad shape after the 2011 season. Adrian Gonzalez and Carl Crawford, two big money contract calamities that were in large part the impetus for Epstein's departure, were the two highest paid players on  2012 Red Sox, and the team essentially cratered into last place after Theo bolted. As GM, Epstein had created a winning organization in Boston, but some bad free agent deals helped bring the winning cycle to its end. Now, as President of the Chicago Cubs, it's starting to look like the pattern is repeating itself and if the team isn't careful, the 2020 Chicago Cubs might be an absolute disaster.
This post is a bit of a downer in that we're pointing out the future isn't always brighter. Cubs fans, just 17 or so months from winning their first World Series in 108 years, are pretty happy with their team's acquisition of stellar starter Yu Darvish to a 6 year, $124 million free agent deal. As well they should be! In a vacuum, 6/$124 million is a great deal for a pitcher like Darvish; he's a true Ace who can carry a team when healthy.
Moreover, Darvish is a near perfect fit for this Cubs team. The Cubs rotation of Jon Lester, Kyle Hendricks, Tyler Chatwood, and Jose Quintana was certainly no slouch, but with Darvish, they are right up there with the league's best. Couple their pitching with their explosive offense and it makes the Cubs heavy favorites to get back to the NLCS for a third straight year. The Cubs window to win another title is definitely now, and they are going for it. That's great, especially in this weird time of tanking and non-competitive teams trying to recreate the Cubs' and Houston Astros' model of bottoming out before building a winner.
While the 2018 Cubs might be a powerhouse, the 2020 Cubs might have a few problems. Including Darvish, the team has $114.5 million committed to players for the 2020 season already and, crucially, that number does not count arbitration-eligible players or those currently without long-term contracts.
Let's take a look.
I don't have final numbers on Darvish's annual breakdown yet, but his deal averages $21 million per season so let's pencil him in for that. Darvish will be 33 in 2020. For a pitcher like Yu, who rocks a plethora of different pitch options, the aging curve might not be such a big deal, but it's certainly a risk.
His teammate, Jon Lester, might have a tougher time. Lester will be 36 in 2 years when he's still owed $20 million. Lester was decent in 2017 after a very good 2016 season, which saw him finish second in the Cy Young voting, but his ERA spiked to 4.33, his FIP to 4.10, and his WHIP to 1.32. He also threw just 180 innings over 32 starts after throwing more than 200 in the same number of games the prior year. The Cubs have to hope that's not the start of a disturbing trend for an aging pitcher.
Anthony Rizzo has a $14.5 million team option for 2020, his age 30 season, which the Cubs will most likely want to pick up. While the league seems to be moving away from paying a premium for power at first base, Rizzo is already a Cubs legend and if his performance in 2 years is even remotely what it is today, $14.5 million will seem like a bargain.
Same for Jose Quintana. The Cubs acquired him last summer in part because his contract was so reasonable- he could be owed $10.5 million on a team option for 2020 when he's 31 years old. Barring something catastrophic happening, the Cubs will pick that up as well. But now things get a bit hairy.
Jason Heyward kind of feels like the Cubs version of Carl Crawford– a hyper-athletic outfielder with all the tools who got a massive deal only to massively disappoint. Heyward's struggles have been well documented so I'll gloss over the details, but his 8 year, $184 million contract is a growing issue for the Cubs and he'll make $23.5 million on a player option that he's almost guaranteed to pick up as a 30-year-old old in 2020. That's a lot of money for a guy that has a cumulative .1 WAR in his 2 years on the North Side.
Then there's Tyler Chatwood, a free agent signing from this winter. Before the Cubs nabbed Darvish, Chatwood was their big free agent pitching haul of the offseason and they gave him a 3 year, $38 million deal which could pay him as little as $13 million or as much as $17 million in 2020, depending on incentives reached. That's a ton of money for another 30 year old who posted an ERA near 5 and led the league in losses in 2017 (admittedly in Colorado).
I should also mention Brandon Morrow, another recent signing who has a team option for $10.5 million in 2020 as well. He'll be 36 then and that's a lot to pay for a reliever, but they have the option not to do so.
Then, after all that, we get to the wild card- Kris Bryant. By 2020, Bryant, already a former MVP, will be 28 and he will be in line for either the largest arbitration salary in major league history or in the first or second year of a massive long-term contract. Based on some back of the envelope math and some good old fashion guessing of Bryant's worth relative to Josh Donaldson's record-setting $23 million arb settlement and the Mike Trout contract, it's safe to say that Bryant will be making somewhere in the neighborhood of $27-$30 million a year in 2020. Add that to the $114.5 the Cubs already have on the books and the high end is nearly $145 million committed to just 8 players in 2020. 7 of those guys will be on the wrong side of 30 and at least 2 are likely to be big contract albatrosses by that point. And we haven't even accounted for the salaries of guys like Javier Baez, Kyle Hendricks, and Addison Russell, who will all be earning somewhere in the $12 -$20 million range by then.
Basically, the 2020 Cubs have to be prepared to have baseball's biggest payroll, or Epstein and GM Jed Hoyer are going to have to trade some valuable players or get creative with those salary options.
Since the highest paid guys are less likely to form a worthwhile return, that means the salary savings will have to come from lower salaried, better guys like Russell, Hendricks, Baez, Kyle Schwarber, Albert Almora, or others. Add it all up and the Cubs' salary situation in 2020 could be a disaster…. A lot like the 2012 Red Sox.
As we've seen this winter, the MLB luxury tax threshold has been acting like a de facto salary cap as teams are loath to exceed the limit and pay the tax. However, baseball has no hard cap so if the Ricketts family is so inclined, there's really no limit to what the Cubs' payroll could be. They could absolutely carry a heretofore unheard of $300 million payroll if ownership is willing and Epstein could simply pay everyone.
Alternatively, if the Ricketts draw a hard line, even 2019 could be a problem. Ben Zobrist will be in the final year of his deal by then, at age 37, and making $12.5 million. Zobrist is already just a borderline starter, hitting just .232 in 128 games last year, and his salary could be the push for the front office to make some moves sooner rather than later.
The trick for the Cubs is that at this point, they really do want everyone they have. Sure, the Heyward contract looms large and the team would move it if they could but otherwise, there's no obvious salary dump candidates that the Cubs could try and package with a prospect or two to be able to send away. (The exception might be Zobrist if ownership is worried about the payroll short term. Though with the signings of Chatwood, Morrow, and now Darvish, that doesn't seem to be the case.)
The young guys who are about to become expensive- Russell, Bryant, Baez, Schwarber, Willson Contreras– are some of the best players in all of baseball and are the real reason why this team is as good as it is. This is sort of just the cyclical nature of things – your team is young, cheap, and hopefully good. Then it gets older and more expensive and by the time it becomes so expensive that you have to break it up you hope you've won something. The tradeoff the Cubs are making with all the big ticket free agents is that they are increasing the chance they win something while also hastening the day that they can no longer afford the roster they have – short of ownership writing a blank check, which has essentially never been done.
Celebrate Darvish now, Cubs fans. Then look east to Detroit where the 2017/2018 Detroit Tigers could look a lot like the 2020 Chicago Cubs.
-Max Frankel