Hot Stove
The Clay Buchholz Head-Scratcher: Didn't the Phillies Have Better Options?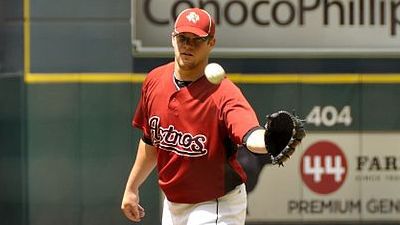 The Philadelphia Phillies just traded for the right to pay Clay Buchholz $13.5 Million in 2017. The deal is a bit of a head stratcher as it was unclear why the Boston Red Sox decided to pick up that salary in the first place when they had the option not to. You see, Buchholz is no longer the pitcher he once was. He's battled injuries pretty much his entire career, and hasn't been the most effective guy out there even when healthy. I'm frankly very surprised that two organizations went through the processes associated with guaranteeing Buchholz $13.5 Million for what is sure to be a sub-200 IP 2017.
Anyway, the Phillies have Buchholz now and the Red Sox, for their troubles, picked up Josh Tobias, a 24-year old second baseman with two first names who just crushed high-A minor league ball.
In the process of breaking this down, I couldn't help but feel like the Phillies must have had other options. What was their motivation to make this move? Sure I recently advocated that they be aggressive in adding pieces to their roster because they aren't too far from contention, but this is not what I had in mind.
Earlier this offseason, the Braves seemed to overpay for Bartolo Colon by signing the big sexy right hander to a $12.5 Million deal for the 2017 season. If the Phillies really wanted a veteran presence wouldn't Bartolo have been a good choice? Consider:
Bartolo in 2016: 191.2 IP, 3.43 ERA, 3.99 FIP, 4.00 K/BB
Buchholz 2016: 139.1 IP, 4.78 ERA, 5.05 FIP, 1.69 K/BB
Bartolo is the better pitcher right now and has been for each of the past three years. The Phillies would have been better off signing Bartolo to a $13M deal, saving a half million, and keeping their psuedo-prospect. But maybe the Phillies didn't decide that they needed a veteran right handed pitcher (who may decent or may be horrific) until this week? Maybe Bartolo didn't want to play in Philly?Maybe Phillies owner John Middleton rolled over in the middle of the night and shot his GM a handwritten iMessage that he must acquire an under-32 once good starter who spent time in the bullpen in 2016? Maybe.
The point is that the Phillies chose to get Clay Buchholz despite all the other options that were out there. Jhoulys Chacin just signed with the Padres for $1.75 Mil. He's an even better comparison for Buchholz's 2016!
Consider:
Buchholz 2016: 139.1 IP, 4.78 ERA, 5.05 FIP, 1.69 K/BB
Chacin in 2016: 144 IP, 4.81 ERA, 4.01 FIP, 2.16 K/BB
Again, if we want to rationalize this trade we probably need to assume the Phillies' front office was under extreme pressure to acquire a specific skillset within an extraordinary time frame. The problem is that even if we believe my midnight-iMessage-scrawl theory, the Phillies still had better and cheaper options.
Bud Norris, for example, is still available and should sign for a fraction of what the Phillies are paying. Once more for comparison:
Buchholz 2016: 139.1 IP, 4.78 ERA, 5.05 FIP, 1.69 K/BB
Norris in 2016: 113 IP, 5.10 ERA, 4.33 FIP, 2.08 K/BB
Ok- He's probably not quite as good as Buchholz, but would probably cost around $2Mil to sign. If an organization simply must pay millions of dollars to 31 year old right handed pitchers who aren't as good as they once were and were worth under 0.25 WAR in 2016, I would prefer it be only $2Million as opposed to $13.5.
Norris isn't good, but the point here is that Buchholz isn't good either and is far more expensive. If the Phillies simply had to have a 31 year old former all-star pitcher who isn't very good anymore on their roster, then that's fine. I don't think they got the best value.
-Sean Morash