AL East
2017 Tampa Bay Rays Season Preview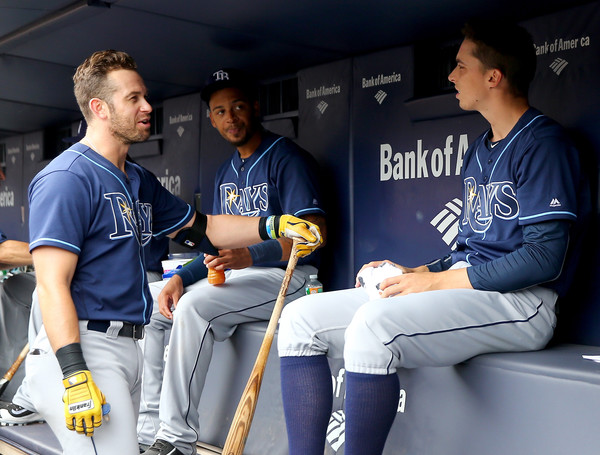 After an offseason which saw the likes of Chris Sale move to the Red Sox, Edwin Encarnacion depart from the American League East, Jose Bautista stay with the Blue Jays and Big Papi finally retiring, the Tampa Bay Rays are set to bounce back from a very disappointing 2016.  Unfortunately for the Rays however (and Rays fans know all too well), Sale joining the team in Boston spells trouble.  Of the current hitters on Tampa Bay's roster that have faced Sale, Evan Longoria has tallied the most at bats against the lefty and has hit to the tune of a .048 average (1-for-21) with 8 punch outs.  Altogether, Rays hitters are hitting a combined .113 against Sale, according to Baseball-Reference.  It will be interesting to see what adjustments Tampa Bay hitting will make, having more opportunities to see the deceptive and hard-throwing lefty.
The Red Sox, with Sale's help, are the clear favorites in the AL East as Ari pointed out in his AL East season Preview.  With Jackie Bradley finally breaking out, Mookie Betts arguably becoming one of the best players in the league, and Andrew Benintendi looking to continue his electric start of his career, the Red Sox outfield is talented. Xander Bogaerts is a top-five hitting shortstop and the Sox's rotation is leaps and bounds better than what it has been in recent years with Sale, David Price and reigning AL Cy Young winner Rick Porcello at the top of the rotation and Drew Pomeranz (whom they acquired from the Padres for a promising, young pitcher by the name of Anderson Espinoza), Eduardo Rodriguez and Steven Wright (among others) battling it out for the final two spots in the rotation.
But you're here for a Rays season preview. As for the guys in St. Pete, the Rays are starting to look better and better to me.  Around the halfway point of the offseason, I tweeted that I thought that the Rays were going to be "historically bad" this year but I really don't feel that way sitting just a week from Opening Day.  Here are some of the biggest transactions from the 2016-17 offfseason:
Like I said before, I wasn't crazy about the Rays this year, but I don't think they will be all that bad.  After a stellar 2016 for star Evan Longoria who hit a career-high 36 home runs, and a down-year for ace Chris Archer, the Rays will look to put it all together in 2017.  In my opinion, the team is a fringy-playoff team.  If Steven Souza Jr. stays healthy and puts the together the kind of numbers the Rays saw in him when they traded for him, he could be a force in
If Steven Souza Jr. stays healthy and puts the together the kind of numbers the Rays saw in him when they traded for him, he could be a force in right field.  Kevin Kiermaier looks to improve offensively as well (his fly ball percent skyrocketed to 37.8% from 29.3% in 2015), but will also seek a third-consecutive Gold Glove in centerfield.  Blake Snell, the Rays coveted left-hander will shore up his command and have an even better sophomore campaign (he seemed to fatigue late in 2016).  Also look for top prospects Willy Adames, Brent Honeywell, Casey Gillaspie and Bauers to make their MLB debuts in 2017.
Projected lineups and statistics (according to Fangraphs):
CF – Kevin Kiermaier –.260/15 HR/73 RBI/21 SB
SS – Matt Duffy – .264/10 HR/52 RBI
3B – Evan Longoria – .265/27 HR/76 RBI/32 2B
DH – Corey Dickerson – .251/24 HR/67 RBI
LF – Colby Rasmus – .221/20 HR
2B – Brad Miller – .250/22 HR/73 RBI/25 2B
1B – Logan Morrison – .244/15 HR
RF – Steven Souza Jr. – .238/20 HR/66 RBI/21 2B
C – Curt Casali (Ramos injured)
SP – Chris Archer – 14-10/3.40 ERA/219 K
SP – Alex Cobb – 8-8/3.92 ERA/104 K (132 inn.)
SP – Jake Odorizzi – 9-9/3,90 ERA/147 K
SP – Blake Snell – 10-9/3.69 ERA/154 K
SP – Jose de León – 8-7/3.66 ERA/135 K (120 inn.)
CP – Alex Colomé – 36 Saves/3.13 ERA/72 K (65 inn.)
If the Rays are not in a playoff run in July, expect to see a starting pitcher named Cobb, Archer or Odorizzi traded to a contender in need of pitching depth.  In order for the Rays to deal Archer however, they are looking for a Chris Sale-esque return.  With talented starting pitching waiting in the farm, the Rays should bite at any chance they can in improving their system with position players ready to contribute in return for one of those names.
All in all, I have the Rays once gain playing .500 or better baseball for the first time since 2013 when they won 92 games and earned a wild card berth, but will likely miss out on the playoffs in the tough American League East.  Moving forward, with a plethora of prospects on the rise, and room for improvement via trading, the Tampa Bay Rays are finally becoming a team that's fun to watch again.  However, if this team struggles once again, expect third-year manager Kevin Cash take a place in the managerial hot seat.
-Jordan Lindsay
This is Jordan's first post for OTBB. You can give him a follow on the Twitter machine @jordlindz.