Archives
2017 National League West Season Preview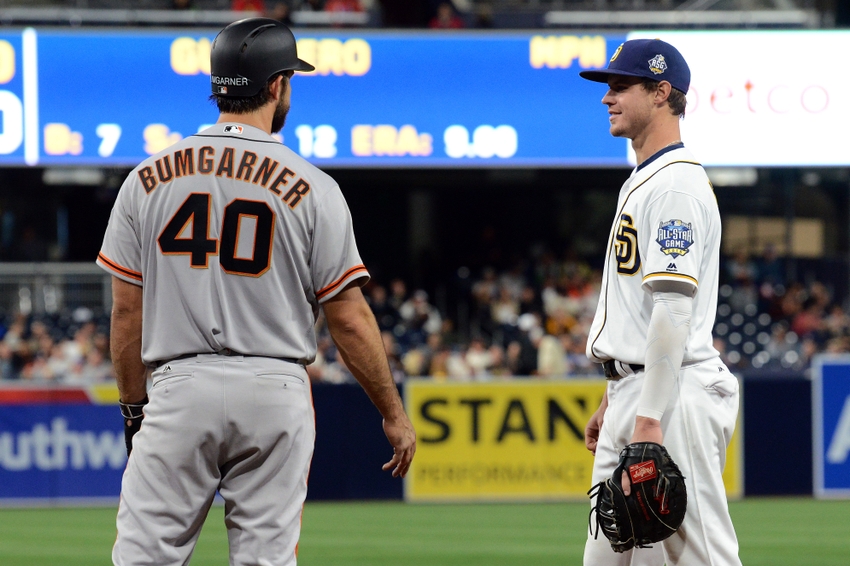 Things change, things stay the same. With a San Francisco collapse, the NL West gave us an eventful end of season last year, but beyond that it was rather ho-hum. With the third place Rockies 12 games out of second in 2016 (and boasting a -15 run differential to the Giants +84…), there wasn't a lot of intrigue aside from the Dodgers heartening resilience in the face of injury, and of course Yasiel Puig. Not much looks to change in 2017, beyond a potential shuffle up among the bottom three teams… and of course Yasiel Puig.
Los Angeles Dodgers: This is the year! (Again.)
What to watch for: Injuries hampered the Dodgers last season, but some good stories came out of it too. Justin Turner posted a robust 27 HR, 90 RBI, and an .832 OPS – and was rewarded with a 4 year / $64M deal. Will he live up to it? Corey Seager cruised to the NL Rookie of the Year – expectations are high in 2017. A glitch in the Matrix saw Clayton Kershaw falter; is the back injury that limited him to 21 starts last year truly behind him? Julio Urias showed that "the future" there is going to be a lot of fun to watch, but when will it begin?
Bottom line: The Dodgers are hot on Chicago's heels for "team to beat" in the MLB. If one or two things click – Puig's new groove; Turner's contract; Joc Pederson's next step forward – PECOTA's 99 win projection (to the Cubs' 91) isn't out of the question.
San Francisco Giants: It's an odd year (or something).
What to watch for other than lasers finally escaping Hunter Pence's eyeballs: platoons. Yes, this Giants team might earn the dubious honor of "most platooned" in 2017. Third base and left field look like platoon locks with Conor Gillaspie / Eduardo Nunez at the former and Jarret Parker / Mac Williamson at the latter. Plus, one could deign to call the Brandon Belt / Buster Posey rotation at first a platoon (and I do deign), which makes the catching situation a de facto platoon as well. In a world where Nunez and Gillaspie excel while Joe Panik falters, second base could go the way of the platoon as well, not to mention the platoon that will result from the inevitable Pence DL stint. (It occurs to me that this whole paragraph could be a Bold Prediction instead of what it is. Alas.) Also, watch out for Matt Cain.
Bottom line: The Giants' front four starters are gross (good kind of gross), and that should be sufficient to wipe the floor with all NL West teams not based in LA – but even if the Dodgers are best by injury again this year, San Fran will have a tough time matching that squad.
Arizona Diamondbacks: "Progression to the mean."
What to watch for: Arizona's offseason haul of talent a year ago massively underperformed. Logic and math conspire to say we'll see better things this year from the likes of Zack Greinke and Shelby Miller, and AJ Pollock assuming he stays healthy. While you keep your eye on those three, don't forget to watch the second best all around offensive player in the league in Paul Goldschmidt. Oh and if Robbie Ray can harness his electric arm, the Dbacks might make a real push… to overtake the San Diego Padres for fourth place.
Bottom line: Arizona is a team in the midst of a poorly executed rebuild period. They have expensive, exciting players, but nowhere near what's necessary to compete in a top-heavy division.
Colorado Rockies: Altitude sickness
What to watch for: Dingers. Lot's of dingers, from weird places like shortstop and centerfield, some dingers from normal places like third base and right filed, and fewer dingers from first base, where we will eventually (likely) see Ian Desmond. $70M Ian Desmond the first baseman. Also, look for dingers coming from the visiting teams (or the home teams when Colorado is traveling) because while much has been made about Jon Gray (who is very good), and Tyler Anderson (also quite good), the reality is that this team still plays at Coors field, where people hit dingers.
Bottom line: They signed Ian Desmond for $70M to play first. Bud Black or no Bud Black, this is a flawed team, built by a dysfunctional, directionless front office.
San Diego Padres: At least there's the Zoo
What to watch for: The true ascension of Wil Myers. In his first full, healthy big league season, Myers put almost all of it together. This year could be enormous. With a fully healthy offseason to condition and train, a few of Myers 29 doubles will look to carry this year, and the speed should remain. We have a realistic chance of seeing a 30/30 player in 2017. Beyond that though things start to unravel a bit. When Austin Hedges and Yangervis Solarte are the two most exciting offensive highlights after Myers and one of the top two starters is Jered Weaver's 83 mph fastball… well, you get the point.
Bottom line: This is a team that, like the Rockies, suffers from ineptness at the highest levels. It will be interesting to see how the players go about it this year as Myers will be fund to watch, and Hedges is a compelling story to follow, but don't expect much in the way of wins.
Bold Predictions:
Wil Myers goes 30/30
Joc Pederson goes 30/10
Clayton Kershaw does not win the Cy Young (yes, I consider that a Bold Prediction)
Zack Greinke does
The pitching staffs of the NL West combine for three no hitters – with two coming intra divisionally
Ari Glantz