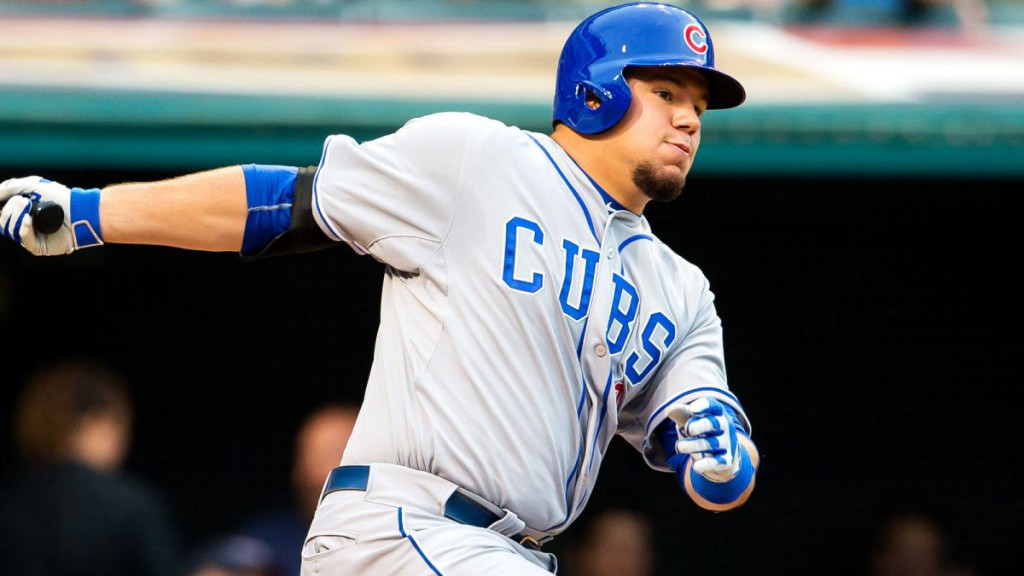 The Chicago Cubs are the reigning World Series Champions and they return most of their roster from last year, but with a more seasoned group of young players ready for another dance in October. The big change this season comes atop their lineup, where the 235 pound leadoff man returning from an ACL injury, Kyle Schwarber, replaces the protypical center-fielder-leadoff-type Dexter Fowler, who happens to weigh in at 195 pounds. This isn't an article about why a 235 pound man has no business in the leadoff role; Kyle Schwarber very well might be best suited atop the lineup due to his propensity to get on-base and the patient approach that landed him among league leaders in pitches seen per plate appearances in 2015. Rather, this is simply an article reminding the world that Kyle Schwarber still has alot to prove before he gets a statue built in Wrigleyville, or a face emblazoned in bronze in Cooperstown.
The legend of Kyle Schwarber has grown immensely since we last saw him play meaningful regular season games. Following a prodigious rookie campaign in 2015, expectations were appropriately high for Schwarber heading into last year. He played in exactly one game before he left his ACL in the outfield in Arizona. Schwarber came back and excelled in the World Series just 6 months later, and the legend of Kyle Schwarber was cemented. The reality of Kyle Schwarber is that he has just 329 Plate Appearances at the MLB level (including the postseason).
Are we really sure that this guy is a bonafide superstar? Are we sure that the Cubs ought to petition MLB for a change in the rules, so that their baseball masher, who isn't a great defensive player, just doesn't have to play the field?
We all have just assumed that Kyle Schwarber is great. Every time we've seen him, he's crushed baseballs and he's bound to crush baseballs again. But let's rewind it a calendar year real quick to realize just how quickly our valuation of players can change. I'll present two players, who were similar 22 year old rookies in 2015, but who had drastically different 2016s.
Player A 2015: 273 PA, 16 HR, .246 AVG, .355 OBP, .487 SLG
Player B 2015: 335 PA, 18 HR, .269 AVG, .385 OBP, .530 SLG
Those sure seem like similar players to me. If anything, I would prefer Player B. He had a higher on base percentage and slugging percentage over a longer period of time. Player A was no slouch himself, jacking homers at a quicker rate.
Player A 2016: 5 PAs. 0 HR, .000 AVG, .200 OBP, .000 SLG
Player B 2016: 495 PAs. 25 HR, .236 AVG, .319 OBP, .462 SLG
You probably guessed that Kyle Schwarber was Player A immediately. Player B is Miguel Sano, who is not nearly as highly thought of within the industry anymore. He effectively played himself out of the Baseball-Masher-Crown that some were ready to place upon his head. Meanwhile, Kyle Schwarber didn't play and he is still considered The next big thing.
I guess my point is this: Remember how the industry felt about Miguel Sano heading into last year? Remember how it turned out to be wrong? Well, the same applies to Kyle Schwarber. 
Even though Schwarber has been in the public forefront for the better part of 2 years, we have not seen a full 2 years of performance from the Cubs left fielder. Let's sit back and allow the 24 year old to show us who he is in full before we hand him the Baseball-Masher-Crown.
-Sean Morash