Chicago Cubs
Do the LA Angels Have a Plan? Let's Come Up With One for Them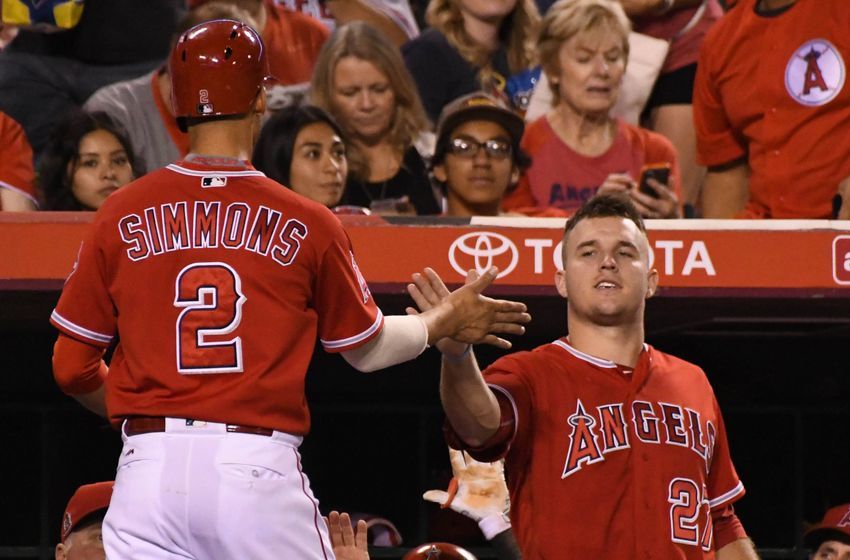 Let me start by saying this: Mike Trout is still just 25 years old.  He turns 26 at the end of August.  Hard to believe right?  If you consider the fact that the Angels centerfielder and cornerstone of the franchise is heading into his 6th year of Major League service, it's extremely baffling.  In his first full season in the bigs (2012), he was not only named an American League All-Star and Silver Slugger, but also Rookie of the Year and came in second in the MVP voting.  Yes, you read that right: second in the MVP voting.  I guess I should mention that Miguel Cabrera earned the first Triple Crown since 1967 and was named the MVP in that 2012 season.  That's not too shabby.
The Los Angeles Angels have the best hitter in the entire league and honestly it's not really up for debate.  Trout has been nothing short of consistently good since his age-20 season, being named an All-Star five times in five full seasons and has been named American League MVP twice (2014 and 2016).
Trout has played in just one playoff series in five years.  In 2014, the Angels were swept by the future MLB runner-up, Kansas City Royals.  In that series, Trout was anemic.  In 12 at bats (15 PA), Trout had just one hit, a home run, as the Angels were swept from the playoffs.  How can a team with the best player in the Major Leagues be so bad for a full 5 years now?
In 2015, the Angels took a step back, finishing 3rd in the AL West with a 85-77 record.  Then in 2016, the ugly step-brother of the Dodgers finished a disappointing 74-88, good for 4th in the West.
Fast forward to now, the Angels STILL are not a playoff team in anyone's eyes.  Granted, the free agency class this offseason wasn't the most star-studded, but the Angels front office has done very little to build a solid core around Trout.  They tried to a few years back, signing Josh Hamilton and Albert Pujols to long-term contracts that likely derailed the progress of the franchise.  Pujols is a still a serviceable designated hitter, but Hamilton has been nothing short of irrelevant for the last few seasons.  Pujols is heading to the Hall of Fame, but not because of his contributions as an Angel; he'll get there for the excellence that he provided in his previous Cardinals uniform.
The Angels top-30 prospect list features a bunch of unknowns and not a single player in the MLB Pipeline Top 100.  They haven't had any prospects to write home about since Trout.  The pitching staff is a bunch of misfit toys, and most of the pitchers have all experienced serious injuries in their young careers.  (Look out for Cam Bedrosian he's one of my favorite fantasy guys heading into this year.)
So, with all this being said, the Angels are literally wasting Mike Trout's best years.  Since Trout is undoubtedly a super star, his prime might be a majority of his career, but what good is it if you don't have a supporting cast worthy of making the playoffs?  This is where Angel fans reading this may start to dislike me and hop into my mentions on Twitter…
If the Angels aren't going to draft well, sign free agents frugally, or make impactful trades to get Trout playing into October, the time is now to ship Trout for a historic package.  When I say historic I mean bigger than the returns that Chris Sale and Adam Eaton brought this past offseason.  Now, I'm by no means saying that the Angels should trade the MVP, but for the sake of this article, here a few blockbuster deals that could land Trout on a playoff contender:
Trout to the Yankees for Aaron Judge, Blake Rutherford, Jorge Mateo and Justus Sheffield.
Yeah, you read that right.  Four of the Yankees to top-seven prospects for Trout, at least.  There have been talks of Bryce Harper joining the Bronx Baby Bombers following the 2018 season for an historic deal upwards of a half a billion, yes with a b dollars.  Pair Harper with Trout and you have two of the best players in the league in the same outfield.  The Yankees have finally "bought in" to building from within, and staying away from signing veterans to long contracts (a la Jacoby Ellsbury, Mark Teixera). This trade would deplete that system to a degree, but let's be real, it's Mike Trout.  Everyone knows about the raw power Judge provides; he's basically Giancarlo-light in my opinion.  Blake Rutherford is a toolsy outfielder who the Yanks drafted in the first round last year.  Jorge Mateo was the shortstop that was going to replace Jeter until the team received Torres.  Mateo is also toolsy; showcasing an elite (80 on the scouting scale) speed.  Finally, Sheffield, who was acquired in the Andrew Miller-to-Cleveland deal is the younger brother of former Vandy pitcher and current Dodger farmhand Jordan Sheffield, is electric from the left side.  His command took a step back in 2016, with his BB/9 jumping from 2.7 to 3.8, but the stuff and potential are there to be a solid starter for the Angels.
Trout to the Cubs for Ian Happ, Dylan Cease, Eloy Jimenez.
The Cubs have an extraordinary surplus of bats.  Just a couple years ago, Jorge Soler was the outfielder of the future for the Cubs. In the offseason, he was dealt to the Royals for Wade Davis since the team had to replace Aroldis Chapman (whom they gave up Gleyber Torres for).  With the way the Cubs are looking offensively, there is no room for Happ, a switch-hitting middle infielder and outfielder from the University of Cincinnati whom the Cubs took ninth overall in 2015.  He has hit well in pro-ball but strikes out a little too much for my liking (about 22.5% across A/AA in 2016).  Dylan Cease exploded onto the scene last year, posting a 13.30 K/9 in 12 starts in Low A.  He did display some serious command issues however (5.04 BB/9) but he did allow just one home run in 44.2 innings (0.20 HR/9).  Jimenez became a common name this past year, hitting .329 in A ball with 14 home runs and 81 RBI.  These three players could end up being household names for the Angels.  Also, just go ahead and imagine the reigning World Series champs with Trout in centerfield. It's laughable.
Trout to the Dodgers for Cody Bellinger, Joc Pederson, Yadier Alvarez, Willie Calhoun.
Yes, a trade with the crosstown rival and reigning NL West Champion Dodgers.  Cody Bellinger has become a household name for those who follow the minors.  In 2015, the then-19-year-old crushed 30 home runs and 103 RBI in high A.  In 2016, he followed with 29 home runs and 88 RBI across three levels, reaching triple A as a 20-year-old.  The first baseman/corner outfielder will likely have a very stellar big league career.  Joc Pederson was once a top prospect and an all-star in his rookie campaign, hitting 20 home runs before the all-star break.  In my opinion, he ruined his swing in the Home Run Derby and struggled mightily the rest of the way (26 HR, 29.1% K%).  Pederson improved his K% by a couple percentage points in 2016, and hit 25 home runs in 137 games for the NL West Champs.  This would open up centerfield for Trout.  Alvarez is a specimen at 21 years old; receiving scouting grades of 75 on his fastball, 60 on his slider, 55 curveball and changeup. The Cuban born pitcher certainly has the stuff to be a top of the line starter for years to come.  He put up gaudy numbers across rookie and A ball in 2016 and looks to duplicate, if not better that performance in 2017.  Willie Calhoun is an interesting prospect, who absolutely raked in 2016 at AA Tulsa.  Registering 560 at bats, Calhoun blasted 25 homers while only striking out 11.6% of the time and walking 8.0%.  A late fourth round pick in 2014 from Yavapai College (a prestigious junior college), Calhoun would fill the second base void for the Halos.
As you may have noticed, each of these trades had similar positional themes: second base, pitching and outfield. Currently, the Angels second baseman is Danny Espinosa, a serviceable player, but not someone you lose your mind over. (Max actually liked the fit back in December, but hey, opinions are opinions). The Angels have to replace Trout in the outfield and find a better piece to patrol left than Cameron Maybin or Ben Revere. Bellinger could fill the first base void being held by C.J. Cron and Albert Pujols.  Lastly, the young pitching would fill and anchor the Halo rotation for years to come, something Angel fans haven't experienced in quite some time.
I am not advocating that the Angels ship Trout for a plethora of prospects, but time is ticking.  Fans are growing impatient.  Trout's best years are literally being wasted.  As Jimmy Seter wrote last week, "Why are Mike Trout's best days being wasted?"
-Jordan Lindsay