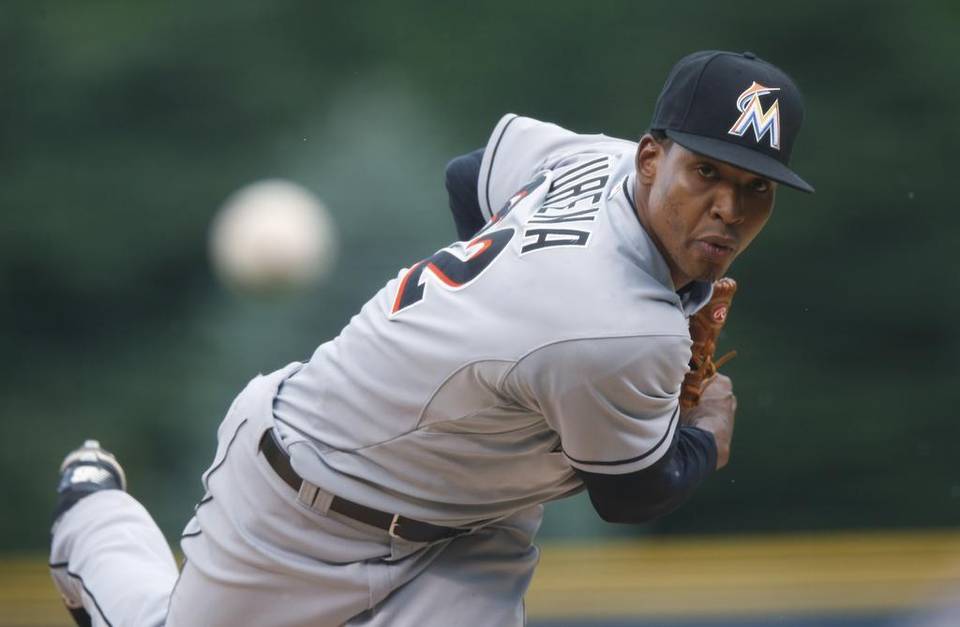 About a year ago, I wrote a story about how Danny Duffy was finally figuring things out. Duffy went on to finish the year with a 3.51 ERA in 176 innings and earned himself $60 Million in salary from 2018-2022. This year, his excellence has continued; he's at a 2.92 ERA through 10 starts. The thing about that Duffy article is that I wrote it as I was eying the lefty on my fantasy waiver wire. Before it published, my editor swooped in on Duffy and his fictional squad has thoroughly enjoyed its newfound Ace. I was not pleased. I'm still not pleased. It's time to find Danny Duffy 2.0.
So what made me so optimistic about Duffy so early? The reason was three-fold:
He had great velocity
His walk rate was at a career low
He was throwing a third pitch (a changeup) at a career high rate
Basic baseball arithmetic says that those three in combination add up to a pretty successful pitcher. So let's find a pitcher who has all three!
I took the list of every pitcher who both threw a pitch last year and has made a start this year and sorted for those with average fastballs above 93.5 (sorry Bartolo Colon). That left me with 58 pitchers. Then I took a look at those who have lower walk rates this year than last (sorry Eddie Butler). That left me with 25.
The last step was looking at the third pitch aspect. I took changeup usage first. (Sure, there could be pitchers who have added a second variety of curveball to their repertoire, but I'm not so concerned with those guys.) Here's the full list of guys who have made it through our filters searching for Danny Duffy 2.0:
There is some serious talent among this group. (I would bet that Joe Biagini's parents are happy to see him listed with Arrieta, Syndergaard, and Strasburg.)
Now, remember that Duffy was used as a reliever as a Big Leaguer just prior to his breakout. So, any of these guys have relief appearances over the last two years? Yes, Jesse Hahn, Joe Biagini, Jose Urena, and Randall Delgado all fit the bill. (Apparently Noah Syndergaard also made a relief appearance too but…)
Let's explore the other 4.
Randall Delgado
He's made just one start this year. It was just this past Tuesday when he threw 4 innings and allowed just the one earned run. Once upon a time, Delgado was a highly regarded prospect; the top prospect in a deal that brought Justin Upton to Atlanta. But in his time in Arizona he has been a not-terrible middle reliever. I like Delgado in this Danny Duffy 2.0 role, but he's just one start into the trend and there's reason for concern. Though he's thrown 10% more changeups, hitters are hitting it quite well. His success appears to be tied to an unsustainable effectiveness of his fastball, as hitters are getting on base at just a .217  clip against it. That's sure to climb: For reference, hitters are at .310 against Clayton Kershaw's fastball.
Basically, let's keep looking.
Joe Biagini
I poked fun at Biagini before I realized I'd be diving into his life a little bit more. Joe was a Rule 5 pick by the Blue Jays out of the Giants system before the 2016 season, and, exclusively out of the pen, pitched to a 3.05 ERA in 2016. The Blue Jays probably liked Biagini because of his 2015 minor league success; he posted a 2.42 ERA in 120 AA innings that year. The concern for me about Biagini is a lack of strikeouts despite throwing 94.
Jesse Hahn
Hahn is now with the A's, via a pair of relatively high profile trades from Tampa and the Padres. That the low-payroll teams in baseball all thought they saw something in Hahn excited me – we're looking for a diamond in the rough here after all. But Hahn has been around for awhile at the big league level. He struggled through 9 starts last year and then was thoroughly average in AAA. The stats say Hahn has improved on the year, but his walk rate is only 0.3 walks per 9 better than last year and he's using his changeup just 4% more of the time. I want to be excited about what Hahn is doing because I like the idea of the A's finding another great pitcher, but I just don't think we've found Duffy 2.0 here.
Jose Ureña
And then there is Jose Ureña. Ureña is fun because he hasn't ever been considered an elite prospect. He was ranked as high as number 3 in the Marlins system, but that system is never among the best in the game. Ureña has posted dominant numbers in each of 2015 and 2016 in the minor leagues, but did not look the part when given the chance to start in the Bigs. He just turned 25, so I'm willing to buy in a bit – if the numbers are there. But… the statistical foundation for optimism that was so apparent with Danny Duffy is a bit more hidden with Ureña.
While his changeup usage is also just 4% more than in years past, hitters are having roughly a quarter of the success that they had against the pitch in previous years. (Before you think that he must be throwing a new change, the offering still features basically the same movement and velocity.) What's different about his pitch repertoire this year is his breaking ball. Take a look at the movement:
In the 2017 graph, we see that he has eliminated the "curveball" and is sticking with a pitch that effectively only moves up. Maybe it's late and I'm just wishing something into the graphs. I don't know.
But Urena throws hard (over 95), has succeeded in the high minors, and looked good in his first three starts. Seems like a worthwhile lottery ticket to me.
-Sean Morash