All Star Game
Who Is Going to be Baseball's MVP in 2017? MVP Watch 2017!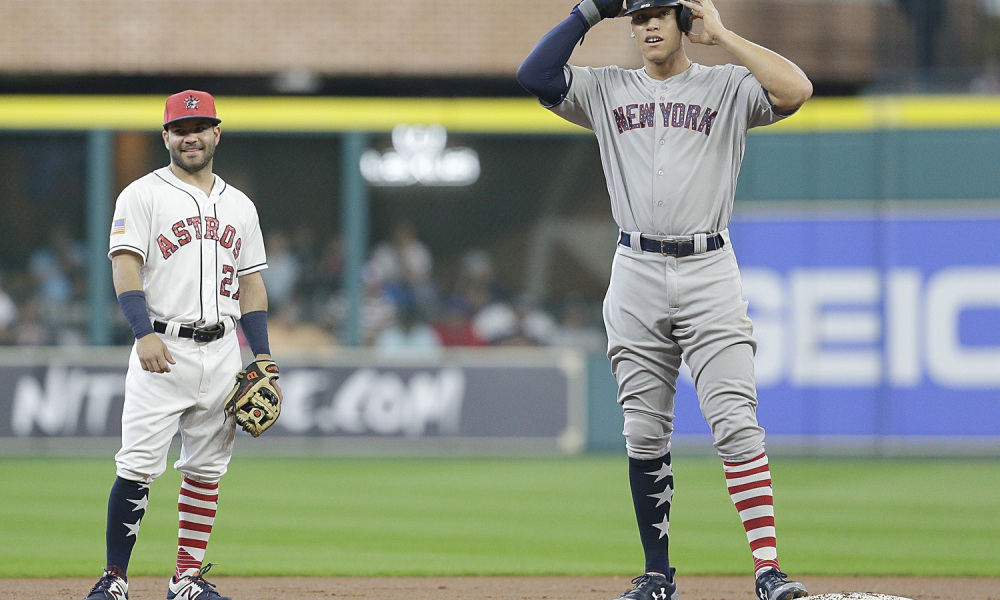 With only one week left in the MLB regular season, the race for Most Valuable Player in the National and American Leagues are coming down to the wire. A bevy of worthy candidates have a shot at taking home the crown as the best player in their respective league. Let's take a look at which players have done enough this season to earn a chance at the coveted honor.
National League
We will begin in the Senior Circuit, where it is anyone's guess as to who will be crowned MVP. Many believe that Miami Marlins right fielder Giancarlo Stanton is the top dog, as he has blasted 57 home runs and sports 126 RBIs so far. On top of that, Stanton has also set new career highs in hits, doubles, slugging percentage, and OPS. Without his bat, the Marlins would be fighting for last place with the Philadelphia Phillies in the NL East.
Another candidate is Colorado Rockies center fielder Charlie Blackmon, who has been having a career year for one of the league's biggest surprise teams. He leads the NL in batting average (.326) and hits (204), while also cranking 36 home runs from the lead off spot. Critics may argue the HR number is the product of playing home games in the Mile High City, there is no doubt that Blackmon has been having a spectacular season regardless of the ballpark.
A trio of first basemen have inserted themselves into the conversation with their strong play, not that anyone was expecting anything less from these established stars. Joey Votto, Paul Goldschmidt, and Anthony Rizzo have all been great once again for their respective teams. Both Goldy and Rizzo have been key contributors to their teams earning playoff berths, while Votto continues to flash Hall of Fame potential on last place Cincinnati. Why is Votto still in Cincinnati anyway?
In terms of a dark horse for the award, how about Anthony Rendon of the Washington Nationals? The third baseman usually gets lost in the shuffle in a loaded Nats lineup, but he has been a problem all season for opposing pitchers. His .299 average along with 24 homers and 96 RBIs are all career highs for the fifth-year man, where he has established himself as a nightmare matchup.
If I had a ballot to cast for the 2017 NL MVP Award, I would pick Paul Goldschmidt. This guy has been an absolute beast for the Diamondbacks his whole career, and this season is no different. He has lifted this team from a last place finish in 2016 to the top Wild Card spot and a legitimate chance at their first World Series since 2001. While the smart money is on Giancarlo Stanton, I have to stick with Goldschmidt as my choice.
American League
Moving over to the AL, it is more of a clear picture as to who should be the Most Valuable Player. While he stands only 5'6″, Houston Astros second baseman Jose Altuve has towered over the competition. He leads the league with a .348 average and 200 hits, a number he has now reached in each of the last four consecutive seasons. Due to his size, some may believe that Altuve is merely a slap hitter, but he is far from that. He has matched his career high with 24 long balls and driven in 81 runs, while also being a menace on the base paths with 32 stolen bases.
While Altuve has created separation, several other candidates are still vying for MVP. This includes Yankees rookie right fielder Aaron Judge, who just set the MLB record for most home runs by a rookie with his 50th. This massive human being had one of the most impressive first halves in recent memory this season, but struggled for much of the second half. He should be a unanimous choice as AL Rookie of the Year, but an MVP may have to wait.
Another name that comes to mind is Cleveland's Francisco Lindor. The shortstop has improved on his breakout season from a year ago, blasting 33 home runs and 41 doubles to help lead his team to the top spot in the American League. Lindor has also been a strong defender for Cleveland, posting a .983 fielding percentage on the year.
Two dark horses for the honor play the same position: pitcher. Cleveland's Corey Kluber and Boston's Chris Sale have been lights out for their clubs this season, putting themselves at the top of  the Cy Young list for this season. Kluber is 18-4 with a 2.29 ERA, far better numbers than his Cy Young season of 2014. Sale has also been electric, posting a 17-7 record with a 2.77 ERA and 303 strikeouts. He is the first AL pitcher to reach this number since Pedro Martinez in 1999.
Each of the other players mentioned have had noteworthy years, but Altuve has just been on another level. He has helped to make Houston into what we see today and has been consistently spectacular throughout the season. With his victory, Altuve would be the smallest MVP in major league history, and that is no small feat.
-Frank Fernandez