Archives
What Should the New York Mets Do About Matt Harvey?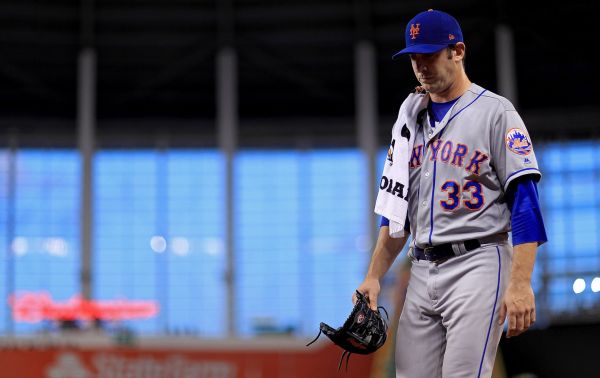 Last week on Twitter, I saw a poll asking New York Mets fans to weigh in on whether they thought the team should non-tender starting pitcher Matt Harvey this winter. In other words, it was asking if fans thought the team should outright release the Dark Knight, receiving nothing in return.
I'll admit, I scoffed when I saw the question – why on earth would the Mets just cut one of their most popular players, a guy who they've tried to build around, who took them deep into the playoffs, who has some of the best pure stuff in baseball but has been derailed by injuries and some overblown maturity issues? It's a ridiculous notion on its face. In fact, back in May, I wrote about Harvey hysteria, and how the public clamoring for the Mets to trade Harvey was completely ridiculous.
But then I thought about it some more. The person that tweeted the question wasn't some provocative Russian bot twitter egg. This was a respected baseball fan and writer and it seemed way too sincere to be laughed off as run-of-the-mill Twitter nonsense. So I dug a little deeper and what I found was deeply dismaying.
After a 13-1 drubbing Monday night in which Harvey surrendered 12 hits and 7 earned runs in 4 innings, the starter has now made 4 starts since coming back from a DL stint that started way back in June. In those 4 starts, Harvey has pitched 14.1 innings, allowing a difficult-to-write 32 hits and 21 runs, all earned. That's a 13.13 ERA. He's also walked 7 and struck out just 8. He's been terrible and he knows it. Here's a quote from Matt after the Marlins game:
"Everything. Everybody's watching. I don't really know what there is to say except for there is nothing to say. It's terrible. It's not fun. There's really nothing to say. There's no reason for questions. There's no answers. There really isn't. You're going to write what you want to write, anyway. Obviously, it's deserved. So whatever you want to write, there's nothing to say."
That's bad. That's sad. It seems like the procedure Harvey underwent last year to relieve thoracic outlet syndrome coupled with some comically bad management of his workload, health, and mental health has taken its toll. In just a season and a half, Harvey has gone from a player who recovered from Tommy John surgery to post a 3rd straight sub-3.00 ERA campaign – in just his 3rd year in the Majors! – to a guy who pretty much  can't get anyone out, and looks like he doesn't deserve a spot in the league, let alone the Mets rotation. Harvey has only 1 start this year that's gone more than 6 innings and only 1 start in which he did not allow a run. His season ERA is over 6.00. His WHIP is closer to 2.00 than 1.00. It's bad, folks. Really, really bad.
From 2011-2013, Harvey's fastball velocity was between 96 and 97 mph. He was one of the hardest throwers in baseball and all his other stuff played off that velocity. In 2015 and early 2016, after missing 2014 with Tommy John, Harvey was still pitching right around 96 mph with his fastball. This season, it's closer to 93 or 94 mph and hitters are teeing off.
So the problem is health, but it's also the Mets. The history of the team's mismanagement of its one-time star is long and dark. I won't go through it all, but I will mention that Mets manager Terry Collins allowed Harvey to pitch on short rest following his very first start after coming off the DL, just because Matt wanted to get right back on the horse after lasting just 2 innings and giving up 7 runs in his first trip back to the mound. Harvey's competitiveness is admirable, but it's the team's job to look out for the long term interests of their asset and not let him risk injury by pitching so much so quickly, right after injury. This is not a new problem with the Mets – just see what I wrote after they allowed Noah Syndergaard to pitch himself right onto the disabled list this season.
So what now?
Well, first I think the Mets need to shut Harvey down. I understand how frustrated he is and how much he wants to right the ship, but he isn't fully recovered from last year's surgery and he isn't his old self. As horrible as the next few months off might sound to Harvey, I think they need to keep him off the mound for the next couple weeks and he should just focus on his recovery.
Then, I think the Mets need to fire Terry Collins and Sandy Alderson. This season could not have gone worse for a team with World Series aspirations: they currently boast the 3rd worst record in the NL. It's not just the injuries, of which their were many. Injuries are unfortunate but blameless. No, it's the constant public bickering with their players, the underselling of injury after injury, the overwork of key starters, and the mistreatment of top prospects like Amed Rosario, Dominic Smith, and Michael Conforto, that amounts to the complete dumpster fire that is the New York Mets right now. Things need to change for this organization and it needs to happen at the top.
The Mets have a solid team; they can contend soon, but they need to get out of their own way and the crazy dysfuncion that has plagued them lands on the management. Collins is to blame; Alderson is to blame; the coaching staff is to blame; the training staff is to blame. Amidst this wreck is a solid engine – it's the driver, the pit crew, the spotter, and everyone else involved that needs to go before the talented players.
Except, I think, for one.
As painful as it may be, and despite – if the Mets follow my advice – a new regime in charge, I think it's time the Metropolitans split with their one-time Ace. It would certainly be disappointing to never even have the chance to realize the promise of a Harvey-Syndergaard-Steven Matz–Jacob deGrom-Zach Wheeler starting rotation, but this clearly isn't working. There's just too much baggage, too big a spotlight on every start, and too much special treatment in New York. Harvey needs a fresh start… in 6 months (when his velocity has hopefully returned), in a new place, with a new coaching staff, and diminished expectations. He needs a chance to be just another one of the guys.
I may be in the minority at this point, but I still believe Matt Harvey is, and could be, one of baseball's best starting pitchers. We forget just how good he was. There is the strong impression from the outside that right now he's all on his own. The Mets clearly don't trust him, and it really doesn't seem like he has a competent pitching coach looking out for his best interests (doing things like talking him out of starting on short rest after getting shelled in his first start off the DL). I think with a little genuine support in a city that isn't New York, Harvey could regain his old form – or at least learn how to pitch at 93 mph, like many a former Ace before him.
Should the Mets non-tender him? First, he's likely due something like $6 Million next year, depending on his arbitration range. At that salary, the talent is too enticing to just release. Therefore: no I don't think non-tender is the Mets' (hypothetical) new regime's best course of action, but they likely won't get very much for him this winter if they do try and move him. But the Dark Knight could get a fresh start by starting over in Pittsburgh, Baltimore, St. Louis or another smaller-but-stable market. And that might be just what the doctor ordered.
Like so many other things about the Mets' 2017, this sucks.
-Max Frankel