Archives
When Relievers Lose Control: A 2017 Case Study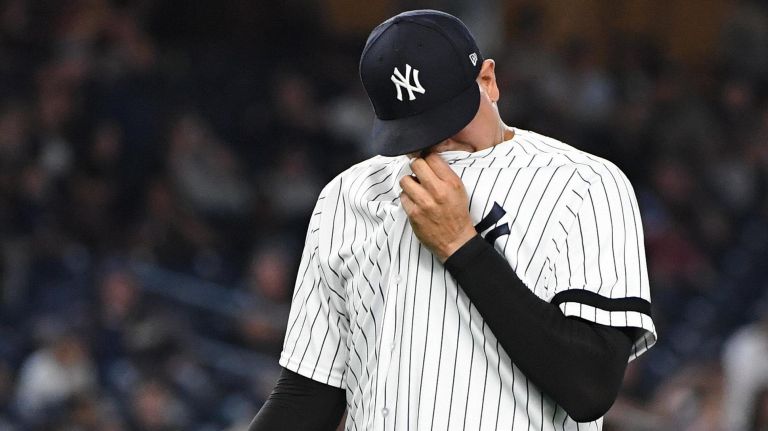 A relief pitcher's control is like a rare perfect moment in your life: It's beautiful and magical – then one day it's gone.
Think of the best day of your life. Now think of the absolute best split-moment of the best day of your life: when he or she kissed you back; when your bat connected with the ball; when you saved the day. Consider the enormity of circumstances leading up to that moment. If any one thing goes awry – any small, otherwise unnoticeable happenstance, such as turning left instead of right years earlier – that moment never happens. Everyone has a greatest day, but this is different; this is YOUR Greatest Day and it only happened because everything aligned perfectly.
Every great reliever is someone's Greatest Day. Most relievers have great stuff at least some of the time; very few relievers have excellent stuff even most of the time. Only the Greatest Day relievers have every muscle and sinew performing at peak perfection, all of the time. The near impossibility of Craig Kimbrel or Kenley Jansen existing at all is overwhelming.
The problem with Greatest Day moments is their half-life. They come and they're glorious, then they're gone. Some people spend entire lives attempting to recreate that moment, only to fail.
For nearly every great reliever there comes a time when something goes wrong. Painfully often, the fastball is still fast and the breaking pitch still bites… but the ball just won't go exactly where it's needed. Sometimes it's a momentary blip; everyone has a bad outing from time to time. But bad outings can become bad weeks, then bad seasons, then the end of a career.
Case Study
For several relievers, that painful depreciation appears to have begun in 2017. We don't know which ones just yet, and we won't know for a few more years. However, we can look at a few who inexplicably lost control at some point. Last year, the three qualified relievers (at least 50 IP) with the highest BB/9 were Dellin Betances (6.7), Adam Ottavino (6.6), and Justin Wilson (5.4). All three are typically successful pitchers who, for whatever reason, lost the strike zone.
The Lead-up
Betances
Betances established himself as one of baseball's most dominant relievers from 2014-2016. He represented the Yankees on the All-Star team in each of those seasons, and struck out 392 batters in 247 IP. His WHIP was 0.960, and his ERA and FIP were both under 2.00.
2017 was going along smoothly for Betances all the way through most of August. He made his fourth straight All-Star appearance and took over the closer role from Aroldis Chapman (who struggled with uncharacteristic control issues of his own).
Ottavino
2017 was supposed to be a big year for the Rockies' Ottavino. After two consecutive excellent seasons in 2013 and 2014, during which he put up a 3.2 K/BB, he tore his UCL in early 2015. He returned from Tommy John surgery in July, 2016 and pitched brilliantly for the rest of the season.
Through June 20, things were going more or less okay. His walks were a bit elevated, but he usually pitched out of trouble. He struck out 33 batters in 26.1 IP (and walked 16), but had allowed opposing batters an anemic .202/.333/.309 slash line.
Wilson
Wilson was ascending towards the upper echelon on relievers. His strikeout rate had increased every season since his first full year in the majors (2013).
The left-hander followed up a somewhat down year in 2016 with a stellar beginning to 2017. Like so many other Tigers, he found himself on the move at the trade deadline, going to the Cubs, along with Alex Avila, for Jeimer Candelario. At the time of the trade, he had a 12.7 K/9, 3.6 BB/9, and 0.942 WHIP.
The Inning
Betances
On August 24, Betances entered a game against the Tigers in the bottom of the seventh inning. The Yankees tied the score at 6 in the top half with a three-run rally. Betances threw only two pitches in this outing, both to James McCann. The first was a breaking ball called a strike. This was the second:
McCann was okay and stayed in the game. Betances was ejected and did not. Benches cleared, players brawled, and general ugliness ensued. Making matters worse, McCann would later score the game winning run, and Betances took the loss.
(Confession: Two years ago, I almost hit my boss in the head with a pitch in a slow-pitch softball game. I've had nightmares ever since. It was one of the squishy kind of softballs, and the pitch was about 30 MPH. Still, the feeling of throwing a projectile that nearly hit another man in the head haunts my dreams.)
Betances actually did hit McCann in the head with a not-squishy, not-30 MPH ball. Of course, he's a professional and I'm not even close. McCann was the 66th batter he'd hit since turning pro, so this wasn't new for Betances. All the same, the image of McCann laying in the dirt catches your breath. It's fair to wonder what Betances sees when he closes his eyes.
Ottavino
The Rockies were visiting Los Angeles on June 25. The Dodgers were 50-26 but hadn't yet pulled away from the pack, and Colorado only trailed by 4 games in the standings. Ottavino entered in the seventh inning to protect a 6-4 lead with two outs and runners on second and third. He walked Austin Barnes to load the bases.
The first pitch to Yasmani Grandal was in the dirt and Justin Turner scored. No big deal, it's still 6-5, Rockies lead. Then, on a 2-2 count, this happened:
Grandal struck out on the next pitch, end of inning. Ottavino continued to pitch into the eighth, threw two more wild pitches, walked two more men, and gave up a single, double, and homer. But the two-run wild pitch was the death blow that dropped the Rockies chances of winning from 63% to 24%, the single largest swing of any play in the game. The final score was 12-6, Dodgers.
Wilson
Wilson's first appearance as a Chicago Cub was against Arizona on August 2. This is how it went (courtesy of Baseball Reference):
Walk
Popup (out)
Double, run scores
Wild Pitch
Strikeout
Intentional Walk
Groundout
Per PITCHf/x, only 9 of 22 pitches were in the strike zone. One of those pitches was hit pretty hard. It's not really fair to call him "wild" in this appearance; he walked one batter unintentionally and threw one wild pitch. But he certainly wasn't good either.
The Cubs were shutout that day, 3-0. The run Wilson gave up was the third of the game and it proved inconsequential in the outcome. Still, this was an inauspicious first impression for a significant trade deadline acquisition.
The Week
Betances
The day after the McCann incident, Betances pitched at home against Seattle. He allowed a double and two walks (but no runs) in one inning of work. The Yankees lost the game 2-1 in 11 innings.
Betances made six appearances from August 25 through September 5. He faced 27 batters over 5.2 IP, striking out 10 and allowing another 10 to reach base. That includes 5 walks, 2 more HBP, 2 HR and a double. On September 5, he blew a save opportunity and lost the game to Baltimore. Chapman regained his closer role thereafter and retained it through September and October.
At this point, Betances is officially in a slump. The Yankees have amassed an amazing bullpen even beyond Chapman, which includes David Robertson, Tommy Kahnle, and Chad Green, so they can withstand a slump better than most teams. On the other hand, this is New York in a playoff chase, so emotions win the day over rationalism.
Ottavino
Is a bad game caused by a slump, or is a slump caused by a bad game? After the quartet of wild pitches on June 25, Ottavino pitched four more times through July 4. He faced 16 batters and surrendered 4 walks, a single, a double, and a pair of long balls in 2.2 IP. The Rockies lost three of those games and fell to 49-37 on the season, 7.5 games behind the Dodgers.
For baseball fans who haven't payed attention during the last 25 years or so, the Rockies historically have trouble with pitching. They don't have a stable of fireballing relievers on which to rely if one of them underwhelms. Ottavino is no longer trustworthy at this point, and the Rockies slide in the standings is not a coincidence.
Wilson
Through August 20, Wilson appeared in 8 games for the Cubs. He faced 36 batters, allowing 19 of them to reach base – 9 from hits and 9 from walks (one batter also reached on an error). He let in 5 runs (4 earned) in 5.2 IP.
The bottom fell out on August 17. He entered the game against Cincinnati with two runners on base in the eighth inning. He threw eight pitches, all outside the strike zone, and walked in a run before being pulled.
Baseball fans are fickle at best, irrationally emotional at worst. Every fanbase has players they like more than their performance dictates they should, perhaps because of their fun personality, community involvement, or must-follow Twitter account. The opposite is also true; some players never get into the fans' good graces no matter what.
A recently traded player such as Wilson has no rapport with the Wrigley faithful. His reputation could be forever determined by the first few appearances. This is especially true for relievers. Needless to say, By the time Wilson walked those two Reds on August 17, the fans' patience had run out.
The Season
Betances
Following the demotion, Betances pitched mostly in low-leverage situations for the rest of September in the hopes he would regain his control. It didn't work. From August 24 through the end of the year, he allowed a ridiculous total of 11 walks, 5 HBP, and 7 hits through only 12.2 IP.
His struggles continued into the postseason, and he took a loss in game 2 of the ALDS against Cleveland. He yielded 6 walks and 3 hits in 5.2 total playoff innings.
Ottavino
Before June 25, Ottavino was "pitching around" control issues. Afterwards he succumbed to them. His ERA jumped from 3.08 to 4.94 in this one outing, and it hovered around that mark for the rest of the season. His final BB/9 was an unsightly 6.6. Worse still, when pitchers get behind in the count, they tend to leave fat pitches in the strike zone. In Ottavino's case, this resulted in 1.4 HR/9 allowed. His 5.16 FIP was far below major league quality.
The Rockies finished 87-75, outlasting the Brewers by one game for the second Wild Card spot. They lost the play-in game to Arizona, 11-8. The team used 8 pitchers in the game and not one was named Adam Ottavino. Could our protagonist have stopped the barrage of runs from the Diamondbacks? His poor regular season performance cost him (and us) the opportunity to find out.
Wilson
Wilson settled down to pitch pretty well in the last week of August, but combusted again in September. His final totals with Chicago include 9.7 BB/9, 2.094 WHIP and 11 runs allowed (10 earned) in 17.2 IP over 23 G. The Cubs rarely used him in high leverage situations until after they clinched the NL Central.
Wilson pitched only once in the NLDS against the Washington Nationals. He recorded the final two outs in the eighth inning of Game 4, with the Cubs already losing 5-0. In a way, this actually helped the team; the seven pitchers used in Game 5 were slightly better rested, and the team advanced to the NLCS. Wilson didn't make the roster.
The Future
Betances
As mentioned earlier, the Yankees have a loaded bullpen. They can easily spare a reliever in a trade to fill some other roster need, and guess which one comes up in trade predictions the most? Furthermore, Betances infamously lost his first arbitration case a year ago. With his ability to throw strikes in doubt, he's cost himself significant money – not just in 2018, but in all his future arbitration years (they compound on each other).
Ottavino
Through 2017, Ottavino earned just under $5.7 million. His salary for next year is $7 million; it's the final year of an extension signed prior to 2016. After that, he hits free agency, so 2018 will be a critical year that defines his future earnings. He might reestablish value and sign a multiyear contract, or continue to pitch below replacement level and settle for a minor league Spring Training invitation.
Wilson
Much like Betances, Wilson is the subject of trade rumors this winter. Barring that, he's a Cub through 2019. If he regains his form he'll be forgiven and rewarded in arbitration. If he doesn't, he'll be released. Those are high stakes, and of course there are other possibilities as well, but that's life as a reliever.
***
Stat of the Day: Mariano Rivera is the greatest relief pitcher of all time. That's subjective, of course, but he's about as good as any reliever could hope to be. From May 1-16, 2000, he walked 5 batters and yielded six runs in 7.2 IP. That's not good at all. Obviously, Rivera recovered quickly and dominated baseball for the next 14 years.
Followup Thought of the Day: Betances, Ottavino, and Wilson are not Mariano Rivera, but they are usually productive assets of a Major League bullpen. Maybe they each simply suffered an uncharacteristically bad stretch in what will become a long, successful career. After all, it happened to Rivera. Hopefully for their sakes, their Greatest Day is still to come. Otherwise, the moment has ended and all that remains is the memory.
***
-Daniel R. Epstein