Archives
MLB Owners Get $50 Million Windfall, Will Now Lower Ticket Prices!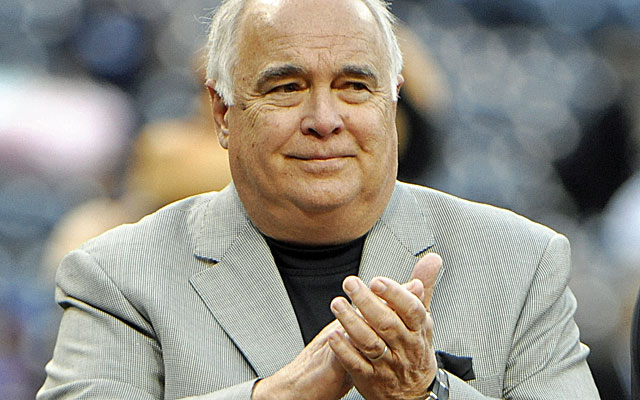 Major League Baseball announced today that each team will receive a $50 million payment from the league in the first quarter of 2018 as a result of the sale of MLB Advanced Media last year. This is great news for the league owners and, therefore, the players, employees, agents, and fans.
By this time in the year, every organization presumably has its plans pretty well formulated for for 2018. There's a general understanding of where the payroll should be and, as a result, each general manager knows what resources he has at his disposal and has a general plan for how much money he can offer a targeted free agent. Also, the GMs have an idea of how the pieces fit together on their given roster, where the holes are, and which available players would be the best fit.
As a result, it is self-evident that there are only two options for what teams can do with this windfall- increase the wages of their employees or make their product less expensive.
First, teams can give the money to the players (and other team employees). Since they already have figured out which players they want this winter, they can simply up the amount that they have offered each guy. For instance, after giving raises to each usher, concessionaire, ticket attendant, scout, and analyst, and paying all of their interns, a team like the Miami Marlins or San Diego Padres or Boston Red Sox could revise an existing offer they made to a free agent like JD Martinez from, say 8 years and $150 million up to $175 million. The teams could infuse the collective $1.5 billion they just got into the free agent market, allowing the money to trickle down to players, their agents, their union, and their families- and therefore into the broader economy through all the purchases that the players, agents, and family members make with all that extra cash.
Alternatively, another equally likely use for this unexpected new revenue is to simply lower ticket prices, thereby making the product, baseball in this case, cheaper. Since teams now have $50 million extra dollars, they don't need all that cash from gates and concessions. Teams could, and almost certainly will, knock a few dollars off their upper deck seats or decrease the price of a beer and a hot dog in order to help less fortunate fans better afford to come to games.
Since teams and owners are already comfortable with their bottom lines, it is unthinkable that they would do anything but take this extra $50 million and spread it around as much as possible, helping to infuse the baseball economy and the have-nots with the additional cash.
This is the rock-solid tenant of trickle down economics – when you give the big organizations or companies extra money, they will invariably use that money to increase wages or reduce product prices, thereby benefiting all. If your initial reaction to the news that teams are each being given an extra $50 million is that payroll will likely not increase and that ticket prices will almost certainly not fall, well, then you're very simply wrong. This is the tried and true economic doctrine that has successfully shaped the American economy for a generation and has lead to undeniably positive, equitable, and just outcomes; ensuring that capital in our society is efficiently distributed and not concentrated in the hands of the few to the detriment of the many. It has ensured a strong and consistently rising economic tide that, as we know, lifts all boats.
Don't believe me? Ask
Alexander (R-TN)
Barrasso (R-WY)
Blunt (R-MO)
Boozman (R-AR)
Burr (R-NC)
Capito (R-WV)
Cassidy (R-LA)
Cochran (R-MS)
Collins (R-ME)
Cornyn (R-TX)
Cotton (R-AR)
Crapo (R-ID)
Cruz (R-TX)
Daines (R-MT)
Enzi (R-WY)
Ernst (R-IA)
Fischer (R-NE)
Flake (R-AZ)
Gardner (R-CO)
Graham (R-SC)
Grassley (R-IA)
Hatch (R-UT)
Heller (R-NV)
Hoeven (R-ND)
Inhofe (R-OK)
Isakson (R-GA)
Johnson (R-WI)
Kennedy (R-LA)
Lankford (R-OK)
Lee (R-UT)
McCain (R-AZ)
McConnell (R-KY)
Moran (R-KS)
Murkowski (R-AK)
Paul (R-KY)
Perdue (R-GA)
Portman (R-OH)
Risch (R-ID)
Roberts (R-KS)
Rounds (R-SD)
Rubio (R-FL)
Sasse (R-NE)
Scott (R-SC)
Shelby (R-AL)
Strange (R-AL)
Sullivan (R-AK)
Thune (R-SD)
Tillis (R-NC)
Toomey (R-PA)
Wicker (R-MS)
Young (R-IN
Abraham
Aderholt
Allen
Amash
Amodei
Arrington
Babin
Bacon
Banks (IN)
Barletta
Barr
Barton
Bergman
Biggs
Bilirakis
Bishop (MI)
Bishop (UT)
Black
Blackburn
Blum
Bost
Brady (TX)
Brat
Bridenstine
Brooks (AL)
Brooks (IN)
Buchanan
Buck
Bucshon
Budd
Burgess
Byrne
Calvert
Carter (GA)
Carter (TX)
Chabot
Cheney
Coffman
Cole
Collins (GA)
Collins (NY)
Comer
Comstock
Conaway
Cook
Costello (PA)
Cramer
Crawford
Culberson
Curbelo (FL)
Curtis
Davidson
Davis, Rodney
Denham
Dent
DeSantis
DesJarlais
Diaz-Balart
Duffy
Duncan (SC)
Duncan (TN)
Dunn
Emmer
Estes (KS)
Farenthold
Ferguson
Fitzpatrick
Fleischmann
Flores
Fortenberry
Foxx
Franks (AZ)
Gaetz
Gallagher
Garrett
Gianforte
Gibbs
Gohmert
Goodlatte
Gosar
Gowdy
Granger
Graves (GA)
Graves (LA)
Graves (MO)
Griffith
Grothman
Guthrie
Handel
Harper
Harris
Hartzler
Hensarling
Herrera Beutler
Hice, Jody B.
Higgins (LA)
Hill
Holding
Hollingsworth
Hudson
Huizenga
Hultgren
Hunter
Hurd
Jenkins (KS)
Jenkins (WV)
Johnson (LA)
Johnson (OH)
Johnson, Sam
Jordan
Joyce (OH)
Katko
Kelly (MS)
Kelly (PA)
King (IA)
Kinzinger
Knight
Kustoff (TN)
Labrador
LaHood
LaMalfa
Lamborn
Latta
Lewis (MN)
Long
Loudermilk
Love
Lucas
Luetkemeyer
MacArthur
Marchant
Marino
Marshall
Massie
Mast
McCarthy
McCaul
McHenry
McKinley
McMorris Rodgers
McSally
Meadows
Meehan
Messer
Mitchell
Moolenaar
Mooney (WV)
Mullin
Newhouse
Noem
Norman
Nunes
Olson
Palazzo
Palmer
Paulsen
Pearce
Perry
Pittenger
Poe (TX)
Poliquin
Posey
Ratcliffe
Reed
Reichert
Renacci
Rice (SC)
Roby
Roe (TN)
Rogers (AL)
Rogers (KY)
Rokita
Rooney, Francis
Rooney, Thomas J.
Ros-Lehtinen
Roskam
Ross
Rothfus
Rouzer
Royce (CA)
Russell
Rutherford
Ryan (WI)
Sanford
Scalise
Schweikert
Scott, Austin
Sensenbrenner
Sessions
Shimkus
Shuster
Simpson
Smith (MO)
Smith (NE)
Smith (TX)
Smucker
Stewart
Stivers
Taylor
Tenney
Thompson (PA)
Thornberry
Tiberi
Tipton
Trott
Turner
Upton
Valadao
Wagner
Walberg
Walden
Walker
Walorski
Walters, Mimi
Weber (TX)
Webster (FL)
Wenstrup
Westerman
Williams
Wilson (SC)
Wittman
Womack
Woodall
Yoder
Yoho
Young (AK)
Young (IA)
-Max Frankel