Archives
MLB Offseason Power Rankings: After The Winter Meetings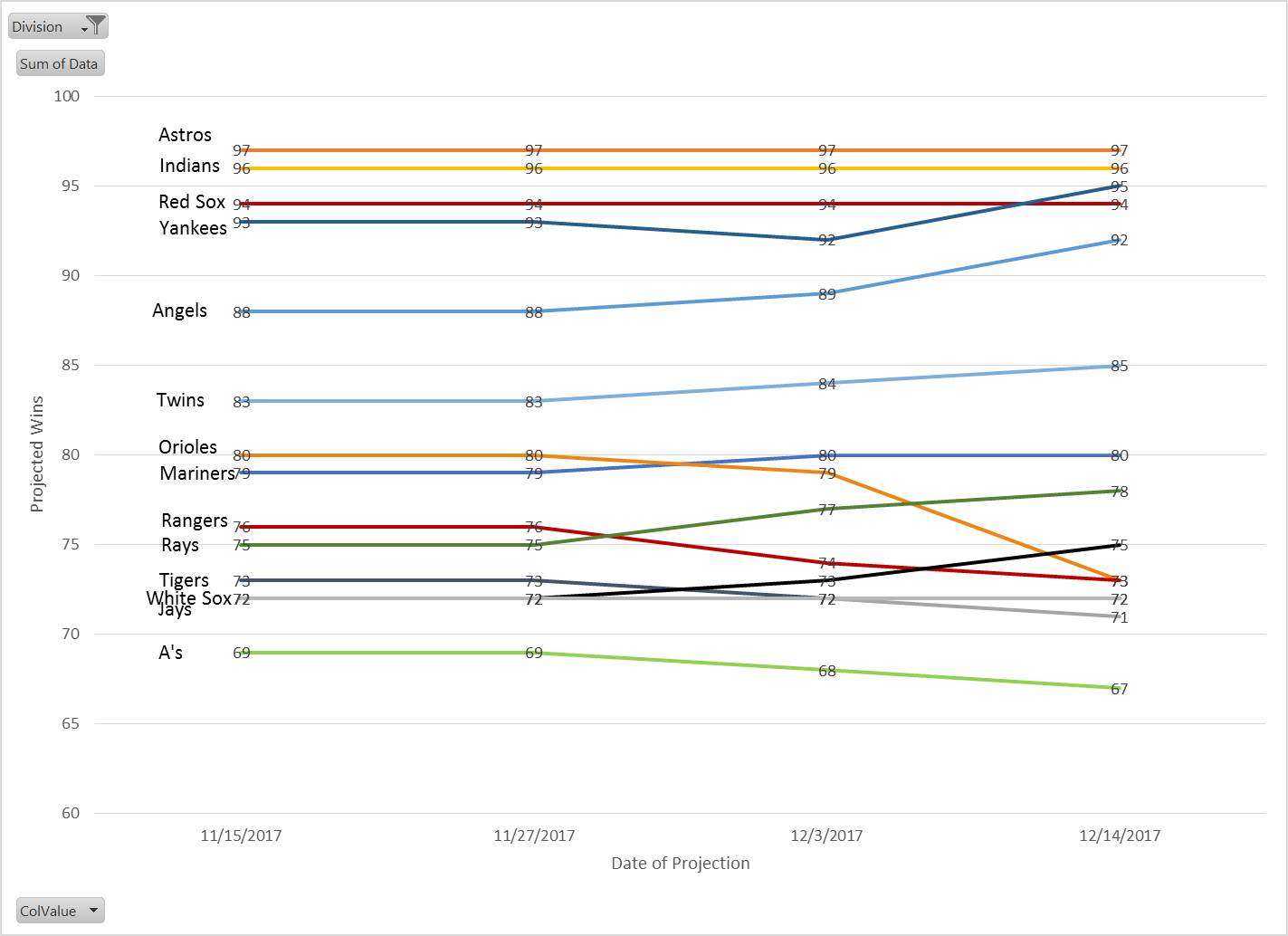 Now that Shohei Ohtani and Giancarlo Stanton have new homes and the Winter Meetings are behind us, it seems high time to add another installment of our Offseason Power Rankings – an idea that the great Jonah Keri totally stole from us (no hard feelings though, Jonah).
You can find the first edition of the rankings, with a team by team rundown, right here. And our second take from right before all the big stuff went down is here. Now that lots more has happened, we're finally seeing some big moves on the graphs and there's a lot to dive into. Let's do it.
National League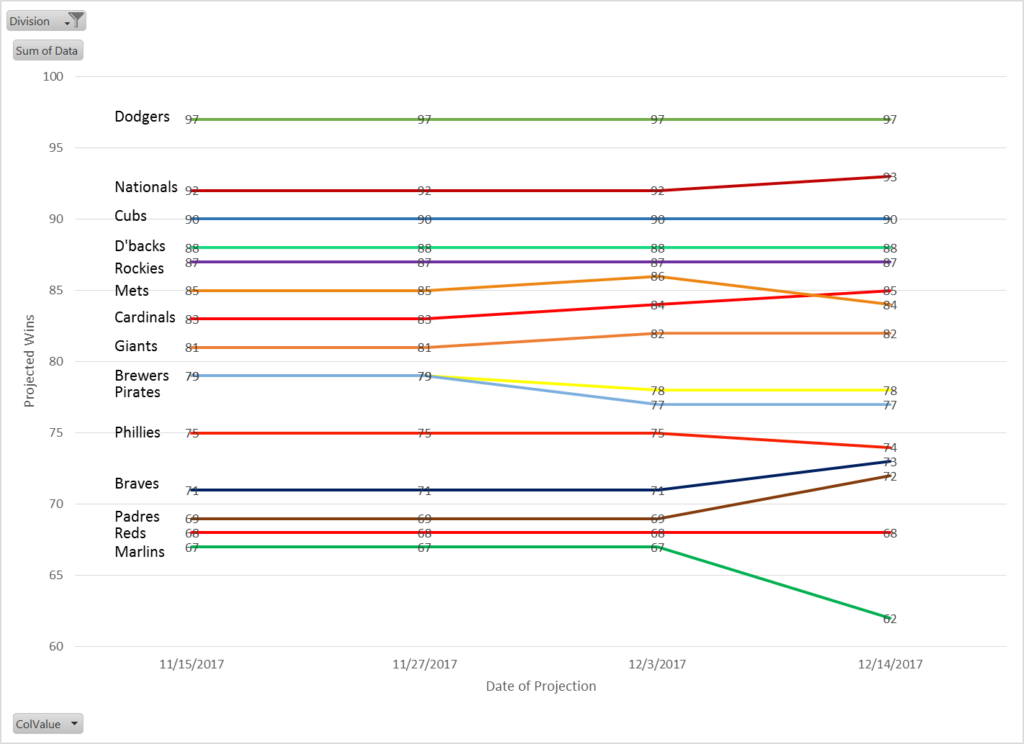 Ok, let's take a look. The first thing that jumps out is that we're really downgrading the Marlins chances for 2018. Though our initial projection for Miami had them set to have the worst record in the NL next year, it could have been plausibly argued that they were really only a few pieces away. So plausibly, in fact, that their biggest star, Giancarlo Stanton, actually belived that and wanted management to go after improvements this winter to help push the team into contention.
Management, led by Derek Jeter, went the other way, trading Stanton to the Yankees for Starlin Castro and some throw-ins to dump salary, sending Dee Gordon to the Seattle Mariners, and sending Marcel Ozuna to the St. Louis Cardinals. Thus, in an effort to get their payroll down to the lowest level in the sport, the Marlins traded their best, second best, and fourth best players. That doesn't bode well for their chances next year and we've downgraded them to a MLB worst 62 wins accordingly. They also released Edison Volquez to save a few extra dollars.
Other notable moves on the NL side include a 3 game jump for the San Diego Padres, mostly due to the acquisitions of Chase Headley and Bryan Mitchell, and  1 game slip for the Pittsburgh Pirates driven primarily by rumors that they might be shopping Ace Gerrit Cole and even outfielder Andrew McCutchen. (In light of the dearth of actual games, the Offseason Power Rankings can be impacted by rumor and innuendo. Deal with it.)
The Washington Nationals also got a little better by bringing back Brandon Kintzler to shore up their bullpen.
American League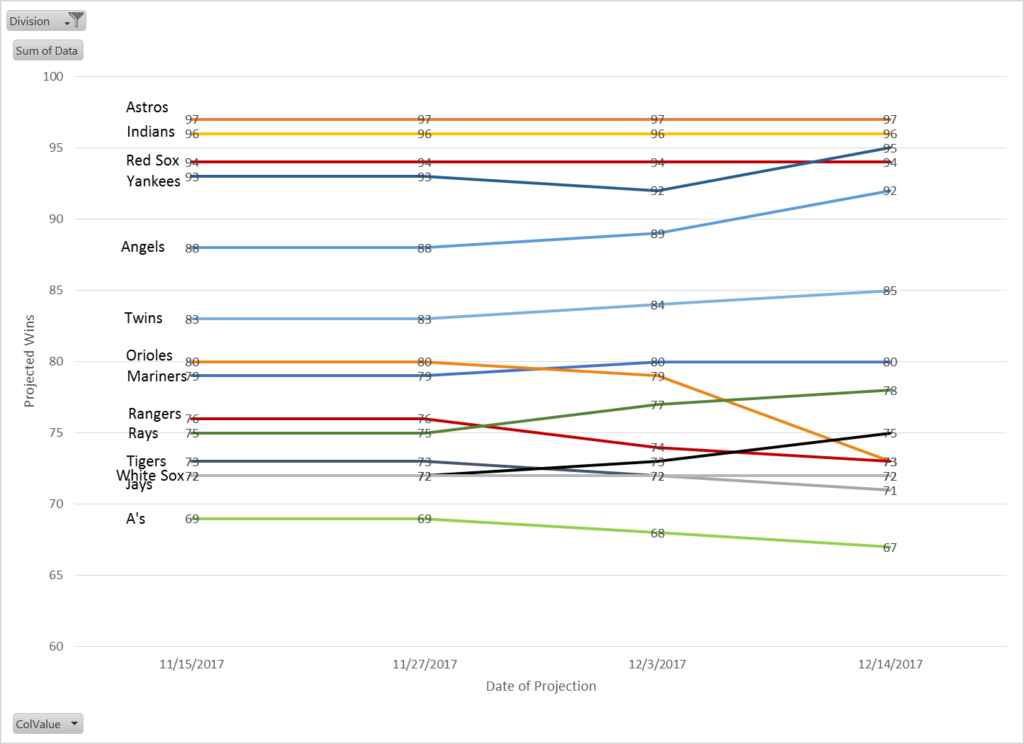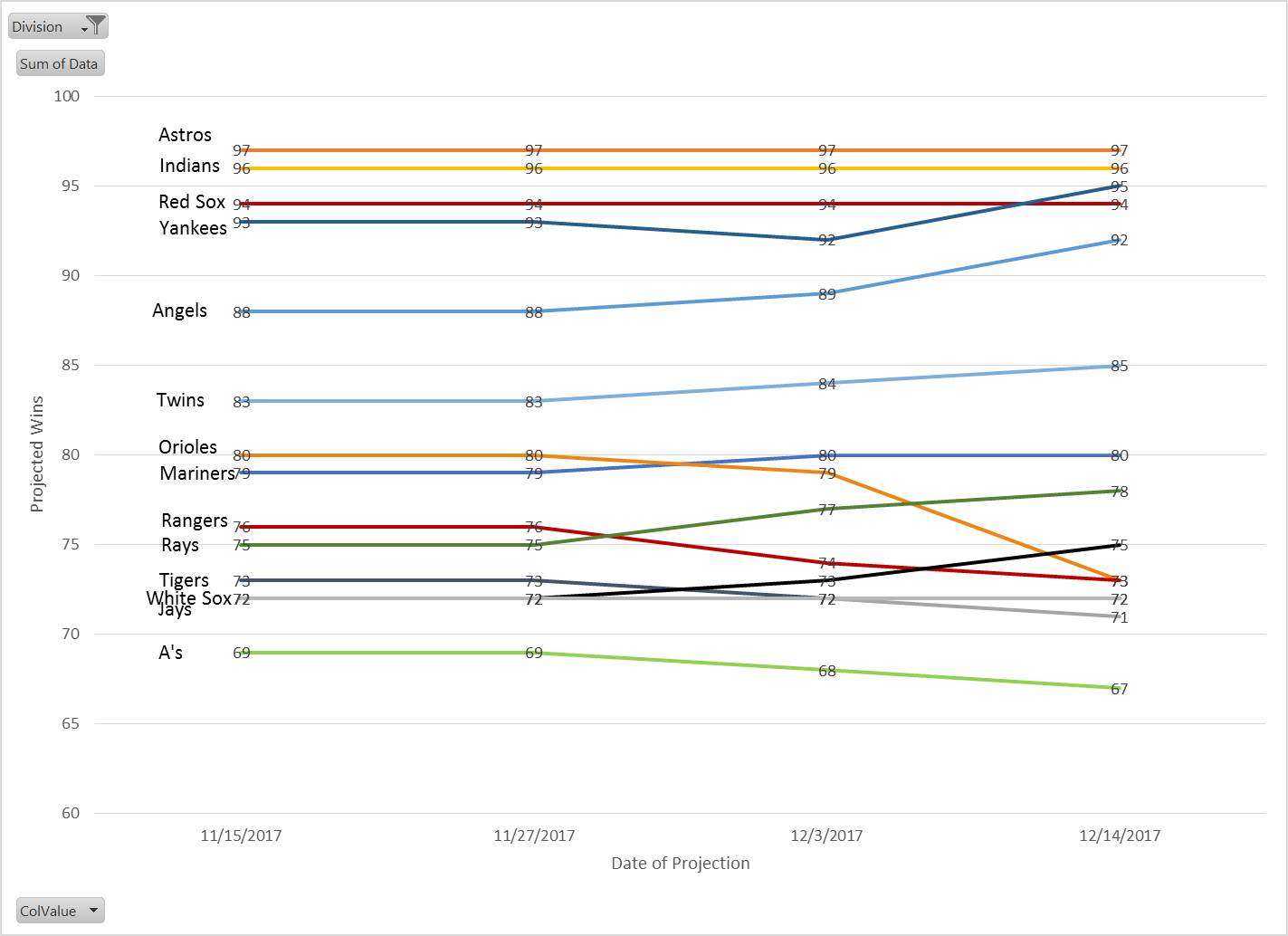 So much movement in the AL offseason power rankings. First, let's look at the Los Angeles Angels who saw their projected win total jump from 88 to 92 thanks to wining the Ohtani lottery and trading for Ian Kinsler. The Angels lineup is starting to look pretty decent now with Kinsler, Mike Trout, and Justin Upton at the top, especially if Ohtani turns out to be an offensive factor. Ohtani notwithstanding, the Angels still need some more pitching pretty badly but they've put themselves in a great position to be competitive in a tough divison.
The other big jumper in the AL is of course the New York Yankees. They added the reigning NL MVP to an already stacked lineup and that more than compensates for the loss of Michael Pineda to the Twins. The Yankees offense now has to be considered at least even money to break the AL all-time single season home run record and they are now just the second team ever with two players coming off a 50 homer season (1962 Yankees, Mickey Mantle and Roger Maris). Our projections have the Yankee lineup so good and so deep that it has vaulted them over the defending divisional champion Boston Red Sox to become the new favorites in the AL East.
In addition, the Yankees' improvements coupled with a likely Red Sox counter-measure and rumors of a possible Manny Machado trade have sent the Baltimore Orioles stock plummeting. Rumors that Machado might end up with the Chicago White Sox have pushed them up a little bit too.
Finally, we should talk about the Minnesota Twins. The Twins made a smart move by rolling the dice on Pineda, who can be great when he isn't awful, and they are reportedly all in on Yu Darvish. Adding Darvish would give them a legitimately fantastic rotation and would set up the AL with three potential really exciting divisional races (Yankees- Red Sox, Indians- Twins, Astros-Angels-Mariners)
Offseason power rankings!
-Max Frankel, graphics by Sean Morash