Atlanta Braves
Early New Year's Resolutions for all thirty teams: National League East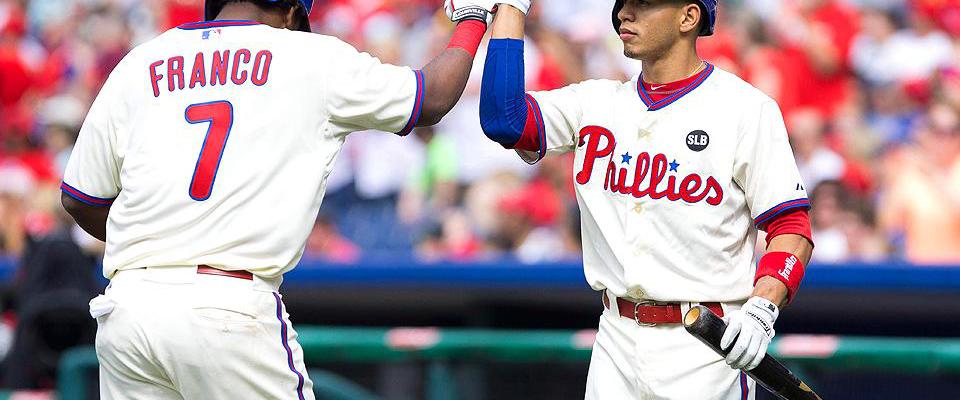 As the year winds down and the stove heats up, fans are still looking to see what their team will do to chase a championship in 2018 and beyond. With almost 20 teams seriously in the running for the 2018 playoffs, GMs are looking anywhere and everywhere for value hoping to put themselves over the top next season. With this in mind, I will be spending time over the next few weeks making 1-2 New Year's resolutions for all thirty teams, starting in the National League East.
Miami Marlins
2017 Record: 77-85
2018 Fangraphs record projection: 72-90
Current OTBB projection: 62 wins
New Year's Resolution 1: Don't alienate the fan base
With the rebuild in full swing, Derek Jeter's Marlins will have to preach the "trust the process" mantra that led to the Chicago Cubs breaking their curse in 2016, and the Houston Astros in 2017. While already averaging one of the lowest attendance per game, The Marlins will have to regain the trust of their fanbase in order to succeed in the future.
New Year's resolution 2: Go all out on the rebuild
After Trading Marcell Ozuna and Giancarlo Stanton, the Marlins still have many pieces that could draw the interest of contending teams. J.T Realmuto, the 26-year-old athletic catcher, would draw serious interest, with the Washington Nationals a team to consider, considering their struggles at catcher last season and their win-now attitude. Christian Yelich is also a name many expect to be moved, with destinations such as San Francisco or the Dodgers or a dark horse candidate (such as Toronto or the Brewers.)
Philadelphia Phillies
2017 Record: 66-96
2018 Projected: 76-86
Current OTBB projection: 74 wins
New Year's Resolution 1: Save for Free Agent Paradise next Offseason
The hotly anticipated offseason in 2018-19 will shape baseball for the next decade, and look for the Phillies to be extremely active next year. With free agents such as Bryce Harper, Manny Machado, and Josh Donaldson, the Phillies could go after at least one franchise changer, and get 1-2 lower level, but still significant, contributors to really pounce on what looks to be a severely weakened Nationals Squad.
Atlanta Braves
2017 Record: 72-90
2018 Projected: 74-88
Current OTBB projection: 73 wins
New Year's Resolution 1: Let the pitching develop
Seven of the Braves top ten prospects are pitchers, so they are obviously looking to return to their roots as a pitching first team. What the Braves should NOT do is sign a big name free agent starter such as Yu Darvish or Jake Arrieta. The Braves have the pieces in their organization to compete in a few years, and there is no reason they should try to rush the process. Homegrown pitching is the way to win, and win a lot, so if the Braves wish to succeed in the future, they need to stay the course and let their arms develop.
New York Mets
2017 Record: 70-92
2018 Projected: 80-82
Current OTBB projection: 84 wins
New Year's Resolution 1: Pray to the injury gods
Here is a list of Mets players who spent time on the DL: Jose Reyes, Michael Conforto, Wilmer Flores, Asdrúbal Cabrera, Travis d'Arnaud, Lucas Duda, Josh Smoker, Zack Wheeler, Neil Walker, Yoenis Cespedes, Robert Gsellman, Juan Lagares, Brandon Nimmo, Matt Harvey, Steven Matz, Seth Lugo, Tommy Milone, Jeurys Familia, Noah Syndergaard, and David Wright.
Yes, that is a list of 20 Mets players who spent time on the DL last season. All the Mets can do is pray to the baseball gods that they aren't this unlucky again next season, and if they aren't I predict they are still in the running for a Wild Card spot in September next season.
Washington Nationals
2017 record: 97-65
2018 Projected: 91-71
Current OTBB projection: 93 wins
New Year's Resolution 1: Go all out in 2018
The Nats are in an amazing position to capitalize next season, but if Bryce Harper departs next offseason, along with All-Stars Daniel Murphy and Gio Gonzalez, the Nats will be in a much worse place in 2019. With this in mind here is what I propose: Sign Wade Davis to a deal, go out and sign 2-3 more middle relief arms to help in the bullpen, and then trade for Chris Archer. While I know that type of offseason seems unnecessary for a team that won 97 games last season, a super bullpen would have gained them at least 6-8 games last season, bringing them to an astonishing team of 103+ wins. Plus, add in the fact that Chris Archer, coming from the painful AL east to the relatively weak NL East! With a team built for a run in 2018, the Nats need to do whatever it takes to get a championship team next season.