National League
Giancarlo Stanton to the Philadelphia Phillies Wouldn't Solve Their Baseball Problems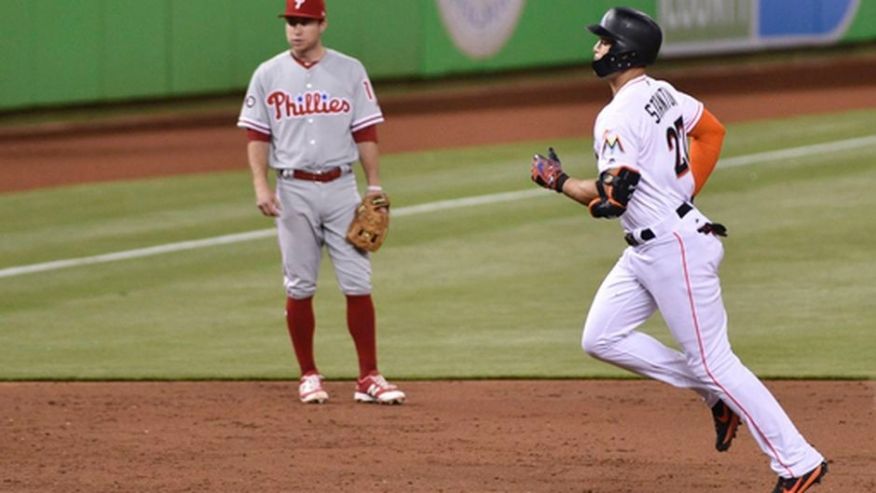 Last offseason, I wrote an article titled "Why the Phillies Should be Aggressive this Offseason" in which I advocated for their front office to supplement a young core with veteran additions. The Phillies responded by trading for Clay Buchholz. Unsurprisingly, the overpaid and below average pitcher got hurt and barely pitched in 2017. The infield core upon which my thesis was built also failed to live up to my admittedly lofty expectations, and the team finished the year in last place with just 66 wins to their credit, some 31 games behind the first place Nationals.
But 2018 is a new year, and Rhys Hoskins has Phillies management feeling some kinda way. With the Marlins looking to shed salary, the rumor mill turned up Philadelphia as a possible landing spot for super-slugger Giancarlo Stanton.
Stanton would obviously help any squad, but the Phillies make a ton of sense. Maikel Franco, who once looked like a slugger that you could build a team around, struggled through injuries and general ineffectiveness to post a negative WAR last year, and was below replacement level in all phases of the game. But they have other good all-around players who contribute across the board. Neither Cesar Hernandez nor Odubel Herrera check the box labeled "Ideal Offensive Force," but their all-around games make them valuable contributors. Ditto for Aaron Altherr and Freddy Galvis.
Stanton, or another established right fielder who can hit homers in bunches (J.D. Martinez), would add the umph this lineup is currently missing.
The Phillies would appear to have enough to deal for Stanton, whose nearly $300M in potentially remaining salary mute his trade value, with the Marlins likely targeting some combination of the young, inexpensive talent that the Phillies currently sport in their farm system. I would imagine the Marlins would like former top-overall draft pick Mark Appell in a deal centered around two of the Phillies primary position player prospects.
Stanton would certainly change the feelings around the Phillies franchise, but he's just one (very large) man. He wouldn't fix all of the their problems; he wouldn't even make up half of those 31 games between the 2017 Nationals and Phillies. Nah – in order for the Phillies to turn the corner and begin to compete next year, they must address their starting pitching depth.
Aaron Nola and Jared Eickhoff were good last year and show promise going forward. Vince Velasquez deserves at least one more shot at the back end of the rotation before trying his hand in the bullpen, but running it back with Jeremy Hellickson and Clay Buchholz sure feels like a team destined for 65 wins. Those type of veterans represent stopgaps while the organization makes its real moves. Improving that starting pitching will make a big difference; they finished in the bottom half of the NL in ERA, IP, Strikeouts, Walks, and WAR. The Phillies knew this in 2017, and the Braves knew it when they paraded a rotation of Jaime Garcia, Bartolo Colon, and R.A. Dickey through SunTrust Park. Will they address it post haste?
Sure, acquiring Giancarlo Stanton would be fun and draw fans to Citizens Bank Park, but the real meat of the Phillies offseason will be in how they improve (or not) in the starting rotation. An upgrade or two in will go a long – maybe even longer than a Giancarlo Stanton dinger.