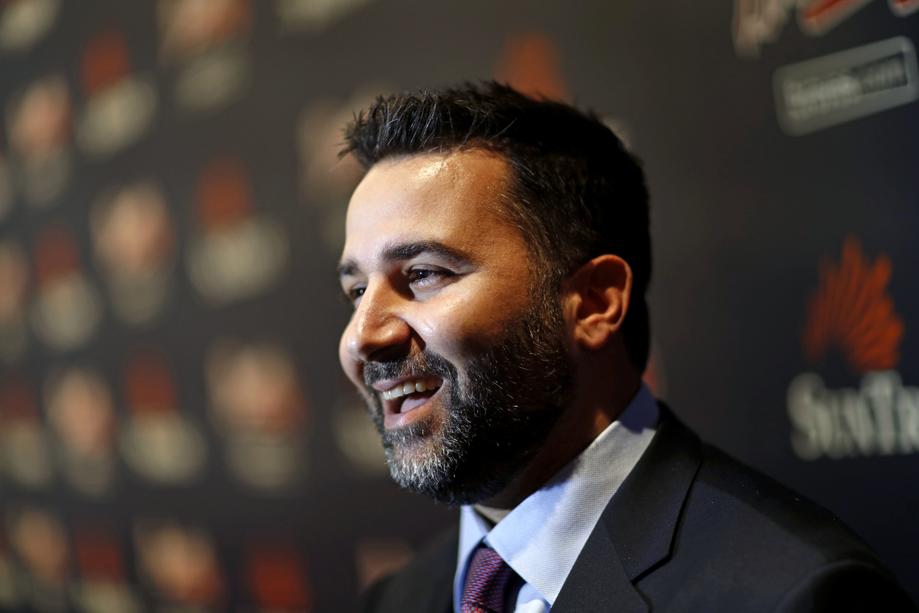 A few weeks back, Sean Morash used this space to pen an open letter articulating why he should be the next GM of the Atlanta Braves. While I fully supported his candidacy, it appears that the Braves brass opted for a more experienced candidate to head the organization. Sean proposed a variety of themes as to what he would do in some delusional fictional reality in which he were put in charge of the Braves front office. Rounding things back into reality, I decided to offer a few words of advice to the new Braves GM as he stares at the mountain of tasks that sit on his new desk. On behalf of Braves fans here are a few thoughts for the Alex Anthopoulos Atlanta to do list.
Dear Mr. Anthopoulos,
Welcome to Atlanta. I'm sorry I'm a little late to the party. I wanted to give you a little time to celebrate and enjoy your first few days as General Manager of my beloved Braves. It is now time to get to work. These Braves may have the best farm system in baseball and may be deeper than any system in recent history. The hard and dirty work has been done. John Coppolella and John Hart are both gone, but that doesn't mean you have to change directions. Your job is to see their vision through and finish this rebuild. In case you're not sure how to do that, I have some advice that might help:
● Be patient – You will hear lots of Braves fans begging you to trade prospects away for players that will help us win now. Don't. We aren't there yet. There aren't many success stories for teams who have tried to accelerate a rebuild, with A.J. Preller and the Padres serving as a recent example of the accelerated rebuild gone awry. Successful rebuilds need time. Many of the most talented prospects are close to the majors or will be ready to contribute full-time next year, such as Ronald Acuna, Ozzie Albies, Luiz Gohara, Kolby Allard, Max Fried, and Mike Soroka just to name a few. They will contribute in big ways when they're ready, but let's wait until that time.
Look at the Astros – They waited until they were competitors to make moves for players like Ken Giles and Justin Verlander. They didn't mortgage their future for a taste of success. Like the 'Stros, we've grown quite a crop in the farm system and it requires patience to ripen. No one cares about the losing if you can make it worth it. The World Series Parade has a way of erasing the marks of yesteryear losses.
● Be frugal in Free Agency – Free agency hasn't been kind to the Braves recently. Striking deals with players like Derek Lowe, Dan Uggla, and B.J. – erm Melvin Upton. Those deals set the team back. Stay away from aging players, invest in-house early, keep our core together, and only add through free agency when absolutely necessary or you find great value, such as Tyler Flowers
● Remember where you are – You are no longer in Toronto or Los Angeles. Welcome to the decidedly mid-market Atlanta. The payroll the Braves have to work with is limited, so be ready to invest smart. With the Blue Jays you took their payroll from 23rd to 9th in the span of a year between Opening Day of 2010 and 2011, a jump of $42 million. The next year you added another $15 million. Both years working with the Dodgers, your team had the highest payroll in the league. Don't try to spend like you're still with either of those teams.
● Be smart – It seems to me your trades have been hit or miss in the past. You traded Roy Halladay to the Phillies for a few prospects, none of which made an impact for the Blue Jays. In fact, Roy Halladay the next season won a Cy Young, pitched a perfect game and tossed a no hitter in the postseason. The two seasons after the trade, Halladay had a WAR of 17.3. The players the Blue Jays got back in the deal combined for a 0.0 WAR. You then traded an above average player in Brett Lawrie and a few prospects for Josh Donaldson, who went on to be the league MVP. For every bad trade (R.A. Dickey trade), there's a good trade (Troy Tulowitzki). In Atlanta, we would appreciate more of the latter and fewer of the former.
● Don't mess this up for us  – Atlanta sports fans have it bad. We've had great teams in every sport for many years, and only have one championship to show for it. We've experienced heartbreak season after season. These Braves have struggled for a while now, but we're finally showing promise. We have hope again as Braves fans. We have young position players like Ronald Acuna and Ozzie Albies who have the potential to be superstars, we have a former number one pick and hometown kid in Dansby Swanson, we have a bonafide MVP candidate in Freddie Freeman, and we have young promising pitchers at every level. Make only the necessary moves. All we really need is patience.
Mr. Anthopoulos, success isn't far away for this team. A few short years from now we could be looking back on your hiring as the day we hired someone to lead these down the path to success. Or we could see it as the day the organization deviated from that path. That is in your hands. You have our trust and our support. Please, don't mess this up for us.
Sincerely,
Braves Country
– Thomas O'Malley