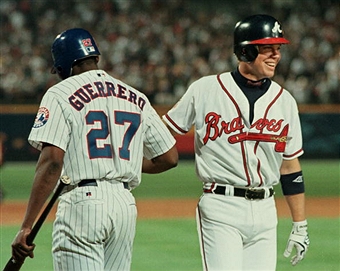 (There will be typos. Consider it the authentic chat experience.)
Max: Hey Sean!
Sean: What's up Max?
Max: So I totally know how we do this every year and don't need a reminder, but for those new to OTBB, want to give a primer on how our Hall of Fame chat works?
Sean: Well we skipped it last year, but the basic idea is to pretend that we have a ballot and semi-seriously consider each of the candidates before landing on the maximum of 10 players who we agree deserve induction to the HOF
Max: Oops, didn't realize we skipped last year. Glad we're back on the bandwagon.
Sean: It's self-described as "circular logic, silly digressions, and sabermetric bumbling"
Max: Sounds like us. Should we start?
Sean: Yes. First on the ballot this year is Barry Lamar Bonds. The ballot is coming at you hot
Max: Wow. No easing into it at all.
I'm an absolute yes on Bonds
Sean: Me too. We've been over this before. The steroids argument is so tired.
Max: Yeah, the Hall of Fame is a baseball museum. No museum of the game is complete without Bonds
For the first time though, I'm actually semi-optimistic he might get in.
4 years left and he was at 53% last go around
Sean: I think he's still 2 years from making it. His good work as a hitting coach has helped his case, though. Somehow the post-career career matters in things like this. Becoming likeable why A-Rod stands a chance of getting in.
Max: For those who somehow haven't seen it, here's Bonds' BRef page. You're welcome: https://www.baseball-reference.com/players/b/bondsba01.shtml
That's 1. Who's next?
Sean: Chris Carpenter
This is the part of the ballot where we say "good career, not HOF" worthy. I do think his dirty hat belongs in the Hall
Max: Couldn't agree more. Carpenter had a great career. He's not a Hall guy though. Especially not when we only have 10 spots on our ballot. Moving on
Sean: Roger Clemens, who we voted for in 2014 but not in 2015
Max: I think Clemens is a Hall of Famer
If Bonds is, Clemens is. I know I've waffled on that but now I have Curt Schilling to direct my ire at
Sean: I'm all for inconsistencies and random logic in this exercise and I'm not an especially big fan of Clemens. I just don't think he comes close to the same career without steroids
Max: He career was soooo good though. 6 Cy Young's. And the reason I'm for Bonds isn't because he was a great Pirate. I think you have to look at the whole body of work. I'm fine with some strategic voting though- we could table Clemens and see how the rest of our ballot shakes out
Sean: I just re-evaluated. He was freakishly good even as a Red Sox pitcher in the 80s. It's just wild how he was so good for so long
Max: Those are some good drugs. Yeah, he was great.
How should we proceed?
Sean: He can move on to round 2. Next up is Johnny Damon
Max: Damon is not a Hall of Famer. The Red Sox can retire his number if they want, that's fine, but no on the HOF
Sean: Fun fact about Johnny Damon: I watched an episode of Queer Eye for the Straight Guy that featured Damon and Wakefield, and Damon freaked out about getting a manicure.
He almost didn't do it.
Max: That matches up well with the rest of what I know about Damon.
Sean: What do you know?
Max: I believe he has an interest in politics. I think he introduced our President at one of his campaign events along the way
Sean: Ah – OK. Well Vladamir Guerrero is next and he doesn't speak much about the President
Max: No but doesn't he have a good twitter presence or something?
Vlad gets my vote
Sean: Mine, too. He got 72% last year. His rate stats are great! .318 career hitter and would have gotten to 3000 hits if it weren't for the knees betraying him
Max: He'll coast in this year. I think 80% is more than reasonable. I think there are 3 sure things and he's one of them.
Sean: I'm surprised it's so much of a slam dunk for him, when a guy like Fred McGriff probably won't get in
Max: Ugh this again
Sean: Anyway, we can cover the Crime Dog in due time. For now – hit me with your Livan Hernandez thoughts. Here's mine – how did he only have 2 All-Star appearances?
Is he the most famous player to have so few All-Star games?
Max: Maybe! That would be a good post- most famous/ best guy to never make an All Star team
I think Livan was Bartolo Colon before Bartolo Colon
Also, I think I watched an awesome documentary on Livan coming over from Cuba with the Marlins. It might have been a 30 for 30? I can't remember
Sean: Turns out its Kirk Gibson. Gibby never attended and ASG.
Max: Is that right? That's a very surprising fact.
Sean: Yup. I love your Bartolo analogy though. Livan would have been a great Twitter-era pitcher
Max: Is there a case that can be made for him? What are his career numbers like?
Sean: He's got a 95 ERA+, which means he was 5% worse than league average over the course of his career
Max: So much for that. Who's next?
Sean: Trevor Hoffman is next. Hoffman got 74% of the vote last year, missing by 6 votes. I'm not about to give him one of those 6 votes.
Max: No? You want to leave Hoffman off our ballot? He was one of my 3 slam dunk guys
Sean: I'm willing to be convinced otherwise, but my first gut reaction is a "no"
Max: Ok. 601 saves
6 All Star appearances
4 top 10 Cy Young finishes
28 career WAR
Unreal 1998 season which saw him post more than 4 WAR with a 1.48 ERA and 53 saves
141 ERA +
1.05 career WHIP
Sean: See but the 28 career WAR isn't great. He only had 6 seasons with a WAR north of 2. Todd Frazier already has that. Jose Reyes has 10 such seasons
Max: Yeah but Hoffman played only 1 inning a day
His job was small but important, and he did it better than anybody- save 1 guy
Sean: I think he just did it pretty well for longer than anybody except Mariano Rivera
Max: You have to be good to stick around
Sean: So let's say he had numbers like Craig Kimbrel (222 ERA+) over the course of his career, I'd be all for his inclusion, but he doesn't. Rivera's ERA+ was 60 points higher.
Max: Let's put him in round 2 with Clemens and see what the ballot looks like at the end
Sean: Rivera's ERA+ was 202. But I guess we shouldn't compare Hoffman to Rivera. That's not fair. I'll vote for him if we have room. He's certainly in the same breath as Rollie Fingers, Dennis Eckersley, and Bruce Sutter. But they're all second tier HOF guys.
Orlando Hudson made the ballot!
Max: The second tier counts! Those guys get invited to the same parties as everyone else
Good for Orlando. I always liked him. He's a mainstay on my MVP 2005 teams
Kind of a weird inclusion though
Sean: Orlando Hudson had a higher career WAR than Trevor Hoffman
Max: Moving on
Sean: Orlando Hudson had a higher career WAR than Trevor Hoffman
Max: Lower than Livan though, and he's out
Sean: Aubrey Huff is up next. Fun fact about Aubrey Huff that I know off the top of my head: One year he was the only player on his team who qualified for the batting title. That year, he was below replacement level.
Max: Those were some bad Devil Rays teams. The only- and I really mean only- good thing about Aubrey Huff, is that he reminds me to think about Jason Tyner who I always liked. Otherwise, go away Aubrey Huff
Real politics heavy ballot this year
Sean: No! It was actually the 2011 Giants who finished the year at 80-82
I don't know who Jason Tyner is…
Max: Jason Tyner played 8 years for the Devil Rays and Twins, hit .275 and stole 61 bases and his exactly 1 home run in 1358 career at bats
https://www.baseball-reference.com/players/t/tynerja01.shtml
Sean: Why do you like him?
Max: Played a little for the Mets and Indians too apparently.
I don't know, He was always one of those likable but not too threatening Yankee opponents. And a good MVP '05 guy to steal some bases. I think he had 91 speed
Sean: Moving on to another MVP '05 darling… Jason Isringhausen
Max: He was great in MVP '05. I'm really going to miss the MVP '05 Hall of Fame ballot era when it ends
I'm thinking, given your Hoffman thoughts that you will be quite down on Isringhausen's candidacy
Sean: I was trying to make an Isringhausen/Hoffman comp that made Hoffman look bad, but Hoffman was better than Jason. Jason's 7 year stretch from 2000-2006 was basically Hoffman – 40 saves/year, 151 ERA+
Max: I think it's fair to have a very high bar for relievers. If you aren't an all-time great, you're not in. Isringhausen is definitely not an all timer
Sean: Facts. Are you going to fight me on trying to induct Andruw Jones?
Max: Andruw Jones is absolutely a casualty of the steroid era ballot crunch. I'm not sure he's a HOFer but he's worthy of more consideration than he's likely to get
Make a case, but I think he's not likely to make the cut to 10
Sean: He was the game's best center fielder for a 10 year stretch. His defense alone was worth nearly as much as Hoffman, which does a disservice to his offensive resume, which includes above average rate stats and just 15 fewer homers than Vlad
Max: Do you think he hurt himself with such a long and bad tail to his career? Would he have a better case if he retired sooner?
Sean: Maybe? But he was only 35 when he retired. But in that 10 year stretch, he was actually the 3rd best player, regardless of position. Jim Edmonds only got 2.5 percent of the vote last year, which doesn't speak well for Jones getting to 75%. But… I'm giving him the bump into Round 2.
Max: Fine by me. Who's next?
Sean: CHIPPER
Max: Just for fun, why is Chipper Jones a Hall of Famer?
Did you know there were 6 seasons in which Chipper got MVP votes but did not make the All Star team?
Including 1999, when he won the MVP
Sean: I did not know that. He traditionally played better as the summer wore on.
I wrote a whole post about him in 2012: Off The Bench: Chipper Jones Set to Retire at Season's End
The Atlanta Braves will soon be without another of their iconic players.  Chipper Jones announced today that he is going to retire at the end of this season and I really want to be sad about it, but I simply can't.  I'm an enormous Chipper fan.  My dog's name is Chipper and my password to….
We've been doing this for a long time….
Max: Ha. OTBB has staying power….
Will Chipper get 90% of the vote?
Also I hope you changed your passwords…
Sean: No comment…
Are you watching the Rose Bowl?
Max: Yeah. Boomer Sooner
Sean: I'm not really invested in the outcome, but this is a HOF game.
OK Jeff Kent
Max: I'm rooting for 77-75 in like 4 OTs
Jeff Kent was a really good player. Not an HOFer
Worthy of a spot on the ballot
Sorry. Not the ballot
The list of people eligible for the ballot
Sean: I think I agree with what you're trying to say. Carlos Lee also deserves a spot because he was a switch hitter and that's hard.
Max: Carlos Lee was not a switch hitter
Hit over .300 a few times and twice lead the league in games played though
Sean: Yeah, I think I had him mixed up with Derrek Lee, who, as it turns out is also not a switch hitter.
Max: Mixing a guy up with another guy is probably not a good sign for his HOF chances
Sean: Brad Lidge made the ballot
Max: Poor Brad Lidge was an excellent closer who will be forever known for giving up the world's longest and awsome-est home run
Sean: https://www.offthebenchbaseball.com/2012/06/17/some-quick-notes-from-616s-yankees-nationals-game/
You had some fire words for Brad Lidge's appearance in that 6/16 game one year. Brad Lidge cannot pitch well on 6/16's or to Albert Pujols
Max: 2012. You dug deeeep in the archives for that one. Almost as deep as Pujols went on Lidge.
Is this mean?
Sean: https://sportsloofah.files.wordpress.com/2016/10/101705_pujols_v3_5reas0e8.gif (2 MB)
Max: Amazing, let's keep going
Sean: Edgar Martinez is next. We voted for him in the past and this feels like the year he gets in. Let's get him in and keep going
Max: Sounds good. There's a lot of guys to get through
Sean: Do you have any Hideki Matsui thoughts to share with the good people?
Max: I love Hideki Matsui. What an awesome Yankee. After Ichiro, I think it was nice to get a tried and true Japanese slugger in the MLB.
He was a huge part of a number of good Yankee teams but I think World Series MVP in 2009 should be the highest honor he is bestowed by the league
Sean: Completely agree. Fred McGriff is next and I'm willing to drop my McGriff stance given the crunch of 10.
Max: Hooray!
Sean: Off The Bench: The Crime Dog Gets Robbed Again
Former Atlanta Brave, Chicago Cub, Tampa Bay Devil Ray, Toronto Blue Jay and San Diego Padre Fred McGriff is one of those great players who also happens to be a good guy by all accounts.  He's baffled Hall of Fame voters and may be the guy single most damaged by the Steroid era.  His 493
Max: If people would like to read a lot more about why Sean thinks Fred McGriff should be in, go to that post or literally any other HOF chat we've done
Sean: I just hope the veteran committee votes him in while he's still alive.
Next up is Kevin Millwood. Hall of Fame chin on Millwood.
Max: The Braves 4th guy on a lot of those Maddux-Glavine-Smoltz teams. Do we need to spend much time on him?
Sean: No. How about Jamie Moyer?
Max: I kind of think Jaime Moyer should be in
Sean: Get out! I was not expecting that.
Hey – A Kevin Millwood note while you make your case. He's the only player ever born on Christmas Eve to make an All Star Game
Max: Was Jaime Moyer one of the game's best players? No. But was he one of the most influential? Absolutely. How can you have a credible museum of baseball history without including a guy who pitched to LITERALLY 8% OF ALL THE PLAYERS TO EVER PLAY?
Sean: Look – if we're just talking about baseball history, then all these guys belong in the Hall.
Max: Jaime Moyer is one of the most notable players in baseball history. He's unique
Sean: So is Pat Vindette
Max: Also, think of the talent it takes to compete at such a high level when you're completely physically overmatched. Moyer was topping out at 78 for a while there
Without the steroid crunch, I think Moyer gets 5% and stays on the ballot. I'd vote for him. As it is, I don't think he cracks 5%.
Too bad though
Sean: Your argument is that he's unique and threw slow and still got some guys out. Meanwhile, McGriff, who is actually good, gets glossed over because of a lack of peak
Max: Longevity man. Moyer pitched for 25 years!
Only made the All Star team once though.
Sean: Can we move on to bashing Mike Mussina?
Max: Sure!
I'm not on board with the 'Mussina actually secretly deserves to get in' stuff
He was good, he was really good, but I don't think he's a HOFer
Sean: He got 50% of the vote last year, which is nuts. He was marginally better than Kevin Millwood
Max: He's a Chis Carpenter type guy
Let's all agree he was quite good and move on with our lives
Sean: How do you feel about Manny? I feel like we haven't discussed Manny
Max: Shouldn't Manny be a lot closer than he is?
I understand he tested positive 3 times but if you take that out, he's a shoe-in right?
Sean: I'm in on Manny, but the steroid stuff crushes him. He was caught, whereas the other guys weren't.
Max: Yeah, I think that's what it comes down to
For the record, his 1998-2008 is amazing
Sean: Oh – absolutely. He's way better offensively than Vlad, who appears to be getting in. He was top 10 in the MVP voting for 9 straight years.
That 11 year stretch that you referenced was good for 418 HRs and a .318 average, plus a 161 OPS+.
Max: He was an OPS machine for like 15 years. Plus the double cut off!
I think Manny Ramirez having no chance is a prime example of how this whole process badly needs reform
Can we put him on our ballot?
Sean: Yes, please.
Max: So who do we have so far?
Bonds
Manny
Chipper
Vlad
possibly Hoffman and Clemens
anyone else?
Sean: We moved Andruw through too
Max: TRUE
Ok. Who's next?
Sean: Hey – I'd like to vote for Scott Rolen if we can.
Max: Why?
Sean: http://www.hallofstats.com/articles/the-hall-of-fame-case-for-scott-rolen
Basically – he's a really well-rounded player, which is traditionally not good for HOF chances. Plus, he's a third baseman and there are only like 6 third basemen in the Hall.
Max: I think there's so much momentum behind his candidacy that he'll end with like 25% this year and then slowly inch upwards from there. Could be the next Edgar
Sean: I like that theory, but the HOF-tracker guy has him at 10% now.
Max: That guy's usually pretty reliable
Sean: If it's possible, I'd like to squeak him in. Johan Santana is a no for me, which is a shame because he was good for awhile
Max: That's been the general consensus but my first thought was the Johan should be a yes.
I guess the injuries during his time with the Mets just killed his chances
As good as he was from 2004-2008, and there was no one better, a 12 year career just isn't enough
Sean: Does this have implications on Andruw's candidacy?
Max: I don't know?
Sean: Well like Andruw was only a viable MLB outfielder for ~12 years
Max: Oh, then yeah. I think you have to be great over a long period in such a crowded field
Much like…. Jaime Moyer :slightly_smiling_face:
Sean: This is crap.
Max: Hey, Moyer didn't even get to round 2!
Sean: The steroid guys have such an advantage because steroids extend your career, more than enhance your peak.
Max: That's true. But isn't that counteracted by the fact that no one votes for them and they don't get in?
Sean: So the end result is that only the cream of the crop get in? By that macro view, this convoluted nonsensical exercise makes sense, but we're in the middle of the minutia right now and its crap.
Max: The end result is that the process is broken! What we need is formal, official guidance on what to do with Barry Bonds. Should he get in because he deserves it or should he not because he almost certainly took PEDs. And if it's the latter, get him off the ballot! Also get rid of the 10 person limit rule
And don't let Joe Morgan write any more stupid letters
Sean: Well we got through 24 players before exasperation set in
Max: Let's push through. Who's next?
Sean: Curt Schilling
Max: What a loathsome person
An optimist would say that his recent notoriety is a good thing because now everyone dislikes Schilling as much as Yankee fans already did
Sean: How is that an optimist perspective?
Max: Because no one, no matter what, should find Schilling anything but utterly detestable. And it's for everyone's benefit that he is universally dismissed
Do you think he's vote % will go up, as Bonds' likely will or fall because he's such a flagrant violator of the character clause?
Sean: I think he'll slowly dissolve into the abyss.
I'm all in on Gary Sheffield
Max: I feel like I've argued for Shef in the past, Or tried to. I'm skeptical now though
Sean: How is Vlad at 72%, but Sheff is struggling to stay on the ballot? Sheff has a higher WAR, had more hits, HR, RBIs, steals, and posted the same OPS+. He's one of 4 members of the 500 HR/ 250 SB club
Max: That's compelling. What do you think the knock on him was? He was never the 'most feared' hitter in the league though and Vlad definitely was
You think Vlad will go in as an Angel or Expo?
Sean: I think there's a steroid aura around Sheff, and he was gruff with reporters. I think Vlad's an Expo.
Max: I hope he is
Sean: Every year (except 1) that Sheff played in at least 140 games, he was an All Star.
That 1 year, he had a 1.000 OPS and 38 homers.
Max: let's vote for him
That probably bumps Andruw though…
Sean: No.
We've also got Sosa and Thome up next
Max: Andruw over Shef?
Sean: I'm just cranky
Not actually cranky, more shaking my fist at the sky cranky
Max: Is Sosa next? I'm a yes on him. If Manny and Barry are in, Sammy is too
Sean: Agree
Max: He's likely to fall off this year. It's nuts
Sean: Agree, but the thing about Sosa is that the narrative is that he's really just the Homers, but he had plenty of doubles too. He had more extra base hits than Sheff, and they both have more than last year's inductee, Jeff Bagwell.
Max: Good points. Plus, I think he had that HOF gravitas. He really was the city of Chicago for a while there
Sean: Speaking of gravitas, Jim Thome had none
Max: Ouch, that's harsh. Did hit many homers though.
Max: Or 1989. But he didn't hit enough
Sean: I cannot improve on your Omar Vizquel theory other than to provide a basketball analogy. There's a brand of basketball known as old man basketball. You're basically just frustratingly fundamental. It's not all that different from old man golf. Omar Vizquel played old man baseball, even as a youth. He was consistent, a solid defender, and never looked to be moving all that fast. He might be the best old man baseball player there is. It is my opinion that the best old man baseball player is not a title deserving of HOF induction.
Max: Agreed. Good for Omar. Sorry about not making the Hall. Who's next?
Sean: Billy Wagner
Max: Is Billy Wagner the lefty Jason Isringhausen?
Sean: Absolutely not. Would you like the full list of pitcher who have thrown at least 900 innings with a better adjusted ERA?
Max: Sure
Sean: Mariano Rivera. That's it!
In my opinion, Wagner has a better case than boring Trevor Hoffman
Max: Just because Trevor Hoffman was boring doesn't mean he wasn't great.
In 40 years when Sean Jr. Jr. looks back at baseball history, is he more likely to think of Trevor Hoffman or Billy Wagner as an all-time great?
Sean: Billy Wagner! Wagner was the Braves closer that taught Craig Kimbrel everything he knows. There's actually a great story about Bobby Cox driving up to see Wagner trying to recruit him for that 2008 season and he got lost that I'm likely to tell Sean The Third.
Max: Ah the truth comes out. We're assuming that Sean Jr. Jr. lives in TBS country, huh?
I think it's Hoffman. It's kind of dumb but 600 saves, 600 homers, this stuff matters
Should we move Billy to round 2, where he is almost certain to get cut, and move on?
Sean: Yes. Thank you. One more thing, though….
Wagner: 27.7 WAR, 2.61 ERA, 187 ERA+, 7 time All Star
Max: That's less than 28 WAR!
Sean: Hoffman: 28 WAR, 2.87 ERA, 141 ERA+, 7 time All Star
Why are we punishing Wagner for playing on bad teams?
Max: Let's find out…. in round 2. Moving on
Who's next?
Sean: Larry Walker
Max: Doesn't it feel like Larry Walker should be a HOFer?
Sean: yes
Max: 3 batting titles
MVP award
383 homers, 230 steals
5 time All Star
17 year career
Why is he only going to get 20% of the vote?
Sean: Well it's that middle one. He's got a relative lack of homers and steals. He doesn't fit neatly into player archetypes
Remember that stat I used to complain about Trevor Hoffman where Hoffman only has 6 seasons of +2 WAR or more? Well Mr. Larry Walker had 13 such seasons, so these arguments about a short lived career are bogus
Max: I think he's a victim of steroid crunch and Coors Field-syndrome
He seems as qualified as some of those Paul Molitor types that get in just because.
Also, he seems like a perfect candidate for an actual conversation- one that we'll never have when we get distracted by Bonds and Clemens every year
Sean: Completely agree. He's a classic "move to the second round and then get confused and toss our hands up" kind of player.
Let's move on to Kerry Wood.
Max: I'm on board with that
I've been waiting for Kerry Wood
2 questions: 1. Does he get 5%? 2. Can you believe that I have to ask if he's even going to get 5%? Wasn't he an absolute show in in like 1999?
Sean: You're way higher on Kerry Wood than I am. He's fun. He had great stuff, but he doesn't deserve 5%
Max: I agree with you. He doesn't. I just can't believe his career ended up that way
One thing on Kerry though- he was never bad, ever. He was never great but he was never, ever bad. Except for the last 8 innings of his career but before that- always good. Just good.
Sean: That's a really good note. I wonder what his career would have looked like with 2018-level medicine and arm protection. Stephen Strasburg's career would be way different if it had started 20 years prior…
Carlos Zambrano rounds out this year's ballot
Max: Good point. I wonder is Strasburg is present-day Kerry Wood.
Big Z! Not a HOFer! Moving on! Where are we at through round 1?
Sean: We have like 13 Players left: Bonds, Manny, Chipper, Vlad, Hoffman, Andruw, Clemens, Rolen, Edgar, Sheff, Thome, Wagner, Walker….
Part of me wants to vote for all of the edge guys and skip out on Thome, Vlad, and Hoffman
Max: 13 isn't bad! I thought it was going to be much worse
Throw out Thome, Vlad, and Hoffman because they'll get in anyway and we want to keep the others on the ballot?
If that's the case, shouldn't we throw out…..Chipper? (ducks)
Sean: That's exactly my thought, but I couldn't not vote for Chipper.
Well we threw Vizquel, Schilling, and Mussina out even though people are discussing them.
I also prematurely gave in on McGriff and you didn't champion Johan Santana like I thought you might.
Max: I think we keep Vlad and Thome because I don't want to cave to the Hall's BS rules and not vote for people who are absolutely HOFers. Let's get rid of Andruw and Wagner
I'm willing to cave on Hoffman because if we keep Hoffman and Wagner out, then we're reliever free and I'm comfortable with that.
But we're voting for Rivera next year
Also, definitely no Moyer, huh?
Sean: So the three you want to get rid of are Andruw, Hoffman, and Wagner? Seems like we only agree on Hoffman so he's out.
Max: Even though Hoffman should get in!
Sean: I disagree on Hoffman for the HOF, but I'll cave on Wagner, because I really would have liked another 3 years of production
Max: Hoffman will get in
Sean: Really not comfortable leaving Andruw off the list. He's already below 5%!
Max: I think we get a 1 Brave-named-Jones limit on this ballot. Really, I just think he's the least deserving of our 13
Sean: You think he's less deserving than Scott Rolen?
Max: Yeah. Isn't he?
Sean: I think it's really close. They both played from 1996-2012, Andruw had a higher WAR in 8 of those 17 years, which means Rolen was higher in 9 of them.
But who are you more likely to tell Max Jr. Jr. about? Andruw was the best at something for a long time. Rolen was just really good (great?) at something for a long time.
Max: Definitely Andruw actually. But mostly because of the defense. I don't think we punish Rolen for playing a position where you don't run like 100 feet to make an awesome dive though
Sean: That's very fair. So… back up to the list… Could we avoid Manny because he DID fail those drug tests?
Max: I guess. But I kind of like that we're the enlightened people who have Manny on our list
I guess you shouldn't test positive for PEDs more than once and still get into the Hall of Fame.
Sean: You're right… It just doesn't taste right
Max: Ok. So what are the final 10?
Sean: Well we've got 11. Bonds, Manny, Chipper, Vlad, Andruw, Clemens, Rolen, Edgar, Sheff, Thome, Walker.
Max: Didn't we just boot Manny?
Sean: Did we do it while holding out nose? I feel like we have a Shrodinger's cat situation where neither of us are sure….
Max: Schrodinger's left fielder
Let's boot him. But with heavy hearts
Sean: OK, so the final 10 are Bonds, Clemens, Guerrero, C Jones, A Jones, Martinez, Rolen, Sheffield, Thome, Walker
If the Rule of 10 didn't exist, we also would have voted for Ramirez, Hoffman, and Wagner, while considering McGriff, and Moyer
Max: Agreed. What do you think of the final list?
Sean: According to Ryan Thibodaux's HOF tracker, there have been 161 official ballots made public with 116 different permutations. We'd be the 117th different permutations
There's no right answer is what I think.